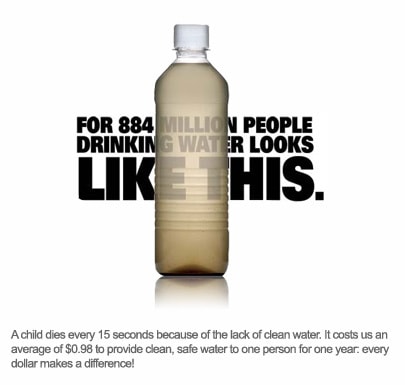 On Thursday, I mentioned an idea I was going to implement this month, an idea that would help me come up with some money to donate to Living Water.
This is my plan: for the month of December, I'm going to give myself my usual $400 grocery budget, but I'm going to try really hard to come in under $400 at the end of the month. Any money that's left out of that $400 is going straight to Living Water.
I don't know exactly how much I'll be able to donate, but even if I'm only able to send $10, that's still something. In fact, that $10 will provide clean drinking water for 10 people for an entire year. And for those 10 people, the $10 I send will rock their worlds.
We can change more people's lives, though, if you join me. Even if you don't usually have extra money to give, this might be a somewhat painless way to come up with some money to donate.
Maybe for the month of December, you could drink water instead of soda so that you can help provide clean water to someone who has none.
Or maybe you could give up bottled water and instead you could buy a pitcher with a filter (that'll save you lots of money!).
Maybe you could skip out on some coffee-drinking, maybe you could cut back on your food waste, maybe you could eat vegetarian once a week, or maybe you could eat breakfast for dinner a couple of times.
Suffice it to say that there are lots of ways that you could save $10 (or more!) this month without starving yourself or your family. So come join me! Together, we can make a huge difference.
( P.S.-I hope you know that I know that Living Water is not the only deserving charity out there. There are plenty of worthy charities that spend the donated money wisely, so if Living Water doesn't blow your hair back, go do some homework and find a charity that does.)