Since today's the last day of May, how about a What I'm Into post for a Tuesday?
What I Read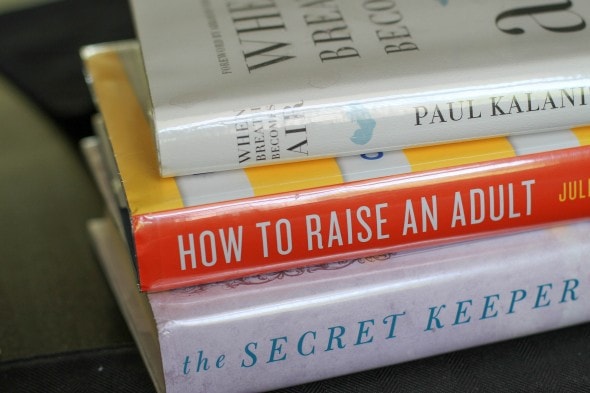 I didn't read quite as much this month, but I did still get through three books from the library.
(I lurve the library!!)
This is the memoir a young neurosurgeon wrote as he was dying of cancer. It's sad, of course, but it's beautifully written, and I'm glad I read it.
And his wife is no shabby writer either…her epilogue at the end is heartbreaking but lovely.
Remember how I accidentally checked out the inspirational fiction book by the same name last month? Well, I got the actual book that Anne Bogel had recommended, and I'm happy to say that I liked it much better.
This is kinda/sorta a murder mystery, but it's really more about exploring the relationships between all of the characters, and there's a very unexpected plot twist at the end.
I checked this book out after reading an online article by the same author. She's passionate about helping parents to avoid helicopter parenting, and even though I don't think I'm much of a helicopter parent, I was freshly motivated to help my kids learn to become independent people who can take care of themselves.
(And, not gonna lie, while reading the book, I was a little horrified at how much pressure some parents are placing on themselves and their children to get into exclusive colleges that almost no one gets into. Good heavens.)
What I'm Watching
Ummm…all I watched were some episodes of Chilly Willy with the fam.
But next month I should have something more to report, because a movie we want to see has hit the cheap theater here. 😉
What I'm Listening To
Lisey gave me a pair of earbuds for my birthday, so I've been doing a little bit of podcast listening while I'm in the kitchen. So, I'm getting pretty caught up on Anne Bogel's What Should I Read Next podcast, and I think I might get caught up on my other podcasts too!
Incidentally, you should check out the super cute episode (#21) Anne did with her daughter. Not only was it adorable, I also got some book ideas for my own girlies.
And Anne's post about books for tween girls also helped me fill up my library hold shelf with books for my girls.
Goals
So.
One
The cooking with my kids thing: I think I had everyone in the kitchen with me once this month except for Joshua.
I still do not feel like cooking with my kids is an ingrained habit, so I'm gonna keep working on this.
Two
I stretched about half of the days in May. This is more than I was stretching before, but boy, I'd really like to get up to doing it every week day.
A new month is a fresh start, though!
Three
I had better success with tracking my time, but I hit my stride more last week because I printed out the time tracking PDF from Laura Vanderkam and having that really helped to keep me on track.
So, I'm going to keep tracking my time for another month now that I'm armed with a good tracker sheet.
____________________
I'm getting kind of bored of these three goals, but man, I've been really having a hard time with them!
At the very least, though, I should be done with the time-tracking goal at the end of June. And maybe by then I'll be so good at cooking with my kids and stretching, I'll be ready for some fresh new goals.
Aaaand since it's almost June, I'm going to put together my annual summer bucket list shortly. 😉