Back in the summer, I signed up for Julep's free welcome box, which includes three not-so-toxic* nail polishes and a random beauty product.
(In case you missed the original post, Julep is a subscription-based monthly beauty-product/nail polish service.)
I promised that I'd update you once I'd had a chance to try out the service and products, so here I am!
The Welcome Box
My Welcome Box contained a tube of Body Milk lotion and three nail polishes.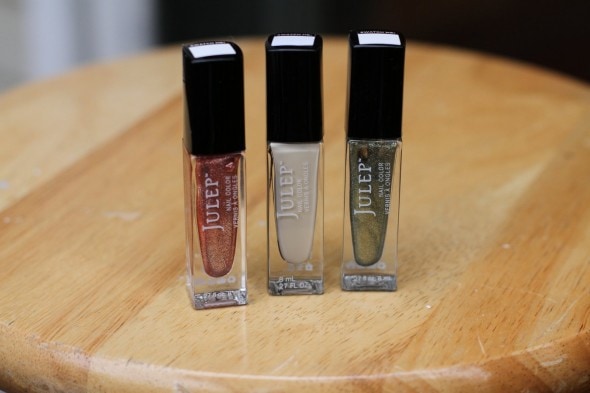 I'm kind of meh about the lotion just because I don't tend to have dry skin. I may just freecycle it or my girls may use it during the winter.
The nail polish was good, though. The containers are fairly small, but the polish works well and seems to last just as long as regular nail polish, despite missing some of the chemicals in regular nail polish.
I did get some slightly odd colors in my box, but sometimes I find that to be an advantage. You know how my produce box makes me cook vegetables I wouldn't normally buy?
Well, a random selection of nail polish colors sort of functions the same way.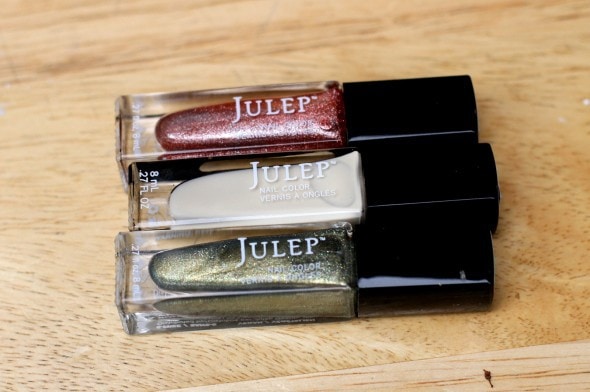 Also, I found that a layer of the pink sparkle polish over the greenish sparkle polish looks marvy-fab. 😉
The Regular Box
Because I was curious what a regular box was like, I purposely let my subscription go past the free trial box. Happily, once the free trial is over, the box is totally customizable.
I sort of, um, forgot to customize mine, though, and here's what I got:
(As you can see, one of the girls used the blue polish. 😉 )
Julep has oodles of beautiful colors to choose from, so if you choose to continue past the welcome box, you'll definitely be able to pick shades you love.
Cancellation
To get the sample box, you do have to sign up with Julep, and if you don't want to continue the service, you'll need to cancel after the free welcome box.
The cancellation process was pretty easy. I just had to call Julep, tell them I was cancelling, and that was it. I didn't have to deal with any pushback or hard sell.
Is it worth it?
I think the the free welcome box (just pay 2.99 shipping) is definitely worth it. Even if you don't use the free beauty product they throw in, you're still getting three nail polishes for $2.99.
(If you have nail polish lovers on your Christmas shopping list, get the sample box and use the polish as stocking stuffers.)
The continuing subscription, though? I'm not sold on that, mainly because I feel like $24.99/month (19.99/mo. if you prepay) is a lot to spend on nail polish.
Maybe it would be worth it for someone who's way into beauty products, but for me, it's not a great fit.
Still, I'm glad I got the Welcome Box and I think it's definitely worth getting if you use nail polish.
(Make sure you use the code FREETREATS when you order so that the welcome box is free.)
____________________________
I know some of you ordered a welcome box when I did. What did you think of it?
____________________________
This post contains affiliate links, which support The Frugal Girl at no extra cost to you. This post was not sponsored by Julep, and I purchased my own welcome box and regular box.