Hi.
It's me, here with a Wednesday Baking post.
Remember those?
It's been a while.
Wednesday Baking posts are a lot of work, and so to maintain my sanity, I've kinda let them fall to the wayside. Plus, I've shared most of my regularly-used baking recipes, so I'm a little lower on material than I was several years ago.
I've got a new one today, though…it's a recipe I recently got from one of my sister-in-laws, and it's so yummy, I have to share it with you!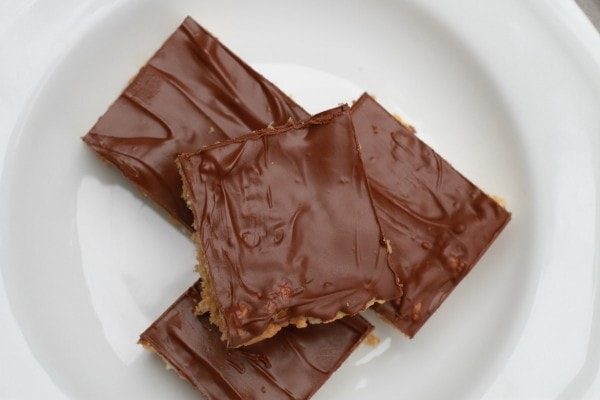 It's a bit of a twist on the usual sort of Rice Krispy treat, but it's not much more difficult.
(incidentally, I met a kid recently who was amazed that you can make Rice Krispy treats at home. Apparently, he'd only ever had the packaged kind!)
And happily, just like Rice Krispy treats, these require no baking, which makes them a perfect summer dessert.
To make the cereal base, start by melting together 1/4 cup of butter and 10 oz. of marshmallows (I like to use the small kind since they seem to melt more quickly).
You can do this in the microwave or on the stovetop.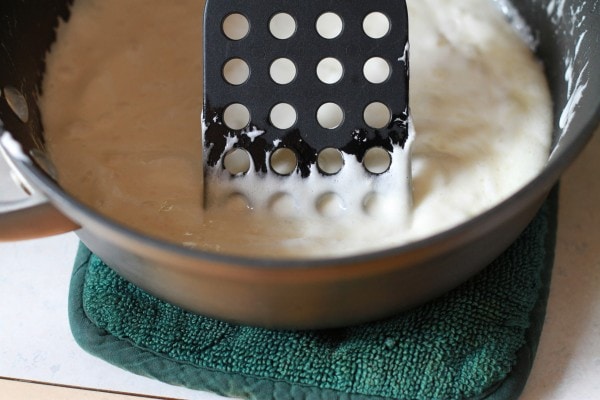 Stir 3/4 cup of creamy peanut butter into the marshmallow mixture. It'll take some mixing, but the two do eventually become homogenous.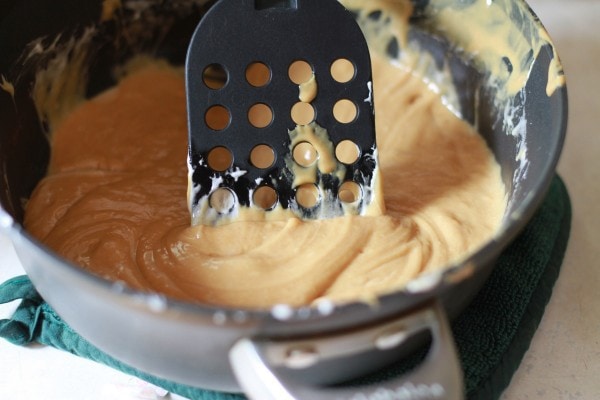 Measure 5 cups of rice cereal into a bowl (I usually use a generic brand), and pour the peanut butter marshmallow mixture over top. Stir to combine.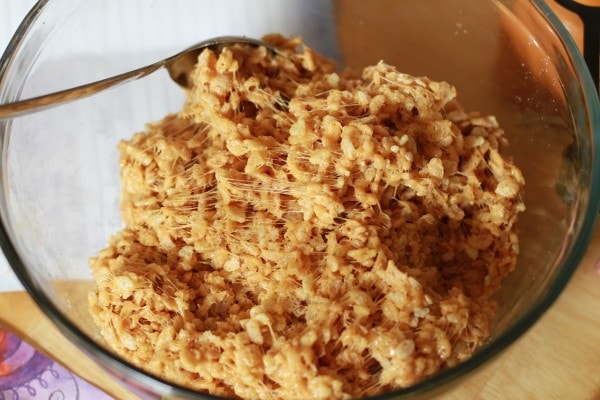 This is a little bit difficult to do with just a spoon…I ended up mixing it with my hands some as well. This would never work with regular Rice Krispy treats (it's way too sticky!), but the peanut butter makes this mixture much less sticky.
Press the cereal into a greased 9×13 inch pan.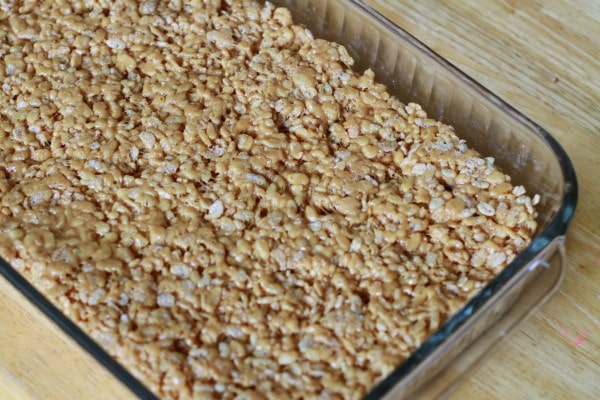 Now for the frosting! You'll need 1 cup of chocolate chips and 1 cup of butterscotch chips.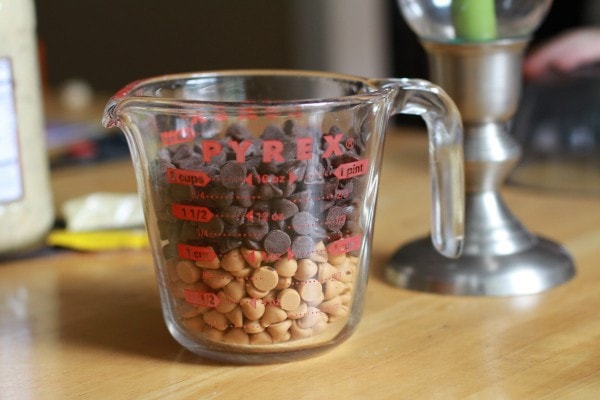 Microwave the chips, stirring often, until they're melted. Actually, you could do this on the stovetop too…just take care to use low heat.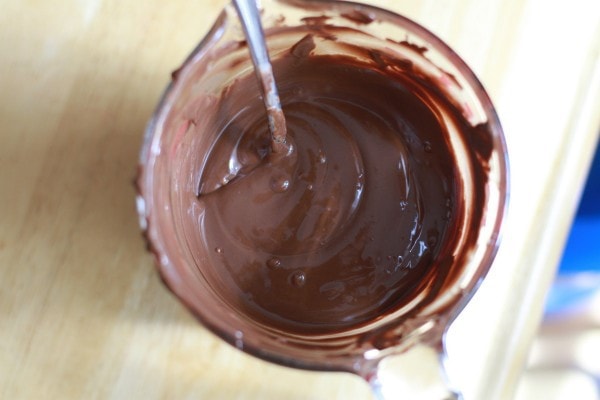 In my experience, butterscotch chips are a little stubborn when it comes to melting, so make sure you've got your frosting mixture thoroughly melted and mixed before you dump it out onto the bars.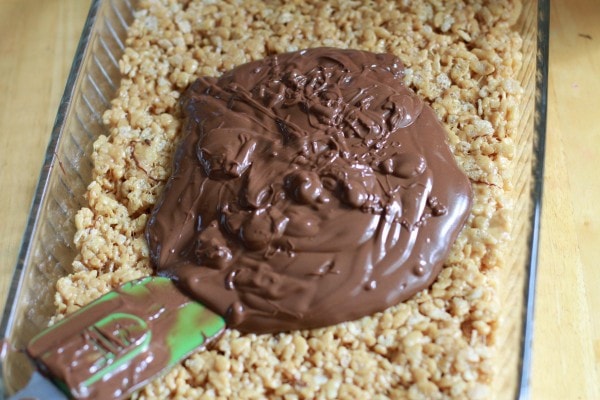 Spread the frosting evenly over the bars. If your house is cooler than mine, you can just let the frosting set up at room temperature. At 78 degrees, though, I find that the frosting is a little too soft, so I'd recommend putting the bars in the fridge.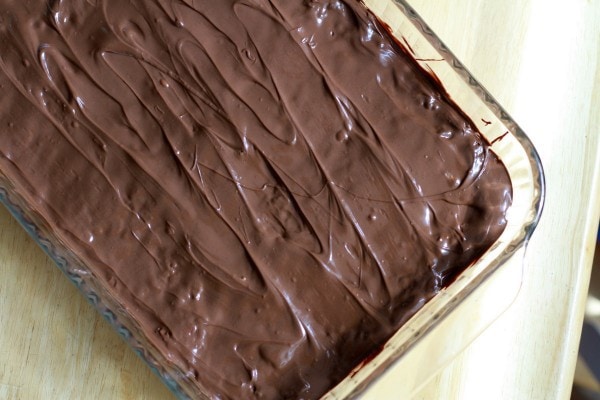 If you dislike butterscotch, I'm quite sure you could just frost these with 2 cups of chocolate chips instead. The butterscotch does add a yummy flavor dimension to these bars, though, and that's coming from someone who's not normally a big butterscotch fan.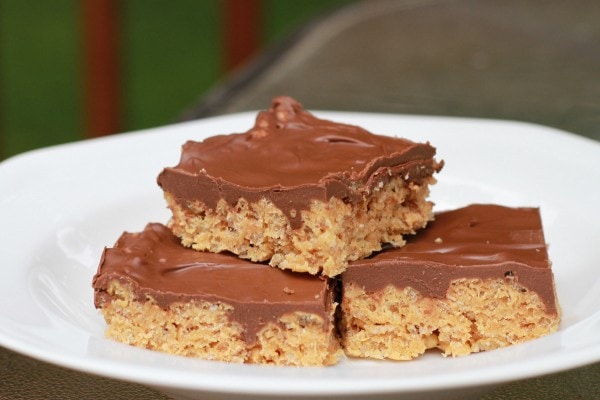 Peanut Butter-Butterscotch-Chocolate Cereal Bars
1/4 cup butter
10 oz. marshmallows
3/4 cup peanut butter
5 cups crisp rice cereal
1 cup chocolate chips
1 cup butterscotch chips
In a saucepan or in the microwave, melt butter and marshmallows together. Stir in peanut butter.
Combine marshmallow mixture and cereal in a large bowl. Mix thoroughly and press into a greased 9×13 inch pan.
Melt chocolate chips and butterscotch chips together (on the stovetop or in the microwave) and spread over top of cereal bars.
No-Bake Summer Dessert Recipes
Like raw cookie dough, except they're safe to eat!
100% whole-grain and no baking required!
This homemade ice cream cake is much cheaper than the premade ones from the store, and you can customize it with whatever flavors you like!