Actually, a LOT dirty. And a lot smelly.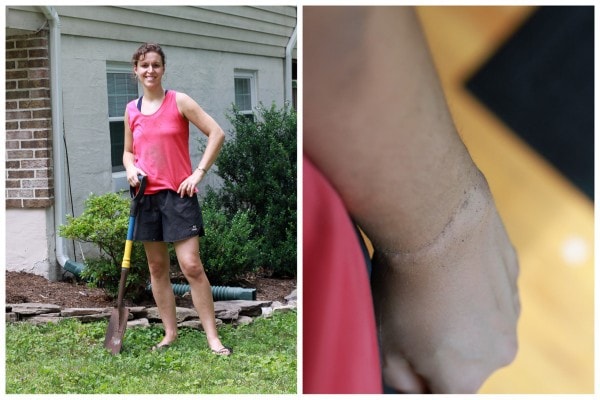 But it was for a good and frugal cause.
First, I used a pitchfork and wheelbarrow and put wood chips all around the swingset (I'm still working through the ginormous pile of wood chips we got when we had our dead tree removed).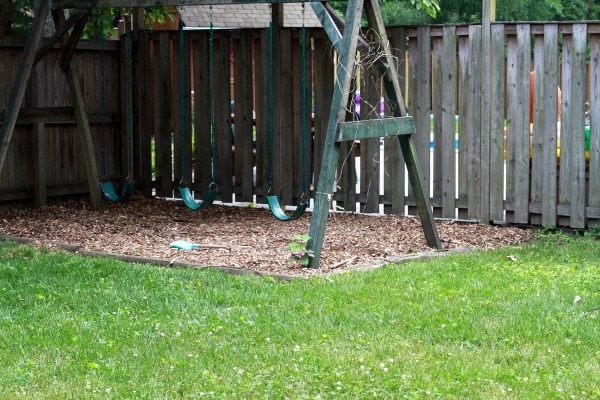 Incidentally, you should know that most tree-removal companies are dying to get rid of wood chips so that they don't have to pay to dispose of them.*
So, if you need mulch and it doesn't have to be the beautiful dark brown hardwood type, call a tree-removal company and have them dump a load of chips in your driveway.
*those same companies are also often looking to give away wood, so if you need some to burn and you've got a chain-saw and a way to split the logs, you should definitely call them!
There's some controversy over whether or not you should use these wood chips near your house, since they're not treated to be bug resistant.
So just to be safe, you should probably only use them to mulch areas that aren't right by your house (like my swingset).
Aside from the swingset, I've got a number of areas that need mulching in my backyard and side yard, and I plan to never buy mulch for them again, given that I can get wood chips for free.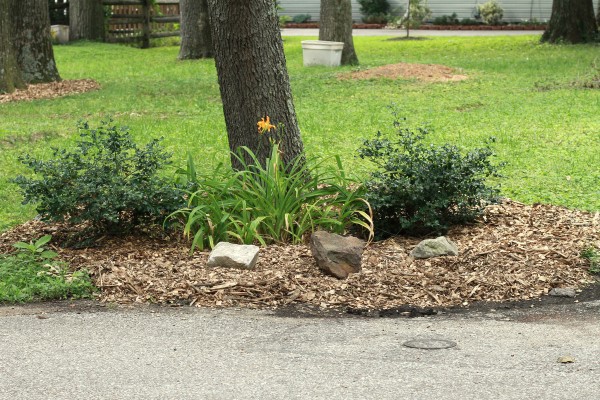 Anyhow, after I did a bunch of mulching, my landscaper neighbor told me he had a bunch of landscaping rocks in his yard that he wasn't going to need, and he said I could have as many as I wanted.
Yay!!!!
First I put some around this little bed near my driveway. I bought the grass that lives there, but the mulch was free from my neighbor, and the marigolds are grown from seeds I saved from last year's marigolds.
They're kinda small right now, but I think they'll look quite lovely by the end of the summer.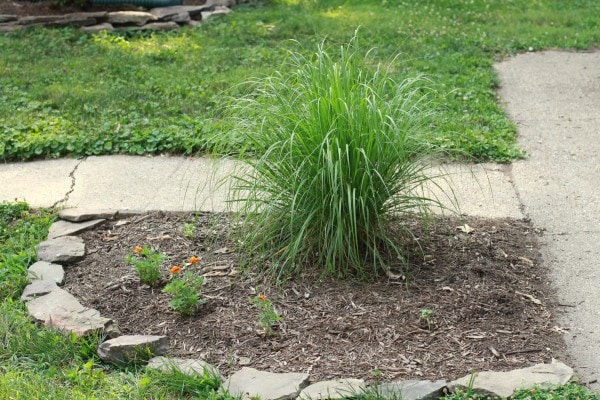 The smallest rocks went around my mailbox (Sonia and Zoe mostly did this border since the rocks were a perfect size for them).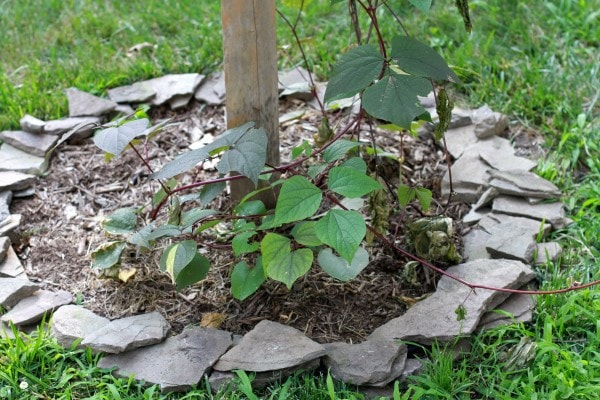 The plants growing here are my purple hyacinths (see them in full bloom last summer).
See the dead one on the right? It was my best-looking plant, but a dog walker let her dog get all tangled up in the plants, and in the process of pulling him out (rather uncarefully, I might add), she killed it.
I'm kind of sad about that, but I'm hoping the other vines will flourish enough to make up for the deceased vine.
And I am trying not to think crabby thoughts about the dog/dog walker.
I have not been entirely successful in that effort.
Moving right along….
I used the bigger rocks to line the edge of my front borders.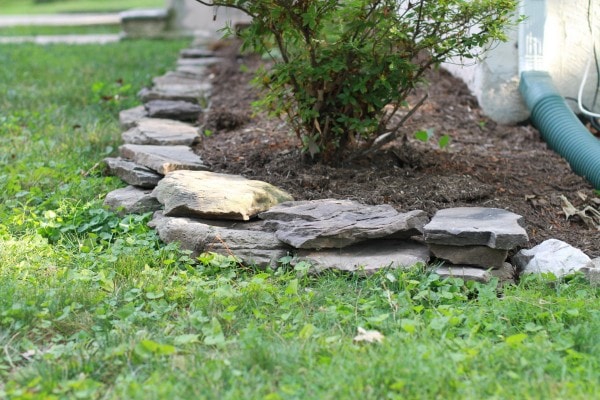 It looks about 1000 times better than what we had before.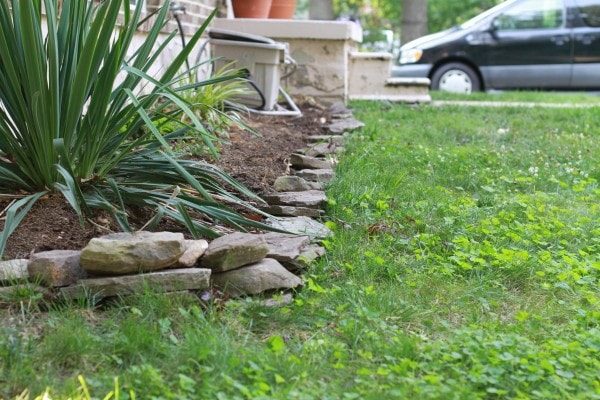 What we had before = nothing.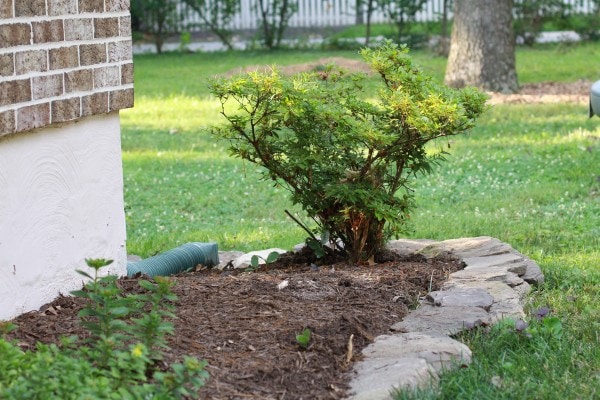 I don't think there's any helpful takeaway for you from my rock project, except maybe that it's wise to live by a kind landscaper who often has extra stuff to share.
Actually, scratch that…there's something else there.
Part of the reason my neighbor gives me stuff is that he knows I'm willing to take freebies, even if they're not perfect or need a little TLC.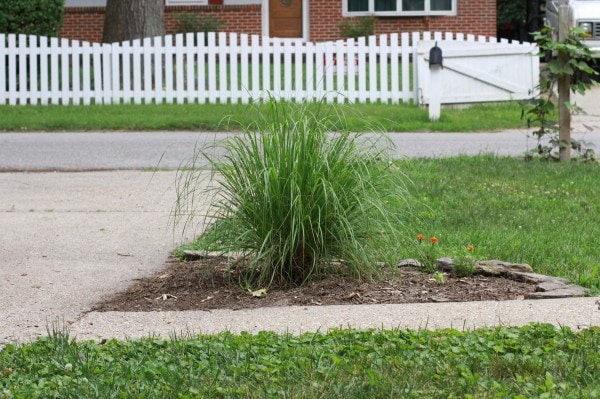 When people know this about you, you'll often find yourself the happy recipient of cast-offs and not just of the rock and plant variety. I've received bags and bags of hand-me-down clothes (yay!), old furniture, and even food.
So, don't be shy about letting people know you like being on the receiving end of this kind of deal…for instance, when someone asks you if you like hand-me-downs, say yes, and let them know you're always happy to get more.
Once word gets out, you'll be delighted at what people will give you.
And of course, be a grateful recipient. I usually offer some homemade bread to my landscaping neighbor…last night, it was this French bread. 🙂