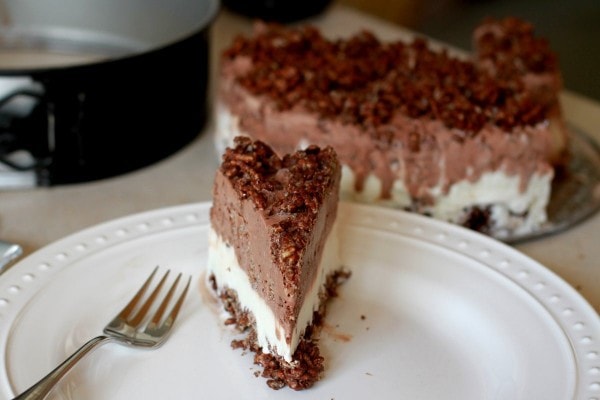 This is yet another no-bake recipe for you to use when it's just too hot to turn on your oven. I found this recipe years ago when I signed up for a Recipe-A-Day email list. It's not the most frugal recipe ever (brownies or some other baked good will usually be cheaper), but it's a lot cheaper than a prepared ice cream cake is, especially if you manage to find ice cream on a good sale.
This makes a fairly large cake so if you have a small family, you might want to cut the recipe in half. You'll end up with a shorter cake, but it still tastes just as good.
The recipe calls for a springform pan, which is what I use, but if you don't have one, you could just use a 9×13 pan and cut the cake into squares instead of wedges.

Ice Cream Crunch Cake
6 cups Rice Krispies
12 oz. package chocolate chips
2/3 cup peanut butter
1 gallon of ice cream, whatever flavor you like, so long as it goes with peanut butter and chocolate
1) Combine peanut butter and chocolate chips in a saucepan and stir over low heat until the chocolate chips are melted.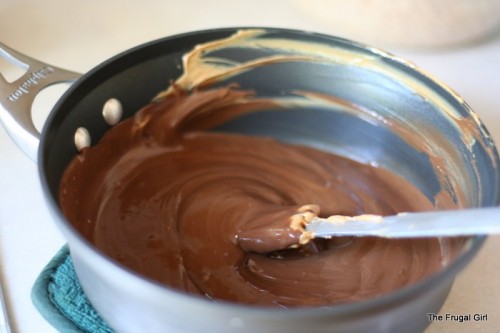 2) Pour the chocolate mixture over the Rice Krispies and stir gently until the cereal is thoroughly coated. Pour the cereal out onto a jelly roll pan (or a cookie sheet), and let it cool.
Since my house was awfully warm on the day I made this, I ended up having to put mine in the freezer to get it to firm up. It should be hard enough so that you can crumble it into chunks. Like, this hard: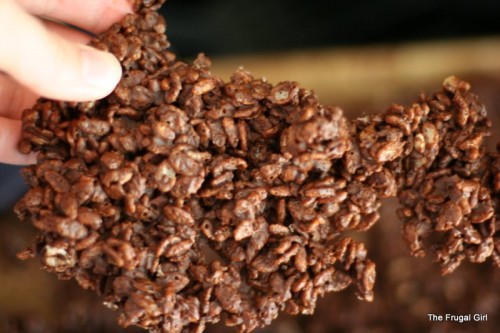 3) Soften the ice cream, and once you've broken all of your chocolate cereal mixture up into smallish chunks, fold all but one cup into the softened ice cream. Pour/press the mixture into a 9-inch springform pan. Mine is 8 inches, but it works fine.
Alternatively, you can layer different flavors of ice cream. For the cake in the next photo, I put the cereal mixture in the bottom, topped it with plain vanilla ice cream, and topped that with chocolate ice cream mixed with the cereal mixture. I then topped the whole cake with more cereal mixture.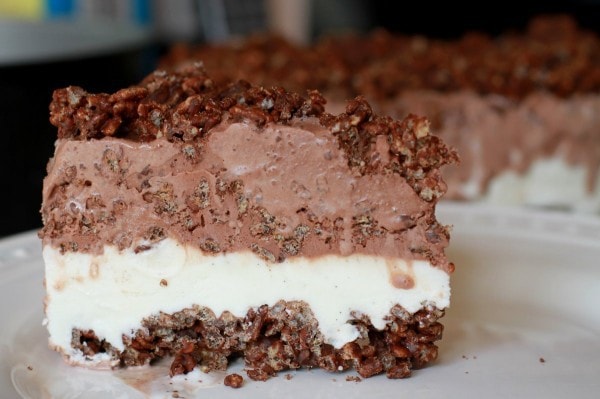 4) Sprinkle/press the remaining chocolate cereal on top of the ice cream cake, cover with plastic wrap, and freeze until firm.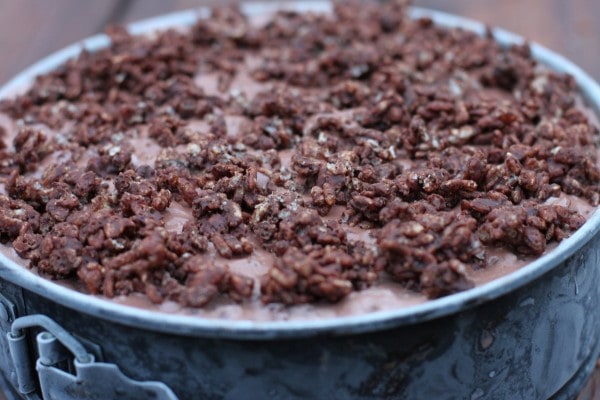 5) When you're ready to serve your cake, loosen the sides of the springform pan and slice the cake into wedges. If the cake is really hard and difficult to slice, you can let it sit for a few minutes so that it will soften.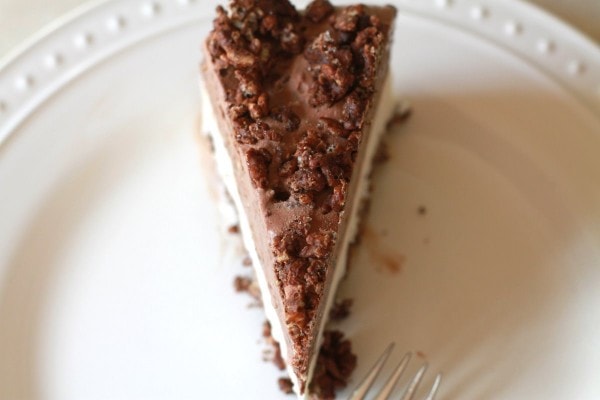 The original recipe says to garnish the cake with whipped cream and strawberries, but I've never bothered with that. I think it's just fine as is.
I'm adding a photo with text down here for you Pinterest people.