I seem to have a thing for chocolate and peanut butter, no? This summer I've posted a recipe for Chocolate Peanut Butter Squares and one for an ice cream cake with chocolate-peanut butter crunch.
In actuality, my love for chocolate and peanut butter is far surpassed by my love for chocolate and mint. I've not managed to figure out how to make anything in the way of chocolate and mint that is as tasty as what can be bought in the stores, though, so I content myself with peanut butter and chocolate.
It's probably kind providence for my figure and my health that I can't cook mint and chocolate because when it comes to that heavenly mixture, I have a deplorable lack of self-control. My only hope is to try not to buy any chocolate/mint goodies because if I do, I will eat them all at an alarming rate. My husband just picks them up for me for my birthday and at Christmas time and for Mother's Day and for our anniversary, and every now and then in between all those celebrations. (as you can see, I'm not lacking for chocolate/mint confections as it is).
I digress, though. Today is all about peanut butter and chocolate. And not turning your oven on.
This is pretty much the same as the "Muddy Buddies" recipe which floated around on Chex cereal boxes back in the 90s, except that this one uses shredded wheat (which doesn't make this health food, but does at least add some redeeming qualities). Should you be opposed to eating shredded wheat, you can feel free to substitute Crispix or some variety of Chex cereal.
Being that I'm not one for details, I failed to noticed that the recipe called for frosted shredded wheat when I first made it, and so I used plain shredded wheat. The result was more than sweet enough, so if you'd like to cut back just a tad on the sugar (although if you are really against sugar, you shouldn't be making this at all!), you can feel free to use plain shredded wheat.
Though the recipe is titled "Chocolate Cereal Snacks", I have something of an aversion to calling anything with peanut butter/chocolate/powdered sugar a snack. I would consider these to be more of a dessert than a snack, despite the whole wheat. 😉
Only a few ingredients are required.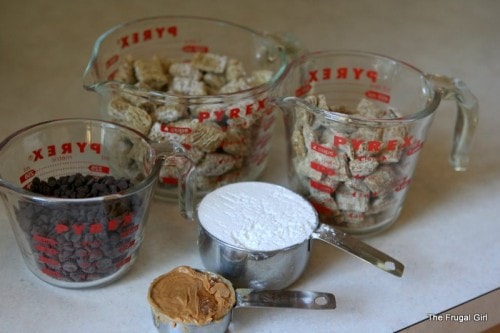 All you have to do is melt the chocolate chips and peanut butter together…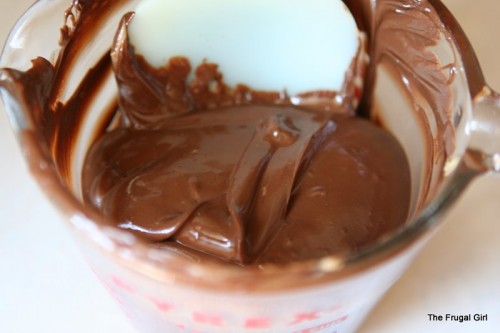 pour the mixture over the cereal…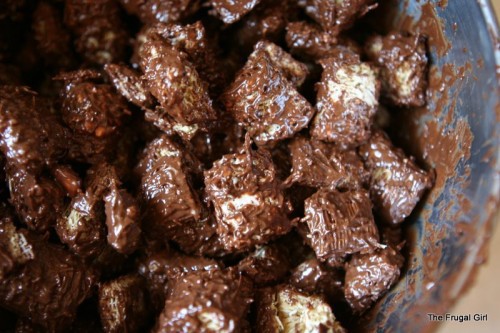 let it cool for 10 minutes, and mix in the powdered sugar.
Super easy and fast, and no oven required.
Chocolate Cereal Snacks Treats originally from Taste of Home
6 cups frosted bite-size Shredded Wheat (off-brand is totally fine)
1 cup milk chocolate chips
1/4 cup creamy peanut butter
1 cup confectioners' sugar
Place cereal in a large bowl; set aside. In a small microwave-safe bowl, melt chocolate chips and peanut butter; stir until smooth. Pour over cereal and stir gently to coat. Let stand for 10 minutes.
Sprinkle with confectioners' sugar and toss to coat. Cool completely. Store in an airtight container.