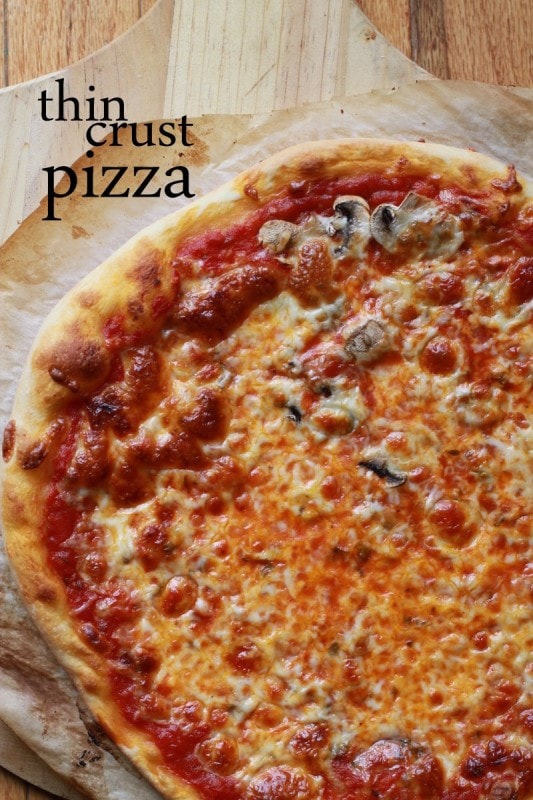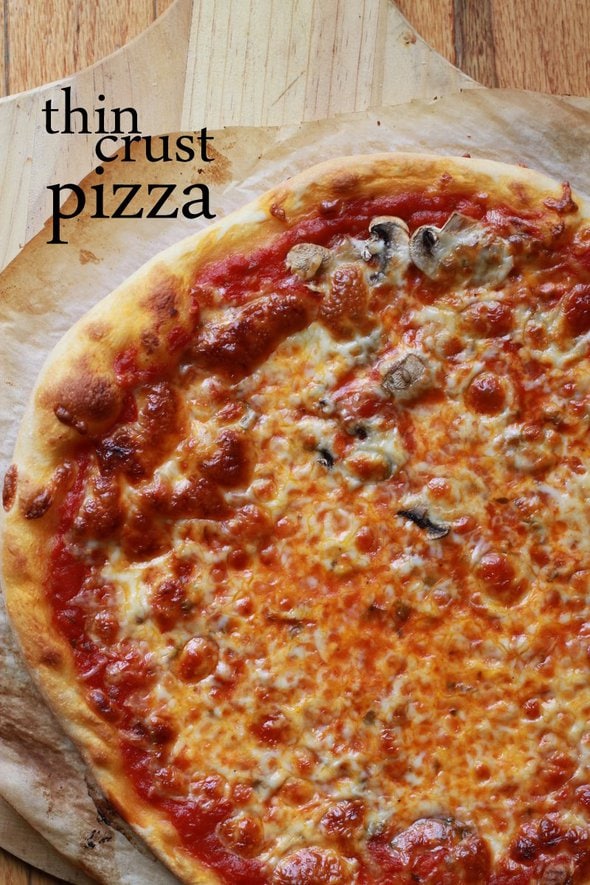 This is yet another recipe borrowed from Cook's Illustrated. I found it in the big baking book they published(I got it for my birthday a few years back), and I'm pretty delighted with the recipe. I don't do it exactly the way they said to (I didn't want my crust to be shatteringly thin like they did), but the basics of the recipe are theirs.
This pizza is delicious, but my favorite thing about it is that the dough is supposed to be made ahead of time. When I have to be out and about on Friday afternoons, we can still have pizza for dinner if I use this recipe. It's supposed to sit in the fridge overnight, but sometimes I forget to make it the night before…so, I've mixed it up in the morning, refrigerated it, and used it that evening with very satisfactory results. You can keep the dough in the fridge for up to 48 hours, but I've never managed to think quite that far ahead. Ahem.
The dough is made in the food processor and then kneaded just briefly by hand, so all you people out there with kneading phobias can probably still handle this recipe. 😉
Incidentally, you will need a pizza stone, pizza peel, and parchment paper to make this recipe (well, I suppose you could do without the pizza peel and the parchment, but the pizza stone is non-negotiable!).
Thin Crust Pizza
10 ounces unbleached all-purpose flour (about 2 cups), preferably Gold Medal
1/2 teaspoon instant yeast
1/2 teaspoon honey
1/2 teaspoon table salt
6.2 ounces water (about 3/4 cup plus 1 1/2 teaspoons), 100 to 105 degrees
1/4 cup olive oil(I use canola oil)
1. Mix everything but the water and oil in the bowl of the food processor(in case you were wondering, I did mix mine up after I took this picture. It's just that it looks sort of boring mixed up, so I thought a pre-mixing picture would be better. Not that I overthink this type of thing.).
2. Add the water, and process until the ingredients are all combined.
3. With the lid on and the machine running, add the oil in a thin stream, and process until the oil is evenly mixed into the dough.
4. Turn the dough out onto a lightly floured surface, and knead for a couple of minutes…just until it's smooth and even. The food processor will have done most of the kneading for you.
5. Put the whole dough ball into a zipper bag(using one you purchased on clearance after Halloween is totally optional), and refrigerate it overnight.
6. About a half hour before you're ready to bake the pizzas, put your baking stone into the oven and heat it to 425 degrees. While the oven is heating, take the dough out of the fridge, divide it into two balls, and let them sit on the counter for a few minutes to warm up. Meanwhile, cut two squares of parchment paper about the size of your baking stone.
7. When your dough balls have lost their chill, roll them out on a lightly floured surface to about 12-14 inches in diameter (Cook's says to do this on the parchment, but I can't get the hang of that!). Once they're rolled out, place them onto the pieces of parchment and use a scissors to trim the parchment around the pizza.
8. Top each with about a half cup of tomato sauce,
and sprinkle with cheese (you can add sausage or pepperoni or any other toppings you like at this point).
9. Place the pizza, parchment and all onto your pizza peel, and slide it onto the hot baking stone. Bake for 10-12 minutes, or until browned.
Serve promptly, because this pizza doesn't stay warm for long (unlike deep dish pizza). While the second pizza is baking, we usually sit down and eat the first. Usually by the time we polish that one off, the second one is ready to eat.