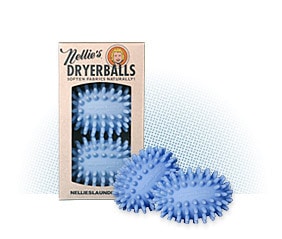 I'm working on getting a thin crust pizza recipe post ready(we'll have Wednesday Baking on Thursday this week, apparently), but for today, I wanted to ask you, dear readers, about dryer balls. I picked up a twin pack today at Aldi, and I'm curious to know if any of you have used them with success.
For those of you wondering what in the world dryer balls are, here's a brief rundown. The idea is that these funny looking little balls help to lift and separate your clothes in the dryer, thus allowing more air to circulate between then. This is supposed to soften the clothes, reduce wrinkles, and cut down on the amount of time it takes to dry a load of clothes(which obviously would save money).
Mine are just like these but I only paid $6.99 for mine(which I now see is a very good price!).
I do a lot of air drying, but there are some things that I dry in the dryer, even in the summertime(like bath towels), and in the wintertime, I use my dryer more too. So, I thought these things could be a worthwhile investment.
However, before I crack the package open, I'd love to hear about your experiences with dryer balls. Do they live up to their claims? Please share!