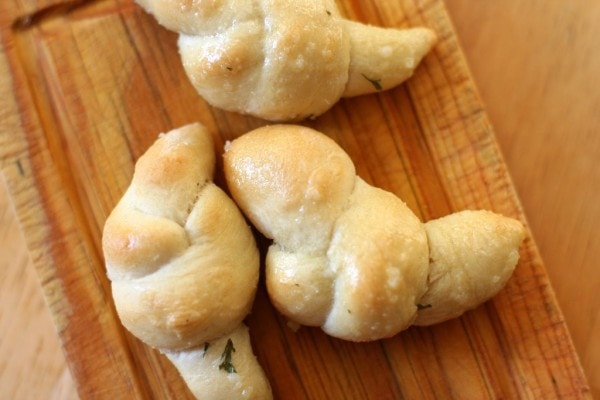 Garlic knots, from what I gather, are a pizzeria specialty, but I've actually never had them in a pizzeria. I heard about them from a co-worker of my husband's who wanted to know if I'd ever made them. Always up for a baking challenge, I did a google search and came up with a recipe from Epicurious.
Because I've never had the real thing, I haven't the faintest idea about how authentic-tasting these are, but I can tell you that if you like garlic, you'll probably like these!
The recipe calls for 2 pounds of pizza dough, so you can use the pre-made refrigerated sort or you can make your own. As you may have guessed, I make my own. 😉 Any basic pizza dough, like this one, will work fine.
2 pounds of pizza dough makes a lot of garlic knots, so if your family isn't enormous, you may want to halve the recipe.
Before you start shaping the knots, turn your oven on to 400 ° F so that it will be nice and hot when your knots are ready.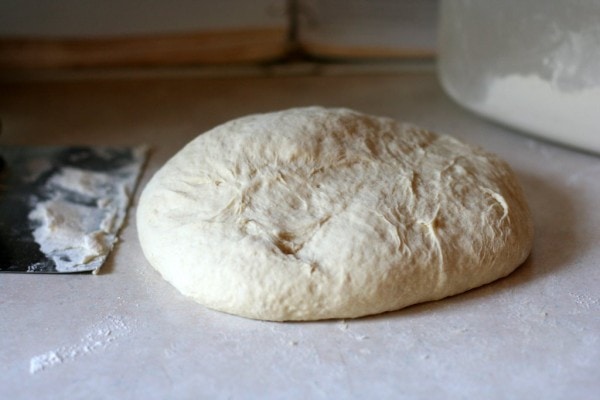 There are two different ways to shape the knots, but for either method, you'll need to divide the pizza dough in half.
For the first method, roll half of the dough out to a 10×10 inch square.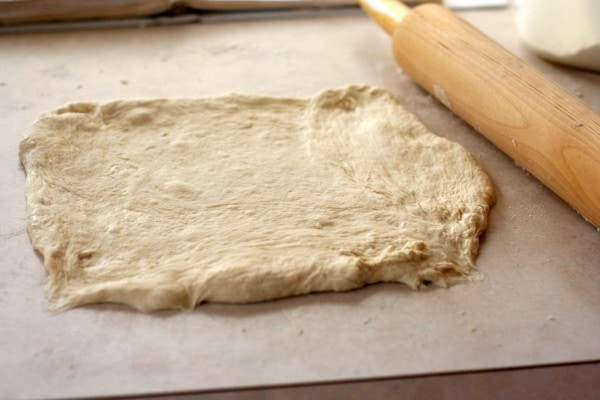 Using a pizza cutter, cut the dough in half down the middle and then cut each half into strips.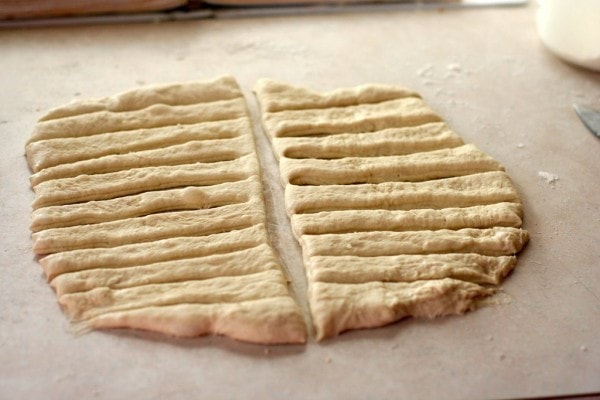 Tie each strip into a knot and place into a greased baking sheet. When I use this method, I find that I have to dust each strip with a fair amount of flour just to make it manageable, so I'm not really a big fan.
I prefer to cut the chunk of dough into 20 or so pieces and roll each piece into a snake-like shape before tying it into a knot. It's less frustrating and less sticky for me!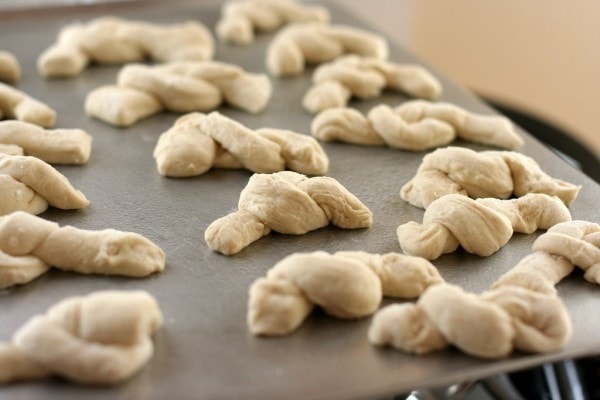 Bake the knots in the preheated oven for 15-18 minutes, or until they're lightly browned. While the knots are baking, mince some fresh garlic and mash it together with salt to make a paste. Stir in olive oil (or butter or another fat that you like).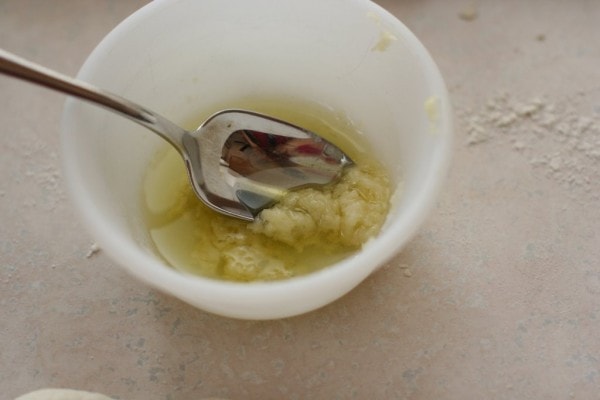 When the knots have finished baking, toss them with the garlic mixture in a large bowl. A lidded bowl works great for this because you can just shake the bowl until the knots are all coated.
If you've got fresh parsley and Parmesan cheese around, sprinkle both on top of the knots and toss the knots again to coat them.
I happened to be completely out of Parmesan cheese this go-round and I only had dried parsley. Hopefully you'll be better prepared than I was! 😉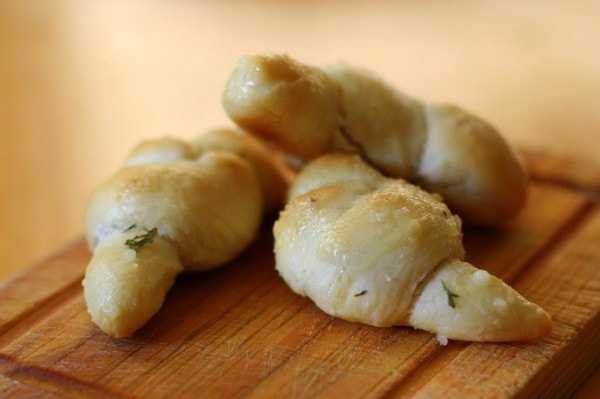 Fortunately, these are still really yummy even without the Parmesan cheese. 😉
Garlic Knots
printable version from Epicurious
2 tablespoons olive oil plus additional for greasing pan
2 lb frozen pizza dough, thawed
1 garlic clove
1/2 teaspoon salt
1 tablespoon finely chopped fresh flat-leaf parsley
1 oz Parmigiano-Reggiano, finely grated (1/2 cup)
Put oven racks in upper and lower thirds of oven and preheat oven to 400 °F. Lightly oil 2 large (17- by 13-inch) baking sheets.
Divide dough in half. Keep half of dough covered with a clean kitchen towel (not terry cloth). Gently roll out other half into a 10-inch square on a lightly floured surface with a lightly floured rolling pin. (Use your hands to pull corners. If dough is very elastic, cover with a clean kitchen towel and let rest about 3 minutes.)
Cut square in half with a pizza wheel or a sharp heavy knife, then cut each half crosswise into 15 strips (about 2/3 inch wide). Cover strips with a clean kitchen towel.
Keeping remaining strips covered, gently tie each strip into a knot, pulling ends slightly to secure (if dough is sticky, dust lightly with flour) and arranging knots 1 inch apart in staggered rows on 1 baking sheet. Keep knots covered with clean kitchen towels.
Roll out and cut remaining dough, then form into knots, arranging 1 inch apart in staggered rows on second baking sheet.
(or cut dough into 40 pieces, roll each into a pencil-like shape and tie each into a knot)
Bake, switching position of sheets halfway through baking, until golden, 15-18 minutes total.
While knots bake, mince garlic and mash to a paste with salt, then stir together with oil in a very large bowl. Immediately after baking, toss knots in garlic oil, then sprinkle with parsley and cheese and toss to coat. Serve warm or at room temperature.