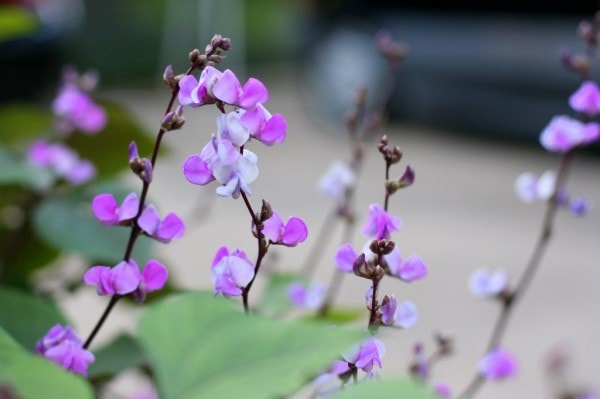 The hyacinth bean.
I love these things.
My brother started growing them years ago when he was the landscaper at church. They now cascade over a long fence there and produce hundreds of bean pods every year, each filled with little purple seeds.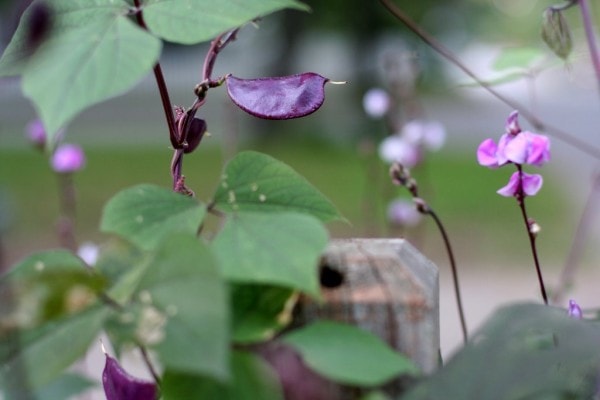 This seed production is what makes these such a frugal plant…a single seed can grow a plant that produce more than 50 seeds. Each of those little purple blooms in the first photo will produce a bean pod, so you can imagine the copious output of seeds.
Unlike the seeds of some plants, the hyacinth's seeds are very easy to save (just pluck the pods once they've dried on the vines) and very easy to plant (the seeds are the size of dried kidney beans and germinate as easily as most beans.).
This makes me very happy because I like to have beautiful plants at my house, but I don't like to spend lots of money on plants that only give me beauty for a single season.
When we moved to this house, I snagged a couple of the pods from the church fence and brought them home. I planted them along a north section of fence the first year and they didn't do very well. These plants love light and there's just not enough on the north side of a house.
I've done some experimenting around, and I've discovered that they do really well around my mailbox.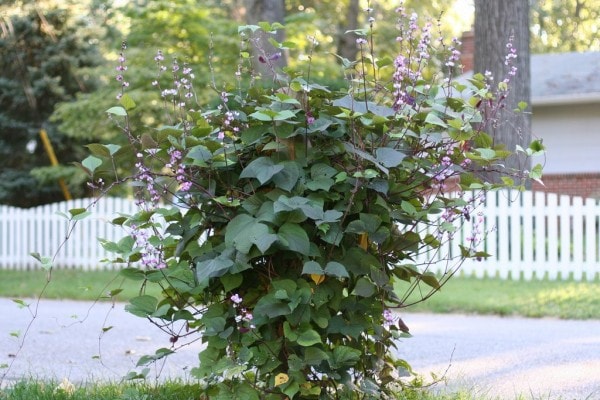 (there is actually a mailbox in there!)
They're also pretty happy on the fence which intersects with the south side of our house.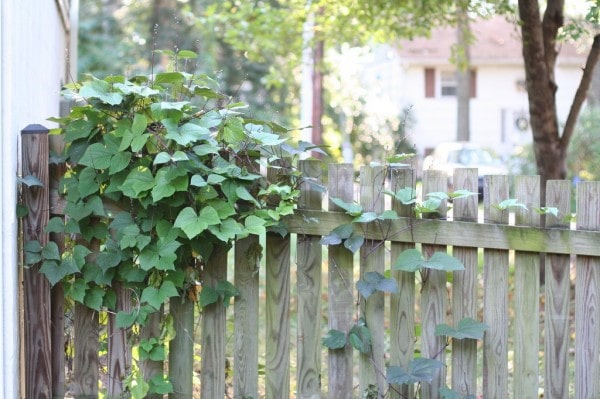 I've grown them on the mailbox and on the south fence before, but this year I tried planting them in two new places. In the spring, when Sonia and I walked around the yard with our container of seeds, we looked for planting spots that provided sun and a place to climb.
So, we put a single plant by the swingset, and though it needed a little help to begin climbing up the side, once I tied it up a bit, it took off and looks beautiful even though it hasn't really bloomed yet.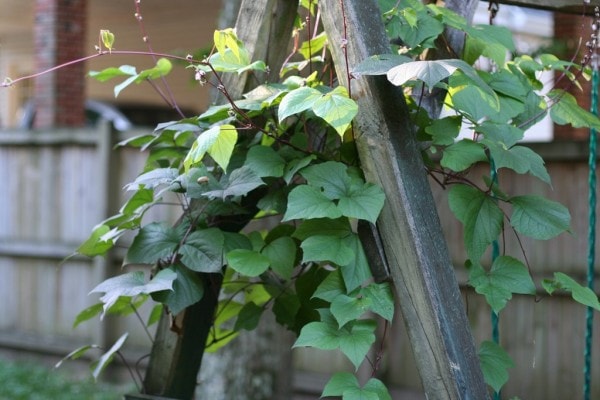 I also put a couple of these plants in a pot on my deck, thinking that the deck railings would provide a place for the vines to climb. I had to move the pots a few times because we pressure washed and stained the deck this summer, but once I let them be, they did indeed climb up the railings.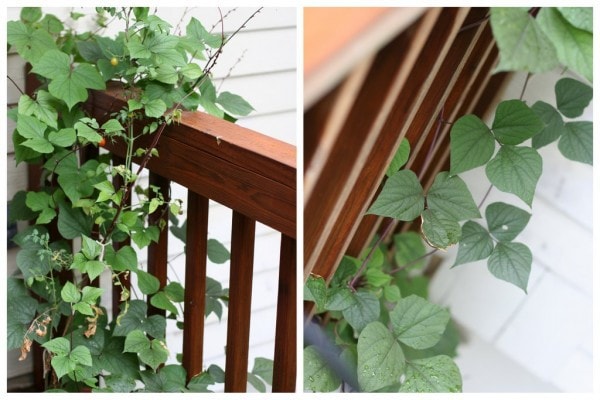 I love that they're visible from both sides, and because they hang down, they're even visible from under the deck. These deck plants are just about to bloom, but even without the blooms, I think the green vines are beautiful to look at.
You can buy hyacinth bean seeds on Amazon
and at other online stores for less than $5. Because these plants produce such a prolific number of easily harvestable seeds, your first package of seeds is the last you'll ever need to buy. In fact, after your first season you should have more seeds than you know what to do with, in which case you can give some away to your friends and neighbors.
Or if you're very fortunate, maybe you already know someone who grows these, and you can be the recipient of their leftover seeds.
Either way, if you've got sunshine and a place for plants to climb, I highly recommend giving this plant a try.
Do you grow any plants like this? If there are other easy-to-grow plants that produce easily saveable seeds, I'd love to hear about them!
Save