Every now and then, I share a baking recipe with you on Wednesdays. And lots of pictures of said baking recipe. I don't call this Wednesday Baking because I bake solely on Wednesdays…no, my oven gets a workout much more frequently than once a week! All the past baking posts are archived in the Wednesday Baking category.
This is bread, and it's made with cornmeal, but it's not cornbread.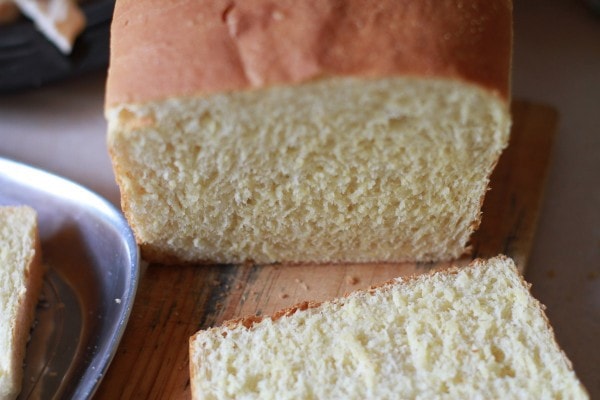 No, this is a yeasted bread, and it's quite different from the baking-powder-leavened variety. I think it's a nice change of pace when you're serving a meal that seems to call for cornbread (like maybe Tortilla Soup).
The dough is fairly sweet and it contains milk and two eggs, so the texture is soft, sort of like a sweet bread dough is. Except this isn't officially a sweet bread, so you can totally eat it at dinnertime. 😉
Like most of my favorite bread recipes, this one starts with flour and yeast in the mixer bowl.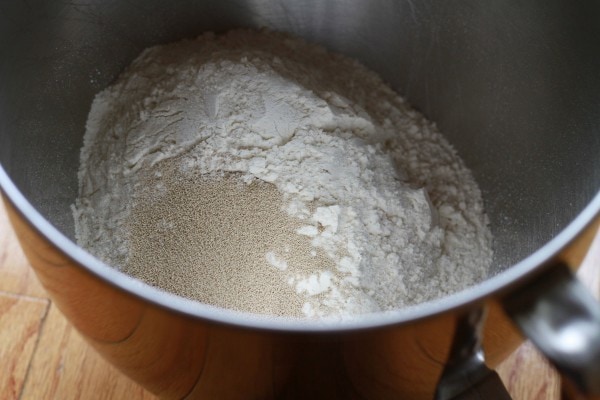 Next, combine the milk, salt, sugar, and butter in a measuring cup and heat to 120 ° F. I do this in the microwave, but you can also dump it all into a pot and heat it over medium-low heat on the stove.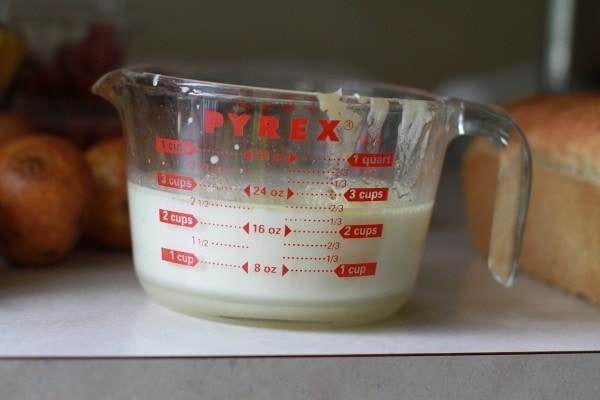 Hi! My name is Kristen and I take lop-sided pictures. Also, I am too lazy to fix them sometimes.
Ok. Mix the heated milk mixture into the flour mixture, add 2 eggs, and beat for 3 minutes. This will produce a pretty soupy batter.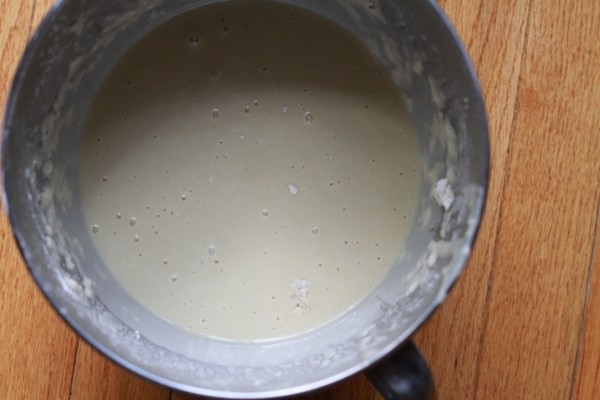 Beat in 1 cup of cornmeal. You can use white cornmeal, but I like to use yellow for the color (I usually buy the Indian Head, which is stoneground whole grain cornmeal.)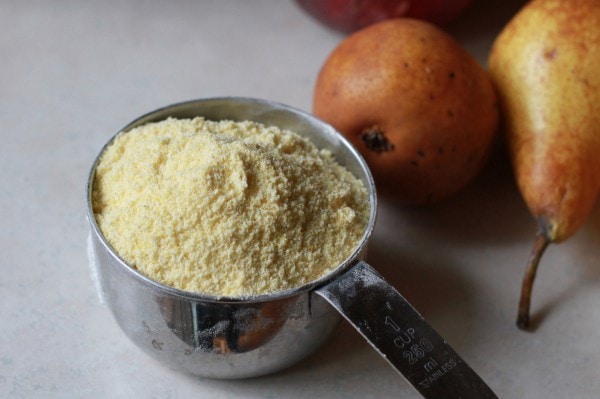 Add in enough additional flour to make a soft dough. I never measure my flour at this step, instead relying on what looks right. Turn the soft dough out onto a floured surface and knead for 3-5 minutes.
That will take the dough from this:
(psst! See the bench knife over there? I think you need one.)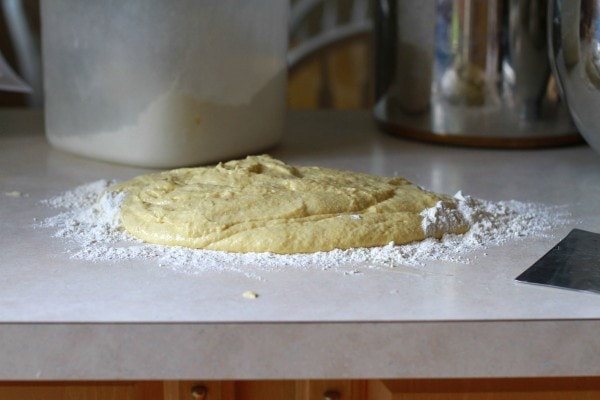 to this: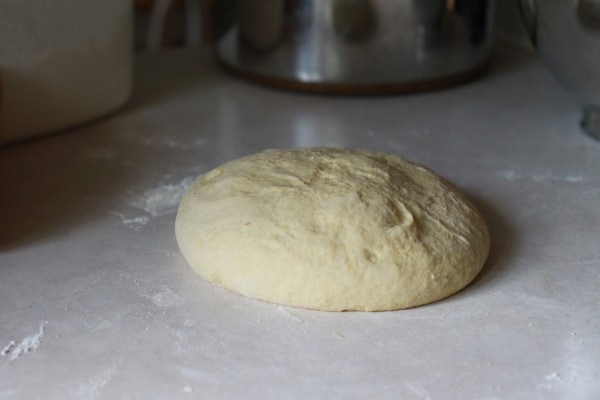 Place the dough back into the mixing bowl (I don't even bother to clean mine), cover with a wet tea towel, and let it rise in a warm place for an hour. If your house is cold, turn your oven on for 1 minute, turn it off, and then place the dough bowl inside.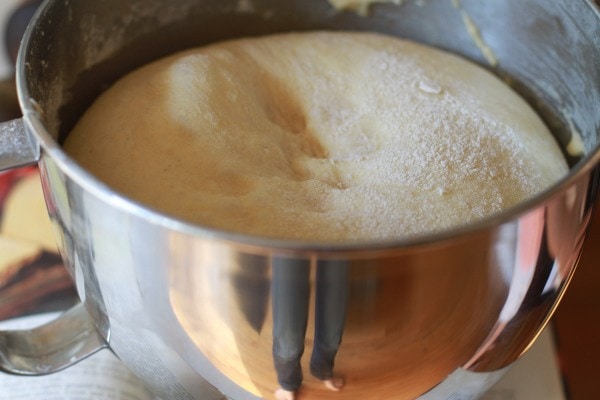 Once the dough has risen, punch it down, turn it out onto a floured counter, and cut it in half. Roll each half out into a rectangular shape, roll it up, starting from the short side, and place each loaf into a bread pan.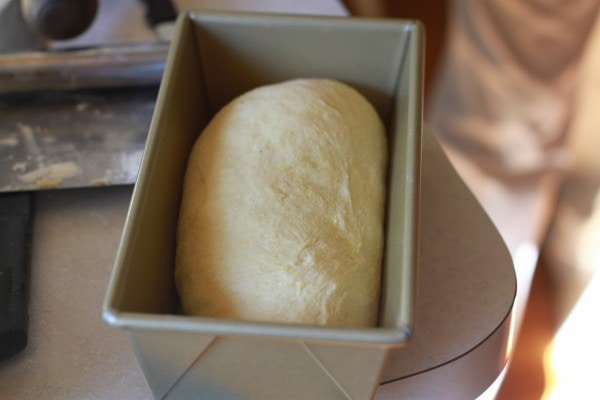 You can use 4×8 or 9×5 inch loaf pans for this recipe…the ones in the 4×6 pans will just be kind of tall. I can never decide which I prefer!
Cover the loaves and let them rise 30-45 minutes, or until they look doubled in size.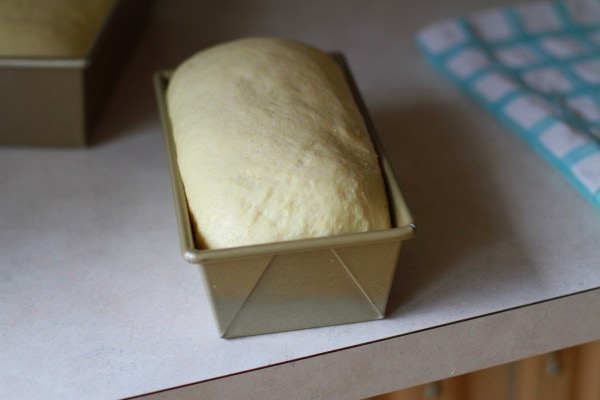 Bake in a preheated 350 ° F oven for 25-30 minutes, or until they look browned and the bottom of the loaf sounds hollow when tapped.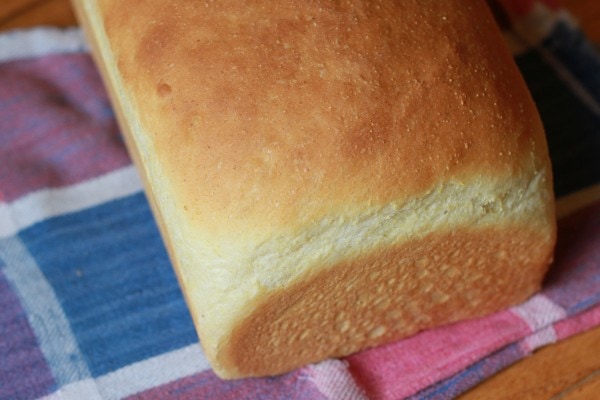 Place the loaves on wire racks to cool.
Here you can kind of see the difference between the 4×8 inch loaf (on the left) and the 9×5 inch loaf.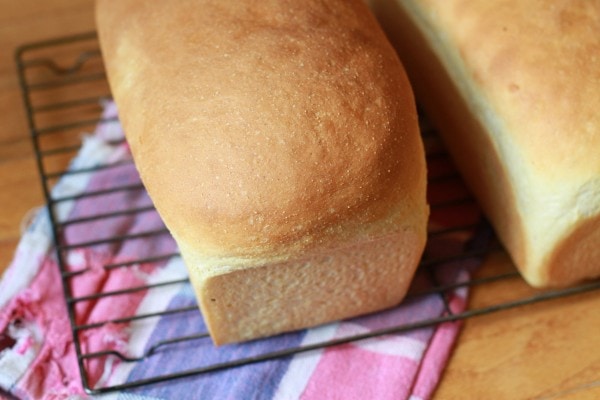 Once it's cool, slice with a serrated bread knife. And spread with butter.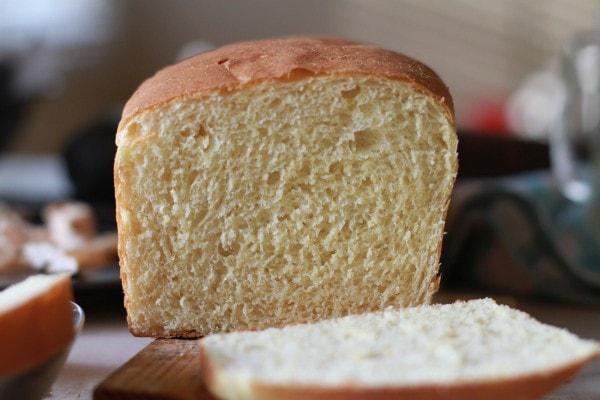 Cornmeal Loaves-makes 2
Printable Cornmeal Loaves Recipe
6-6 1/2 cups flour, divided
2 pkg. (2 1/4 teaspoons each) active dry yeast
2 1/4 cups milk
1/3 cup sugar
1/3 cup butter
1 tablespoon salt
2 eggs
1 cup yellow cornmeal
In a large mixer bowl, combine the yeast and 3 cups of the flour. Combine milk, sugar, butter, and salt, and heat to 120 ° F. Add to dry mixture in bowl; add eggs. Beat at low speed to combine, then beat at medium speed for 3 minutes. Stir in cornmeal and enough of the remaining flour to make a soft dough.
Turn out onto a lightly floured surface, and knead for 3-5 minutes, or until smooth and elastic. Place dough into a bowl, cover, and let rise in a warm place for 1 hour.
Punch dough down; divide in half. Roll each half into a rectangular shape and roll up, starting with the short end. Pinch seams to seal and place each loaf into a 4×8 or 9×5 inch loaf pan. Cover and let rise 30-45 minutes, or until doubled.
Preheat oven to 350° F. Bake loaves for 25-30 minutes, or until browned. Cool on wire racks.
source: Better Homes and Gardens 1973 Bread Cookbook
___________________________________________
Today's 365 post: "You made more applesauce??"