Pumpkin pie without a crust? Why would someone want such a thing??
Well, if you're like me, and traditional pie crust really, really doesn't blow your hair back, crustless pie is a gift from heaven.
I know pie crust is almost universally liked, but I am just not a fan, even when it's a perfectly executed crust. To me, it never seems like it should go with a sweet filling and I usually end up leaving the crust on my plate (there's no point in forcing down something with lots of calories and little nutritional value!).
Now, graham cracker and cookie crusts are an entirely different story…they're sweet and I think they go very nicely with a sweet pie filling. To me, those are some calories worth eating.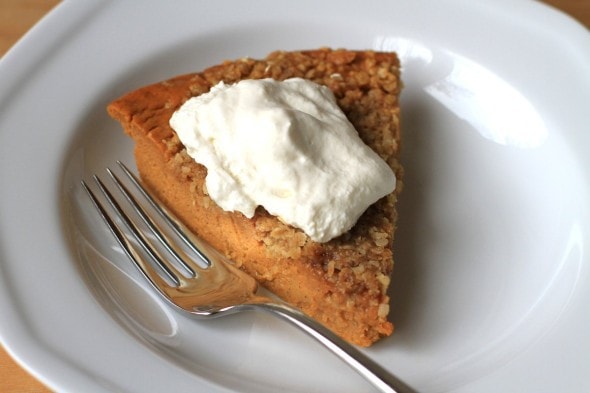 A crustless pie might also be appealing to those of you who like crust but who hate to make it. Pie crust is a somewhat time-consuming part of pumpkin pie because it has to be made, baked, and cooled ahead of time, and this pie skips all of that.
Also, a crustless pie is definitely lower in calories. In fact, I originally found this recipe in a low-fat cookbook when I was in my teens, so calorie/fat savings were definitely the original reasons this recipe was devised.
The actual pie filling in this recipe has less sugar than a traditional pie filling (1/2 cup instead of 3/4 to 1 cup), but the 1/4 cup of sugar in the streusel kind of nullifies any sugar savings. Still, if you like a very sweet pie filling, you may want to add more than 1/2 cup of sugar when you make your filling.
Since a pie crust kind of holds a pie together, a crustless pie needs to be firmer. Otherwise, it would be impossible to slice and serve. Normal pumpkin pie recipes don't include flour, but this one does for the sole purpose of firming up the pie.
Anyways, this is really, really easy to make. In fact, there's only two steps for the filling: Dump everything together in a bowl: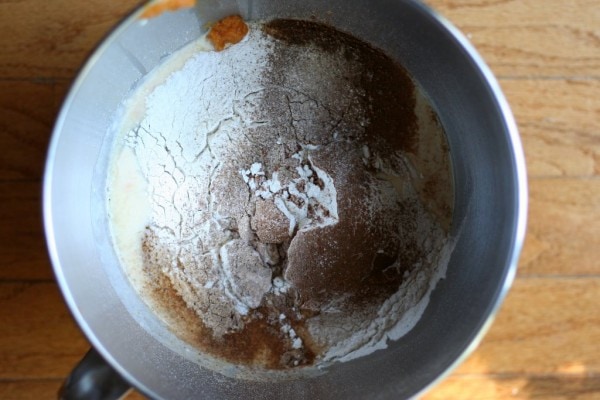 and mix it all up until it's smooth.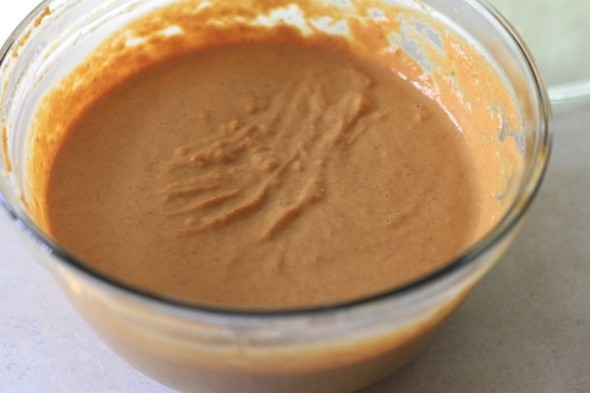 Pour the filling into a greased 9-inch pie plate.
That was easy.
Now for the streusel. To make this, simply combine quick-cooking oat and brown sugar and cut in two tablespoons of butter.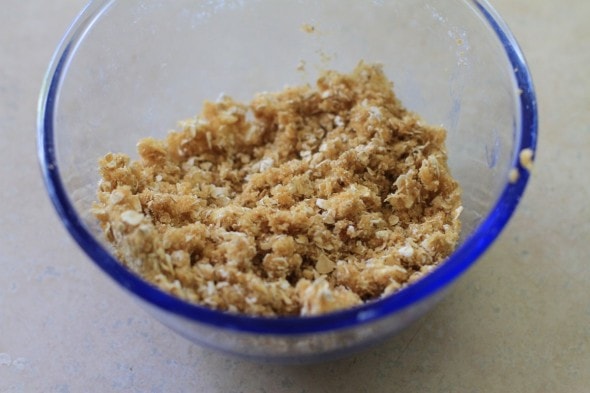 Sprinkle the streusel over top of the pie.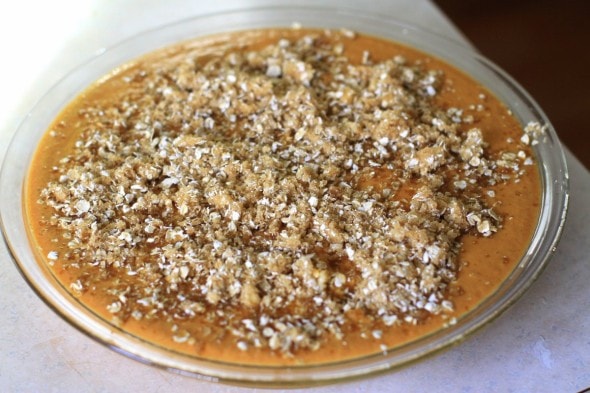 Bake in a preheated 350 ° F oven for 50-55 minutes, or until a knife inserted into the center comes out clean.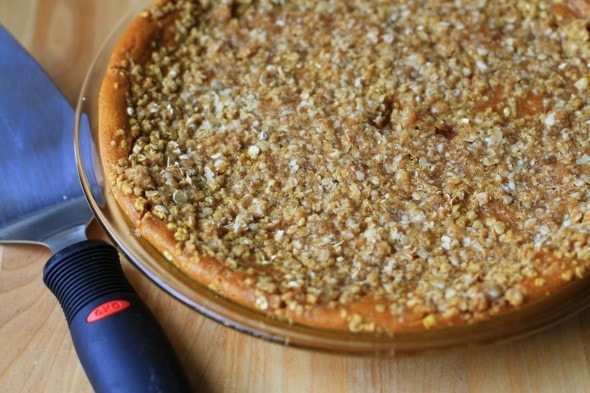 I recommend placing a hefty dollop of whipped cream on each piece of pie, especially since you're saving yourself so many calories by not eating pie crust. 😉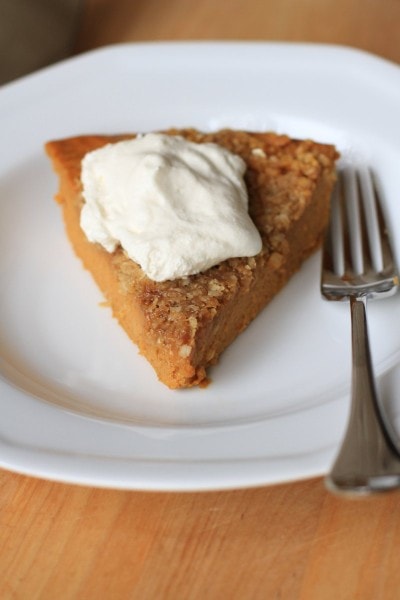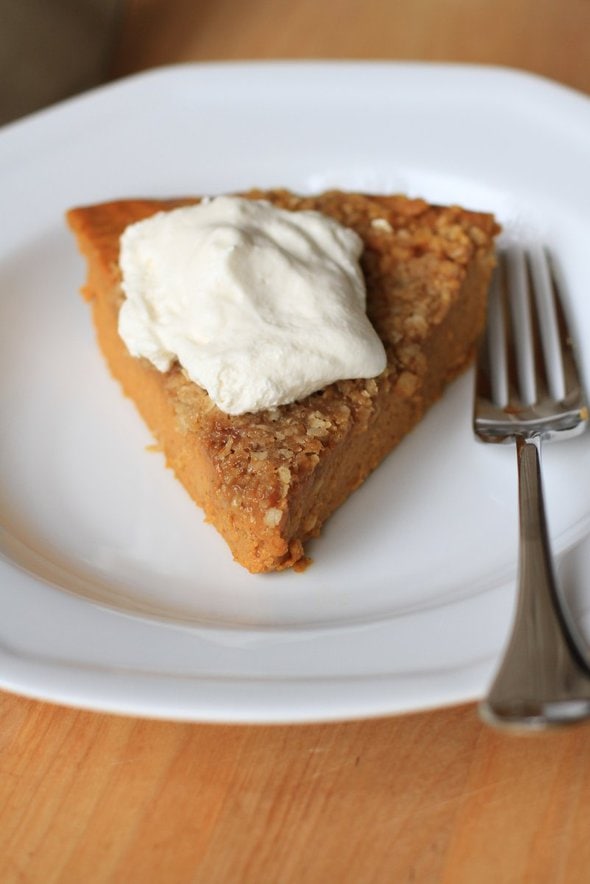 Because the streusel topping tends to absorb moisture from the pie, this pie is best the day you make it. So, if you live by yourself and will be eating the pie for a week straight, I'd probably just skip the streusel and add a little more sugar to the filling.
Crustless Pumpkin Pie with Streusel Topping
Printable Crustless Pumpkin Pie Recipe

1 can (16 oz.) pumpkin
1 can (12 oz.) evaporated milk
2 eggs
1/2 cup sugar
1/2 cup all purpose flour
1 1/2 teaspoons pumpkin pie spice (I use 1 t. cinnamon, and 1/8 t. each of allspice, cloves, nutmeg, and ginger)
3/4 teaspoon baking powder
1/4 teaspoon salt
Topping
1/4 cup brown sugar
1/4 cup quick cooking oats
2 tablespoons butter, optional
Heat oven to 350 ° F. In a bowl, combine pumpkin, milk, eggs, sugar, flour, spices, baking powder, and salt. Mix until smooth. Pour into greased 9-inch pie plate.
Combine brown sugar and oats, and cut in butter if desired. Sprinkle over pie filling.
Bake 50-55 minutes or until knife inserted into center of pie comes out clean.