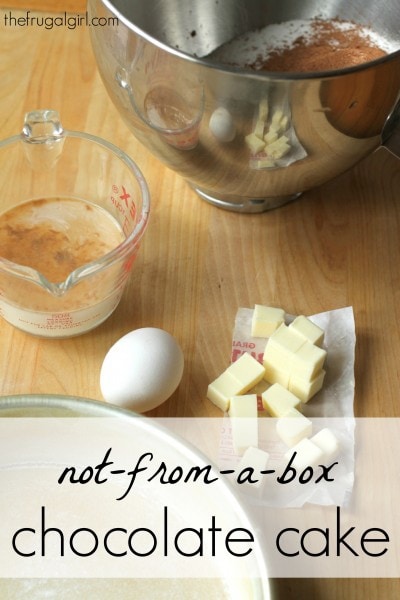 This is a much-used recipe of mine…it's my go-to recipe when I need to make a birthday cake. It turns out a nice, basic chocolate cake, which I can then use to make whatever shape my kids happen to want for their cake.
I think it's just as easy as a boxed cake mix, and it tastes a lot better. I know some people adore cakes made from a box, but I think a lot of them have an artificial flavor and odd texture, so I'm partial to the homemade kind.
I've hardly ever used a cake mix, but I know that you have to dump the dry ingredients into a bowl and beat in eggs, and sometimes oil or water.
This recipe is almost as simple…the only extra step is measuring and mixing the dry ingredients (which takes all of about 3 minutes and that's if you're moving slowly).
In fact, this is all you need to make a cake: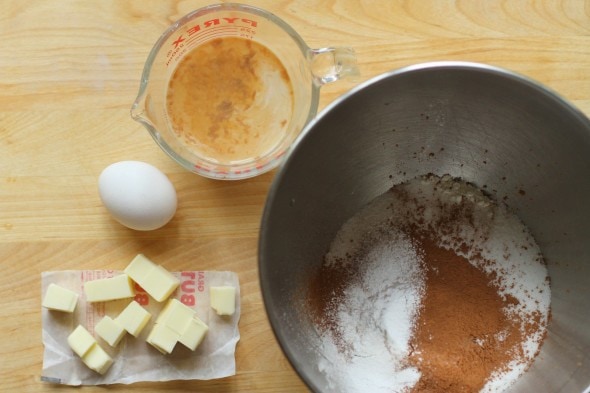 My recipe calls for butter, which in my opinion makes almost everything taste better. However, you can substitute vegetable shortening if you like.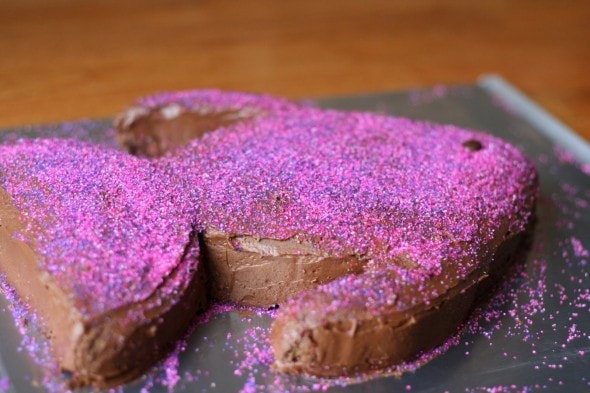 The ingredients listed here make one 9-inch round cake…however, when I took these pictures I was making two cakes (I just didn't want you to be confused when you saw two eggs and a whole stick of butter in the pictures!)
Quick and Easy Not-From-A-Box Chocolate Cake
Printable Chocolate Cake Recipe
Ingredients
1 cup all-purpose flour
1 cup sugar
1/4 cup unsweetened cocoa powder
1 teaspoon baking powder
1/4 teaspoon baking soda
1/4 teaspoon salt
3/4 cup milk
1/4 cup butter (softened) or vegetable shortening (I vote for butter!)
1/2 teaspoon vanilla
1 egg
Before you begin making the cake, heat your oven to 350 degrees and grease and flour a 9 inch round cake pan(I use butter to grease my pans and that has worked much better for me than vegetable shortening ever did).
Mix all the dry ingredients in the bowl of a mixer.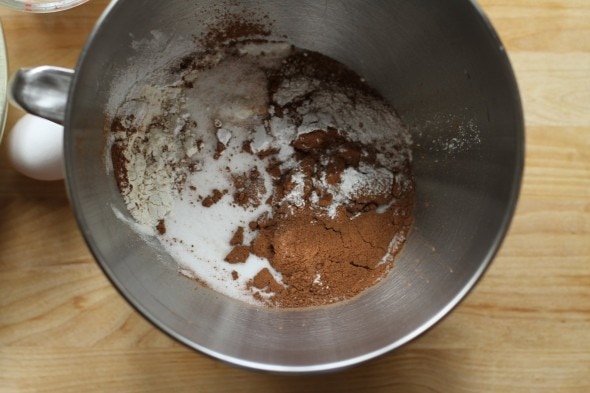 Add milk, butter, and vanilla. Beat on low until combined, then beat on medium speed for two minutes.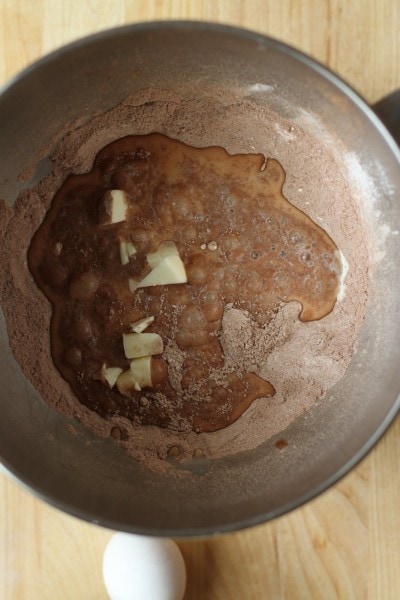 Add egg and beat two minutes more.

Pour the batter into prepared cake pan. See, wasn't that easy??
Mix the dry ingredients, beat in some wet ingredients, beat in the eggs, and your cake batter is ready to bake!

Bake for 30-35 minutes, or until a toothpick inserted into the center of the cake comes out clean. Cool the cake in the pan on a wire rack for 10 minutes.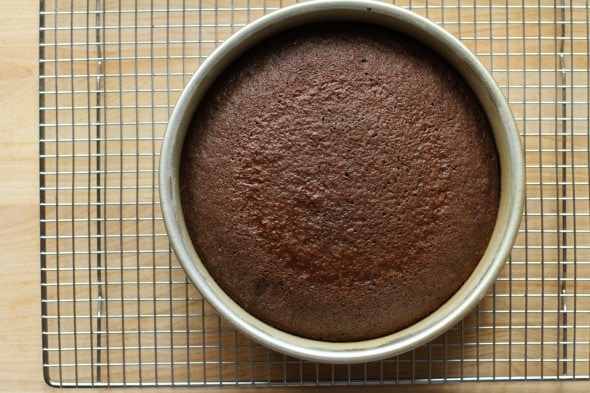 Run a table knife around the edge of the cake pan to loosen the sides, and invert it onto a wire rack.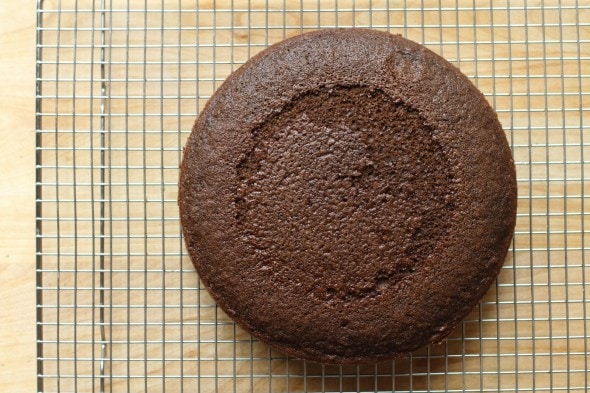 Let cool completely, frost with whatever frosting you wish (I use a simple buttercream frosting) and enjoy!