Those of you who are experienced in the kitchen will read this post title and be like, "What? Why is this even a post?? Doesn't everyone know how to whip cream??"
But if I have learned anything in my years of blogging, it is that any knowledge or skills I take for granted will be new to someone out there, and I can help someone by sharing a how-to.
For instance, I've come across a fair number of people who have no idea how to sew a button on.
Or people who are surprised that making your own frosting is actually super simple (butter, powdered sugar, vanilla, a little milk or cream! Here's a recipe.)
And I know there are also people who have no idea how easy it is to make whipped cream.
If that's you, well, read on, because this post is for you.
Why bother making whipped cream?
Well, first of all, homemade whipped cream tastes better than Cool Whip or canned whipped cream.
Second, I think it's less expensive, as long as you can get vanilla at a reasonable price.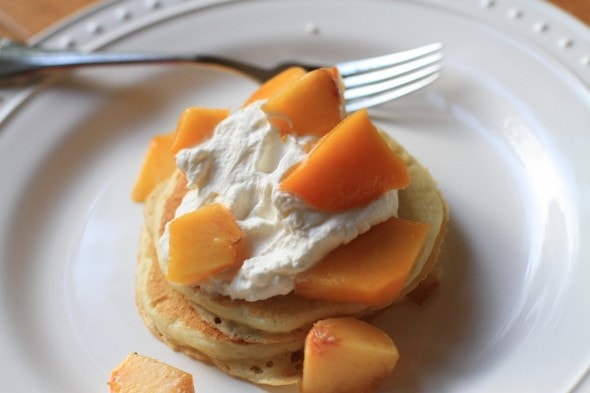 Thirdly, three ingredients seem way healthier to me than the ten or so ingredients you see listed on a can of whipped cream.
Fourth, I do think homemade whipped cream is less trash-producing. You can make a powerful amount of whipped cream with a bag of sugar (which comes in a recyclable or compostable paper bag), a container of vanilla (technically a recyclable plastic bottle), and a pint or quart of whipped cream.
(Bonus reason: if you make homemade whipped cream, you get to lick the beater when you are done. Can't do that with a spray can of whipped cream.)
Three ingredients
You can make one-ingredient whipped cream (put heavy cream into a mixer and whip it up), but that's not going to be at all reminiscent of what comes in the spray can.
To make sweet whipped cream, you just need:
heavy cream (table cream or half-and-half will not whip)
sugar
vanilla
You need an electric mixer
"Need" is maybe not the right word. If you want a workout, you can whip cream by hand with a whisk.
But cream-whipping is going to be significantly easier if you've got an electric mixer.
I personally use my Kitchen-Aid stand mixer every time.
(This is the Kitchen-Aid model I have.)
It helps to keep things really cold
You don't need to do this, but if you put your mixer bowl and beater into the freezer for a few minutes before whipping the cream, it can help your cream whip up better, especially in the summer when your kitchen is warm.
Whip it just until it's fluffy
If you beat it in the mixer for too long, the texture will get a little too stiff (vs. creamy), and if you leave it even longer, the milk solids will start to turn into butter.
You have to seriously overdo the beating to get to the butter stage, though. I've tried making butter on purpose and it takes FOREVER in a stand mixer.
So. Don't worry too much about accidentally making butter; just whip the cream until soft peaks form and it looks nice and fluffy.
Whipped cream is best right away, but you can store it
We usually eat whatever I make right away (I can be counted upon to lick the bowl every time), but I've stored whipped cream in a container in the fridge for a day or two.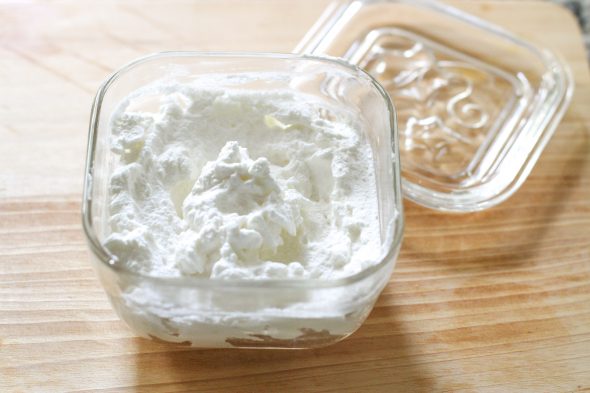 What can you use whipped cream for?
Well, I mean, you can just eat it with a spoon if you are a blogger named Kristen.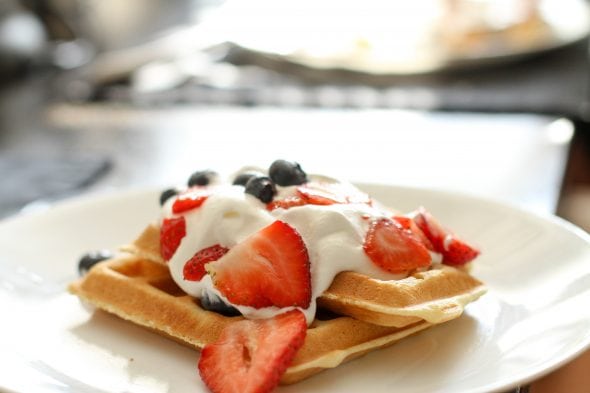 If you are a non-Kristen person, though, you can:
eat it on waffles/pancakes along with chopped fruit (less sugar than syrup, 73% fancier)
use on top of pudding
add to hot drinks like hot chocolate or coffee
dip fruit in it
Anything you've been using Cool Whip or Reddi-Wip for can usually be done with homemade whipped cream.
How do you like to use whipped cream?
And if you make yours differently than I do (or add flavor variations), I'd love to hear about it!
Scroll down for the recipe.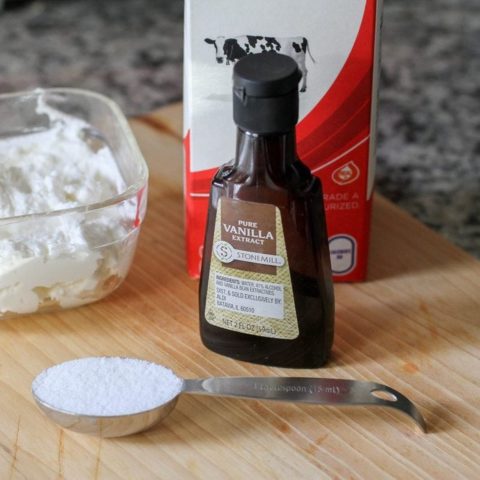 3 Ingredient Homemade Whipped Cream
Homemade whipped cream is easy (and cheap!)
Ingredients
1 cup heavy cream
2 tablespoons sugar
1/2 teaspoon vanilla
Instructions
Combine all ingredients in the mixer; mix on low speed until combined. Then beat on high speed until soft peaks form.
Notes
If your house is warm, it's helpful to chill the bowl and the beater before whipping the cream.
Nutrition Information
Yield

16
Serving Size

1
Amount Per Serving
Calories

57
Total Fat

5g
Saturated Fat

3g
Trans Fat

0g
Unsaturated Fat

2g
Cholesterol

17mg
Sodium

4mg
Carbohydrates

2g
Fiber

0g
Sugar

2g
Protein

0g