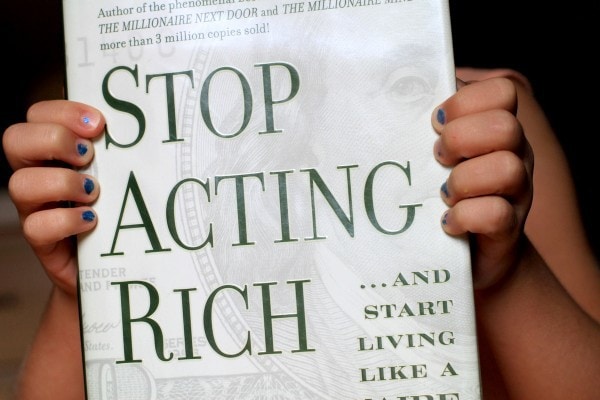 A little while back, I saw that Money Saving Mom was listening to this as an audiobook, so I checked it out from the library.
It was an interesting book, but I felt like it could have been boiled down to maybe about two chapters.
Here, I'll sum it up for you so that you don't have to read it:
1. People who are truly wealthy, with money in the bank, aren't obsessed with labels and brands and status symbols. They buy based on quality and engineering (they drive Toyotas instead of Jaguars.)
2. Most people who are obsessed with labels and brands and status symbols aren't really rich. They have a lot of income, yes, but they're not making headway. They're just breaking even, or maybe not even doing that. He calls them aspirationally rich people.
3. The exception to this rule is the glittering rich, like celebrities, who can afford to live extravagantly and still put money in the bank.
What this all means is that if you want to ever be rich, and you're not on the path to be glitteringly rich, you need to stop acting like aspirationally rich people and live like someone who actually is rich.
Which basically means that you need to be frugal and spend your money wisely.
So, you know, hang around here and catch the frugal bug!
(disclaimer: My main goal in life is not to be rich and I don't think that should be your main goal either. But I do think we should try to spend our money wisely and save for the future, so we shouldn't act like the aspirationally rich.)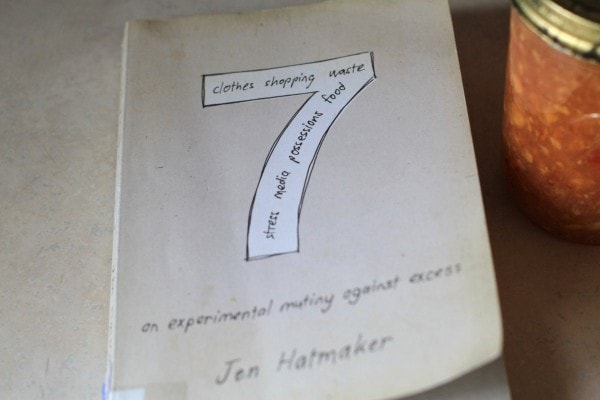 I'm not really too sure where I heard about 7.
(probably on a blog somewhere or another.)
It's written by a Christian mom, pastor's wife, and speaker, Jen Hatmaker. She's a funny lady, and so this book was really entertaining.
Fed up with the excess in her life, Jen gave up certain indulgences for a month at a time and she chronicled the journey in this book. For instance, for a month she ate only 7 foods, or wore only a limited number of clothes.
Because she was living the typical suburban life, parts of this year were very challenging for her, and that means this book was written from someone in the trenches, not someone who lives in an ivory tower. So, instead of feeling judged and criticized when you read this, you'll probably feel inspired.
I especially loved the chapter where she focused on living green, because without flinching, she addressed the Christian church's laxness in this area. If you've been submerged in Christian culture, you know that it's not an easy place to talk about eco-friendly living (I actually have a whole post in my head about that!) This should not be the case, and I was so happy to see someone speaking up and telling us we need to change.
Jen manages to be humble even here, though, partly because she was producing a lot of trash before taking on the 7 project.
If you're not a Christian, but are interested in simple living, I think you would enjoy reading this book. Jen isn't preachy, and she's bound to make you laugh at some point. And whether you have warm fuzzy feelings about Christianity or not, it would be hard to hate someone who's trying to live on less so that she can be more generous and help those who are less privileged.
And if you are a Christian, this will be a great read for you. Jen tackles some topics that we don't think much about in our middle-class, suburban churches, and you might find yourself a bit challenged when you get done reading.
___________________________________
What have you been reading lately? Anything good?
___________________________________
Joshua's 365 post: Venus Flytrap, in Macro Mode