Every Tuesday, I post a quick frugal tip.
To cut back on plastic waste and to save money, we try to store food in reusable containers.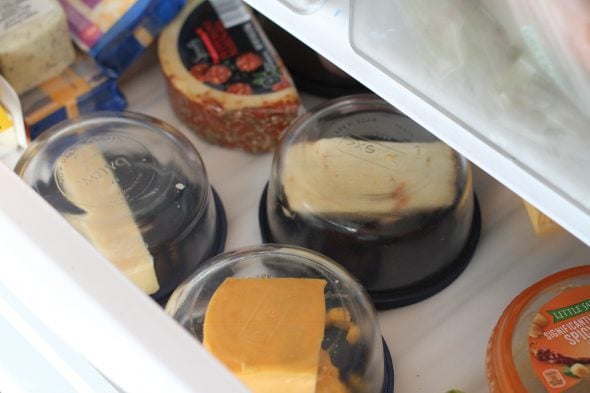 I'm particularly partial to glass containers because you can actually see what's in them.  Opaque containers are the kiss of death, because out of sight = out of mind.
But if the containers are in the lower part of your fridge or freezer, all you see is the opaque top.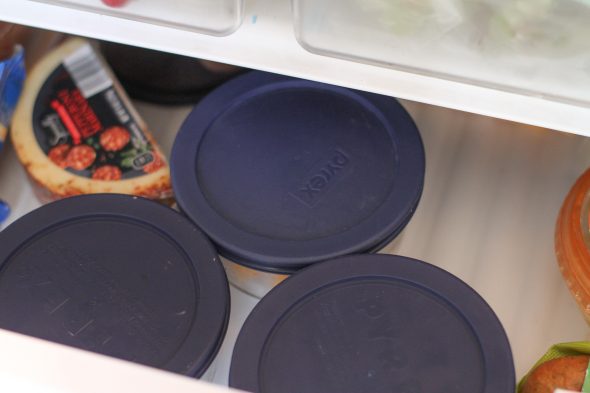 Our cheese drawer is at the bottom of our fridge, so I just turn those containers upside down. That way, all of us can easily see what cheese is available.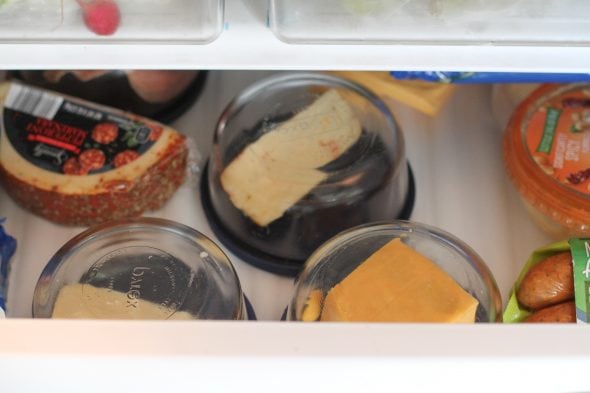 Seen cheese is eaten cheese, whereas unseen cheese quickly becomes moldy cheese.
Incidentally, I know that a glass container is not a cheese connoisseur's most highly recommended method for storage.
But I've been doing it this way for years, and the cheese has always tasted just fine to us.  So, either (A) this method works marvelously or (B) We are uncultured swine who don't know what's what when it comes to cheese.
But regardless, we're happy. And we waste less food and throw away less plastic this way.
P.S. I like Pyrex better than Anchor Hocking because the Pyrex lids have lasted longer for me. The 18 piece set for $29.99 on Amazon is a great starter set.
I hand-wash my lids to help them survive longer, but even some of my Pyrex lids do crack with enough age.  Luckily, you can buy replacement lids.
P.P.S. Don't forget to enter the TurboTax giveaway! Just leave a comment on the TurboTax post and you're entered.