This post contains referral links, which earn commission for this site at no extra cost to you. This post is not sponsored by Sixth Continent or Aldi.
Ok, so, today's Tuesday Tip comes compliments of reader Emily H. (@peaceofcake03 on Instagram).
She messaged me on Instagram to tell me that if you choose a Gift of Choice gift card as your redemption option on Sixth Continent (a site that offers savings on gift cards), you can then use that card to buy Aldi gift cards, and you'll get 5% back in credits at Sixth Continent.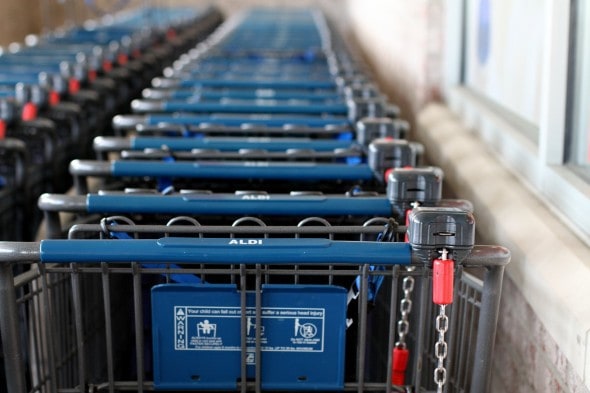 (Which you can then use toward your next gift card purchase.)
I had no idea about this, so, thank you, Emily!
Here's how this works.
Step One:
Sign up with Sixth Continent or log into your existing account.
Buy a Gift of Choice gift card on Sixth Continent (you'll get 5% credit back on your purchase.)
Step Two:
Wait two days for Gift of Choice gift card to be activated. Then redeem the Gift of Choice gift card for Aldi gift cards.
Step Three:
Wait for Aldi gift cards to arrive in the mail (free shipping!). I wish they offered a digital version but alas, it's actual cards for now.
So, you have to be a little bit on the patient side to make this work, but hey, a 5% discount at Aldi is a happy thing.
To make this worth your while, I'd go ahead and order $100 worth of gift cards at one time.
I happened to do this when Sixth Continent was having a 30% credit back sale, which means I only paid $70 for my $100 of gift cards.
This made me very happy indeed.
And I promise I will let you know if Sixth Continent runs another such sale in the future.
Hop on over to Sixth Continent to order your Aldi gift cards, and if you run into any difficulties, do let me know.
P.S. If you are new to Sixth Continent, you can sign up through my referral link and get almost $10 off your first gift card purchase.
P.P.S. There are lots of other gift card redemption options on Gift of Choice, of course. I'm just highlighting the Aldi one because Aldi discounts are so rare!
P.P.P.S. I know that 5% back on groceries is not going to make anyone rich. But it only takes about five minutes to do the ordering, and if you order $100 of gift cards, that means you are earning $1/minute, which works out to $60/hour. So that feels worth it to me.