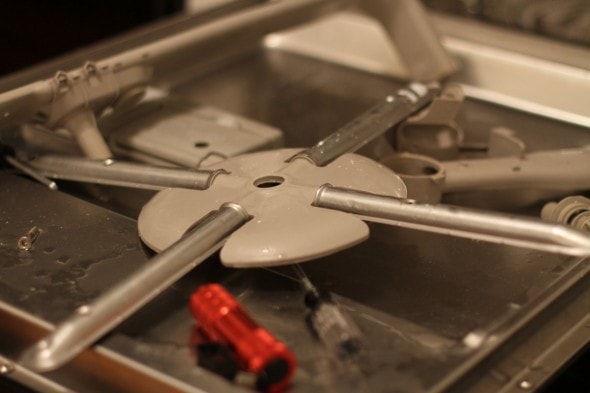 Last night, I started the dishwasher and began handwashing the other dishes (the official dishwashing person is sick). After a few minutes, I heard a dreadful noise, and at first, I thought it was something outside. Then I looked down and realized to my horror that the sound was coming from the dishwasher.
I switched it to the rinse cycle to troubleshoot it a bit, and still the sound persisted.
Mr. FG (who was also sick on the couch with a 104 ° fever. Oy.) did a quick Google and found that something was probably stuck.
A number of years ago, he and I had taken apart the dishwasher and cleaned it out, so I knew this was not an impossibly difficult task, and I also knew I mostly remembered how to do it.
I also knew that I am waaaaay too impatient about broken things to wait for him to be unsick, so I decided to do it right away.
I had a top and bottom rack full of wet dishes to be washed, after all.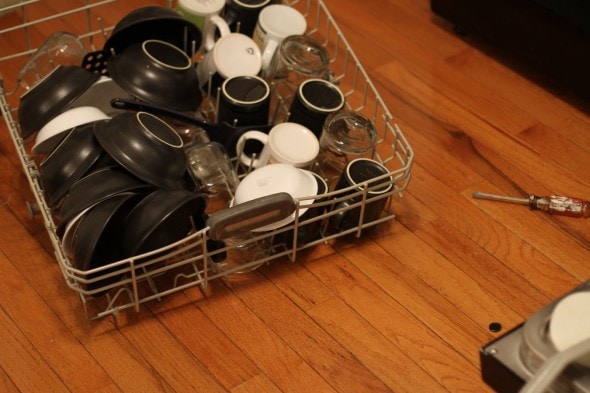 I took the top and bottom racks out and began removing the upper and lower spray assemblies.
(I have no idea if that's the official term, but it sounds legitimate, right? Right??)
Even before I got the last dishwasher part removed, I could see the problem: a toothpick, swollen with water, was jammed down into the chopper area of the dishwasher. No wonder things weren't working right!
I also cleaned out a number of grapefruit seeds, popcorn kernels, a small piece of glass, a small piece of shrimp shell, and various other pieces of debris that dishwasher choppers are not meant to handle.
Plus I wiped out a bunch of slimy goop. The goop, which seemed like soap residue, was mostly on the top part of this grey circle.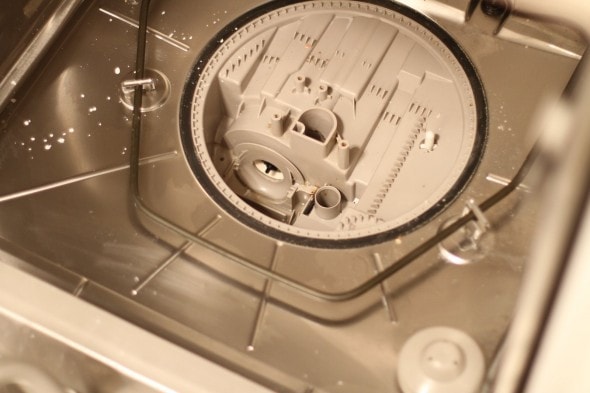 Aren't you glad I waited to take a photo until the goop was gone??
The only part I got stuck on was removing the chopper cover (I didn't want to pull too hard and break it!), but Mr. FG googled it, and it was so easy…just lift it up to the right once you've removed the screw.
The chopper itself and the chopper screen definitely needed some cleaning too.
After inspecting it, I kind of think the chopper blade could stand to be replaced, but we all know that I was not going to leave my dishwasher unassembled while waiting for a new part to ship.
(Hi, my name is Kristen, and I like everything to be put back together. Now.)
I'll think about a replacement chopper blade later.
Once the dishwasher was all cleaned out, it was fairly simple to put back together.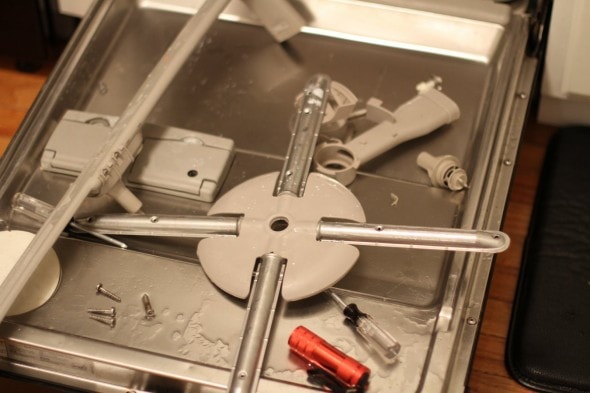 And I am pleased to say that the dreadful sound is gone now.
Plus, I think the chopper and the dishwasher in general will function better without all that unchopped stuff in the way.
I have to say, though, I really do not envy plumbers and appliance repairmen because working down on that level is super uncomfortable.
I think this project probably took me a little less than an hour, so I feel like it was worth it to save the $120 a service call would have cost. Plus, there's the convenience factor: my dishwasher was up and running in an hour, and I didn't have to bother calling someone to schedule a repair appointment.
Also, since I've done this by myself now, next time the dishwasher needs to be cleaned out (Children live at my house. It's gonna need to be done again.), I think I could do it a lot faster.
__________________________
P.S. I posted a photo of my taken-apart dishwasher on Instagram last night, and a reader responded with #nowhiskers, which cracked me up. She's referencing You Don't Need Whiskers to do That, of course. And though the person with whiskers in this house is normally perfectly capable of doing this job, it's pretty handy to be able to do stuff myself when he's not at home or is sick.
__________________________
P.P.S. I wrote a post for eBay about some of our favorite toys to buy secondhand (Duplos top our list of faves!)