Whenever my sister-in-law and I do a stereotypically male task, that's what we say.
She lays flooring, calls me, and says, "I didn't need whiskers to do that."
I fix my dryer, call her, and say, "No whiskers necessary!"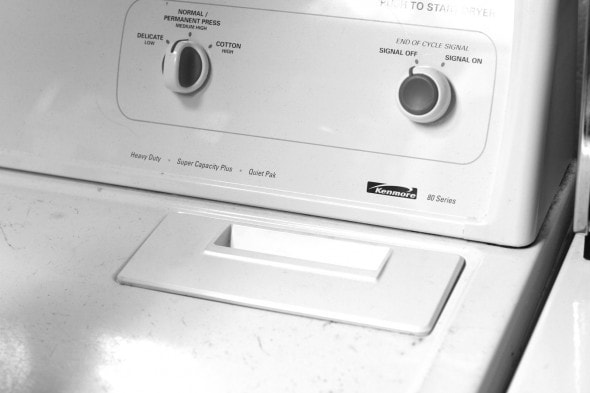 This phrase was inspired by hearing one too many women say things like, "Oh, I've been waiting for Bill to paint the front porch railing for months, and I just wish he would get around to it!"
Whenever I hear something like that, I always think to myself, "Um, you don't operate a paintbrush with your whiskers. Go buy a paintbrush and do it yourself!"
For some reason, we women often think that we are just incapable of doing things like that.
And men sometimes think that way too about stereotypically female tasks.
You know my squeaky dryer issue that I thought I fixed with some lube? Well, it started squeaking again so I re-oiled it, and after a month of quiet, it squeaked AGAIN and it was getting awfully loud this time.
So, I opened up the dryer, expecting to lube it, but I discovered rusty metal dust all over the inside of my dryer, and upon inspection, I realized that the inside of the wheel I'd lubed had been slowly disintegrating.
See how much larger the hole is in the right one?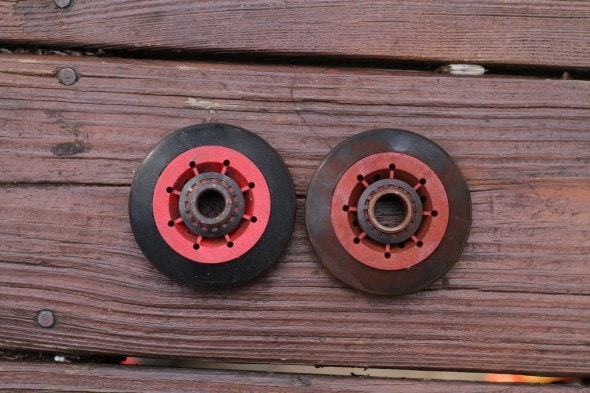 Obviously, it was time for a new wheel set. I called the fabulous repairman who replaced my washer's transmission recently, and he said that oiling a squeaky wheel is just a super temporary fix (my experience bears that out!) and actually makes the problem worse in the long run.
Whoops.
Anyway, he told me of a local shop to visit for the parts.
When I walked in and told the guy behind the counter what I needed, he doubtfully eyed me up and down and asked if I was doing this job myself.
Ha.
I assured him that my dryer and I are quite familiar with each other and that I'd already taken the dryer apart that morning.
(Thank you, YouTube. So many great appliance tutorials!)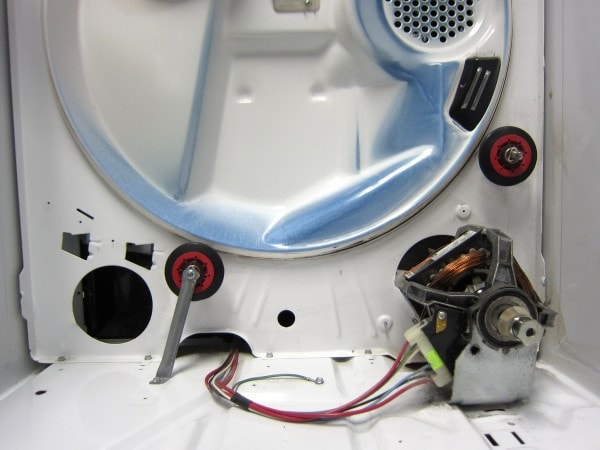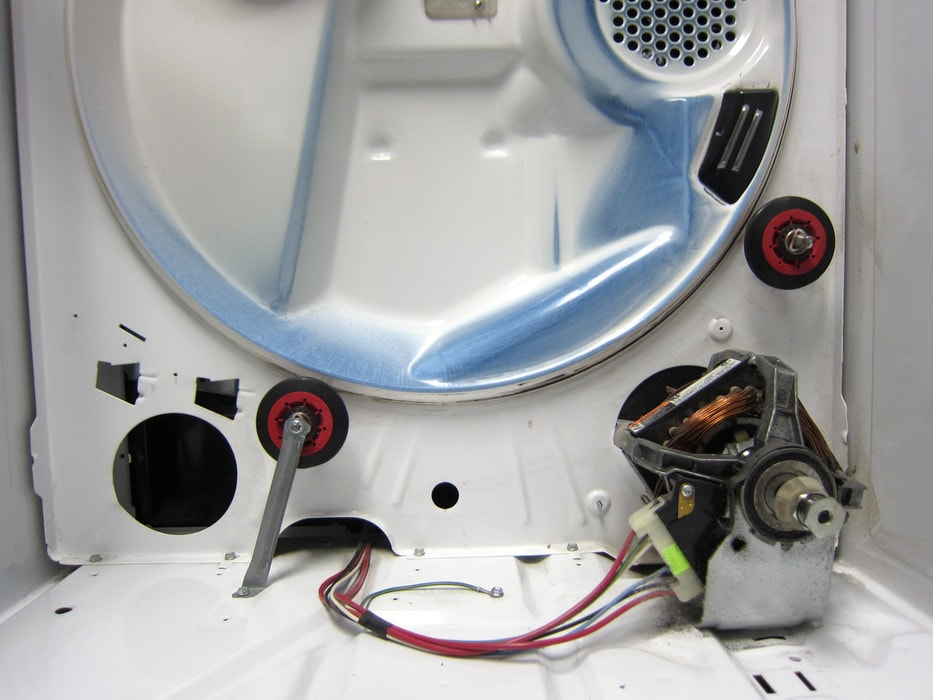 He was out of the kit, which includes wheels, a belt, and a roller assembly, but after some discussion, I realized I didn't actually need the roller assembly, so he just sold me a belt and the two wheels a la carte.
Yay!
The belt had some visible shredding and wear on it, so I thought it would be smart to replace it while I had the dryer apart.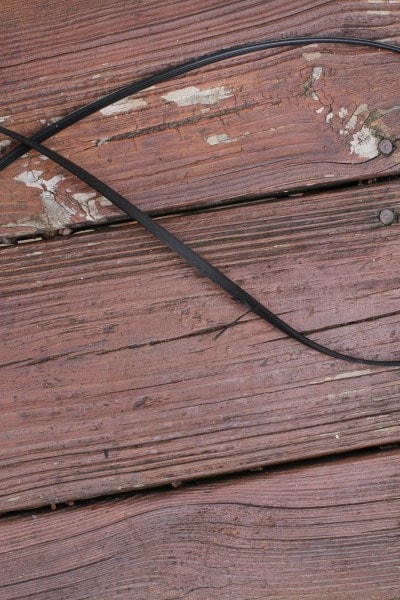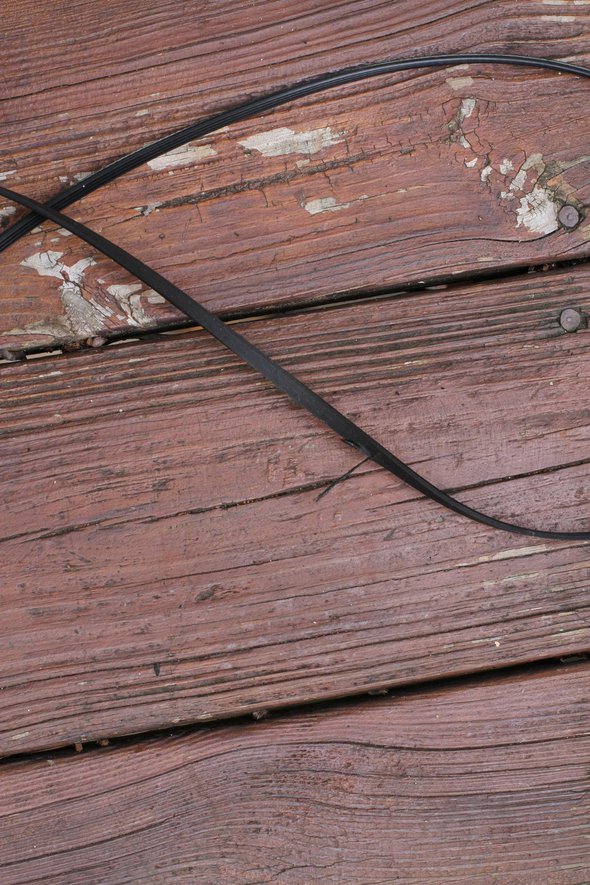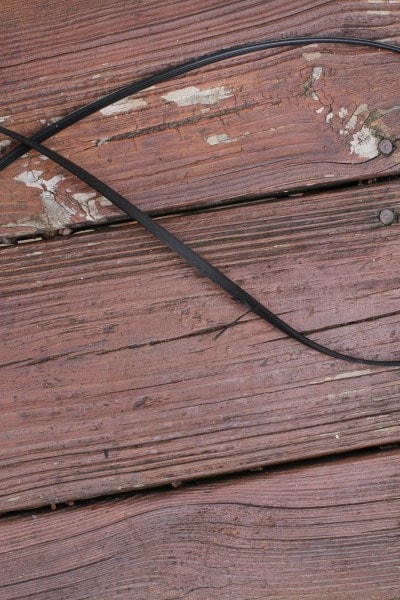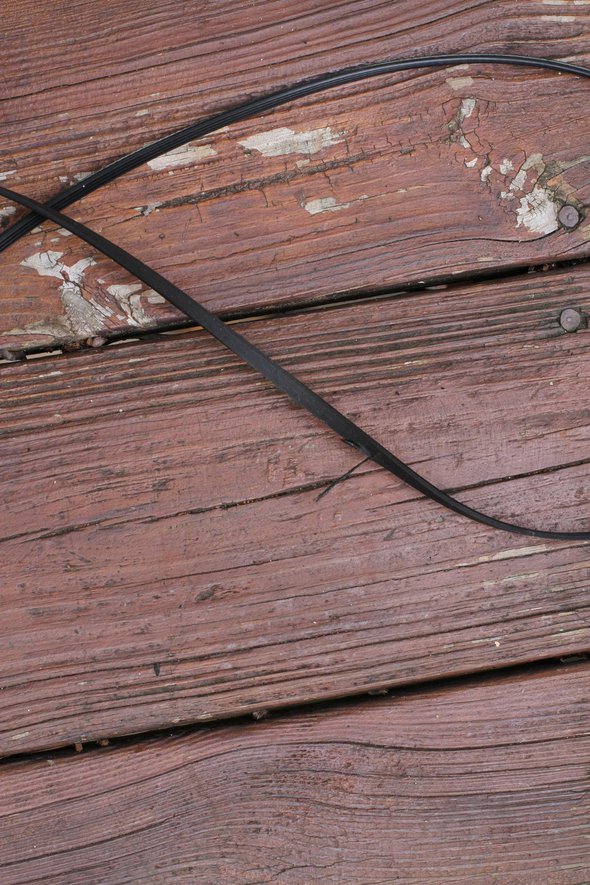 Once I had the parts, it only took me about 15 minutes to install them and put the dryer back together.
(I'd already cleaned up all the rusty dust that morning.)
So, my dryer is now running smoothly.
Even though I don't have whiskers.
Don't get me wrong: there are certainly things I can't do just because I lack size or physical strength.
And I definitely don't think it's wrong to depend on your spouse for things.
I just think that we shouldn't assume that tasks should always be dedicated to one sex or the other.
We don't want men to assume that they are unable to shop or cook or soothe a baby or have a heart-to-heart conversation just because they are men, right?
So in the same way, I don't think we women should decide that it is impossible for us to take on typically male tasks.
Even if the appliance parts guy doubts us. 😉