Though I love to save money (duh.), there are some types of money-saving events that I would really rather pass on.
Like Black Friday.
Or drugstore freebie offers (which are usually gone unless you get there the VERY first day of the sale).
Or $1 flip-flop day at Old Navy.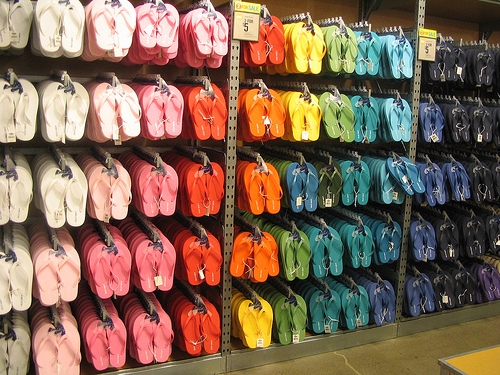 I realized the other day what these tend to have common: crowds and/or limited quantities.
I didn't always realize this about myself, but I am so not a crowd person.
I don't like waiting in lines, I don't like bumping into people wherever I turn, and I don't like the lack of parking that usually comes with crowds.
I especially hate dealing with crowds only to find out that what I came for isn't even available.
This happens regularly on Black Friday. If you have a common flip-flop size, it happens at Old Navy. And it happens allll the time at drugstores, unless you live in an area where there are no couponers.
For me, the process of dealing with crowds and the possibility of spending my time only to not end up with the freebie/bargain in the end?
That really sours the deal.
I would so much rather save money by
DIY-ing something
browsing a clearance rack
shopping at a thrift store
buying secondhnad
just buying less stuff in general (which can save a whole lot of time and money!).
I know some people are energized by crowds, don't mind lines, and love the thrill of the bargain hunt even if they come up empty-handed. But man, that is just not for me.
__________________
How about you? Do you love to show up on free ice cream scoop day, $1 flip-flop day, and Black Friday? Or would you rather stick forks in your eyeballs? 😉