This giveaway is now closed…congrats to Pam!

I'm so sorry I didn't get this up yesterday afternoon like I promised…I made a technical error and temporarily broke my blog.
Oops.
Fortunately, I knew how to unbreak it, so there's that.
The Goods
You all know Third Day Naturals from their many previous appearances on my blog. They're a small company owned by a blog reader and her family, and they make natural soap, lip balm, body scrubs, and more.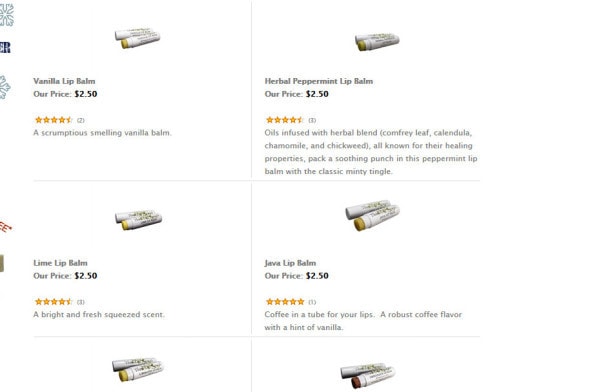 I'm totally in love with my evergreen soap (I tried it in the sampler pack, fell in love, and ordered several more full-size bars). It smells like Christmas in a bar, and it's a lovely, natural sort of evergreen scent because Third Day uses essential oils for their fragrances.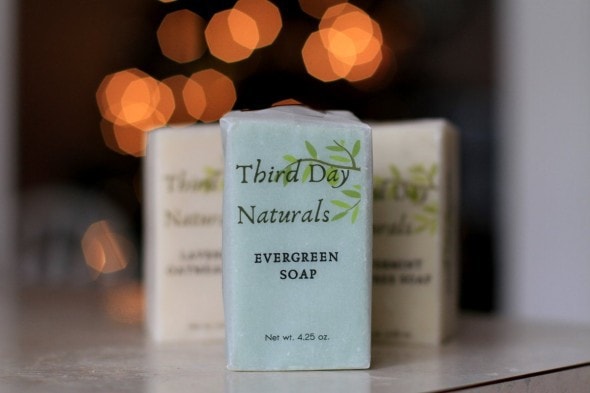 Also, I'm loving the chocolate lip balm lately. It gives just a slight tint to the lips when you apply it, so not only does it provide moisture, it also makes it look like you're wearing a very subtle lip color.
For flavor alone, though, the lime lip balm is the one to beat. It tastes like key lime pie on your lips. And like all Third Day naturals lip balms, this is made with good stuff like shea butter and coconut oil, which means it works really well and is healthy for your skin.
Third Day also recently sent me some of their body butter. It's kind of like a solid sort of lotion, although it melts on your skin when you rub it on. It's made with over 65% shea butter, so it's uber-smooth and silky, and it comes in other great scents, like Citrus Sunshine and Vanilla.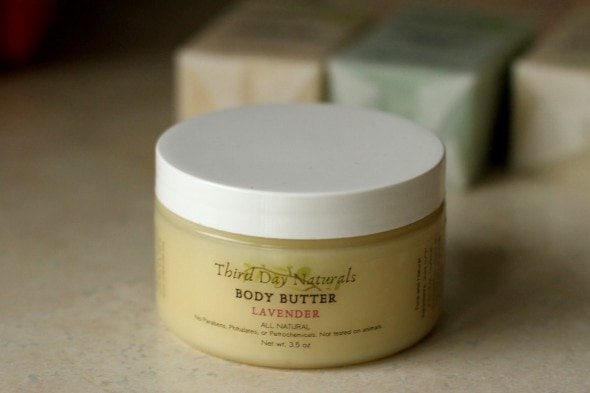 I got the lavender scent, which smells lovely, like all the Third Day products. And like their other products, this has no phthalates, parabens, or petrochemicals.
The Giveaway
Third Day has kindly offered to give away a body butter, soap, and lip balm (your choice of scents for all three products) to a lucky reader!
(Third Day also offers scent-free products, so do enter even if you can't tolerate scents.)
To enter, just leave a comment. You can tell me what looks the most appealing to you in the Third Day shop, or you can just say you want this prize. 😉
I'll choose a winner randomly after the giveaway closes at midnight EST on Monday, December 16th. One entry per person, please! Readers in the U.S. and in Canada are eligible.