Some months ago, I came across singer/songwriter Taylor Leonhardt through the The Rise and Fall of Mars Hill podcast (they played her The Bridge track as the closing song in one episode).
Anyway, as I explored her other songs, I came across one I really like.
It's called "Happy (or Whatever)" and love that it touches on themes of envy and contentment; it's not often I hear a song written about these themes!
She talks about looking at ads online, or looking at other people's lives and how she finds herself thinking how much better their lives must be than hers:
I'm on the other side of the glass
Looking at the life they have
Ain't it so much better
It's always easier to believe
It's easy for them to be
Happy or whatever
And she realizes the pointlessness of this line of thinking:
Why do I do this
Play a game I keep losing
It's all so elusive
The closer I get the target keeps moving
Maybe I have all that I need
To be happier than ever
That line, "the closer I get, the target keeps moving", has really stuck in my head.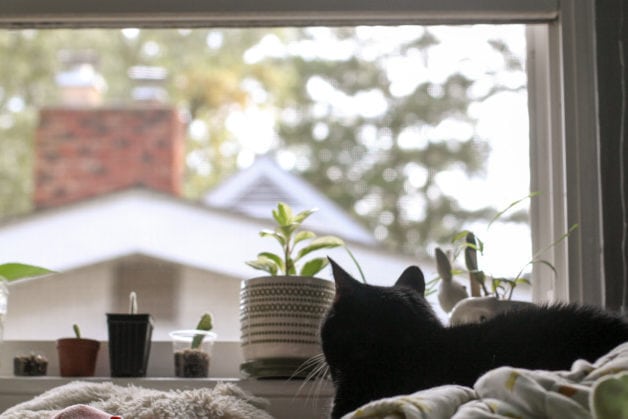 Therapists like to say, "Happiness is an inside job.", and the idea there is that your joy in life cannot be dependent on outside people, sources, or circumstances. Joy comes from work you do in your own heart.
In the same way, I think contentment is an inside job. And really, any of us who have tried to find contentment by chasing after some thing (whether it be a relationship, a family, a job, a location, money, or any number of other things!) have found this to be true.
How often have you thought, "I will be satisfied when ______."
And then when you get that thing, how often has it actually satisfied you? Did you magically feel content?
If you are like most of us, you probably just shifted your focus to something else that was wrong, or something else that you wanted. Or maybe you shifted your focus to whatever the next rung is on your ladder of success.
(And it's worth noting that a ladder of success is not necessarily just the corporate type. We make all sorts of other ladders of success!)
If you can be content with a little, then you can be content with a lot
I know I have typed this phrase in multiple other posts, but it bears repeating!
If you can be content in a small house, then you will also be content with a big house.
If you are not content in a small house, then you will probably not be content in a bigger house either.
(There will always be other, better, bigger houses!)
If you can find the good bits of life even in the midst a difficult situation, then you will probably also be able to do so if the difficult situation lets up.
But if you are unable to see the bits of mercy and light in the dark times, you will likely also have difficulty noticing those when the dark times get a little brighter.
As they say, "Wherever you go, there you are!" If you have a contented attitude, you will bring that with you to any situation or location.
And if you have a discontented attitude, the same is true; it will follow you wherever you go.
So, what can you do?
I don't think contentment comes naturally to any of us, me included. So, the thing I always fall back on is this: trying to hunt for the good wherever I happen to be.
Taylor Leonhardt says, "I'm on the other side of the glass, looking at the life they have. Ain't it so much better?"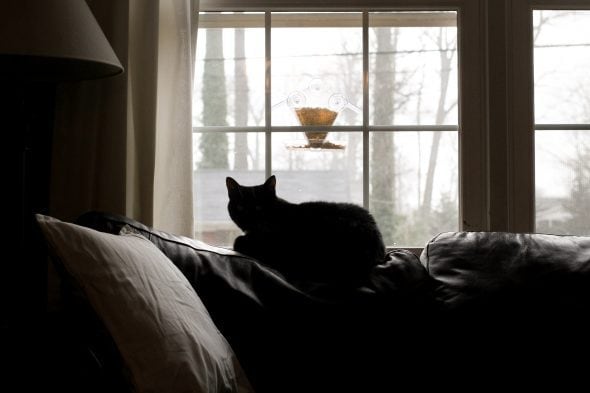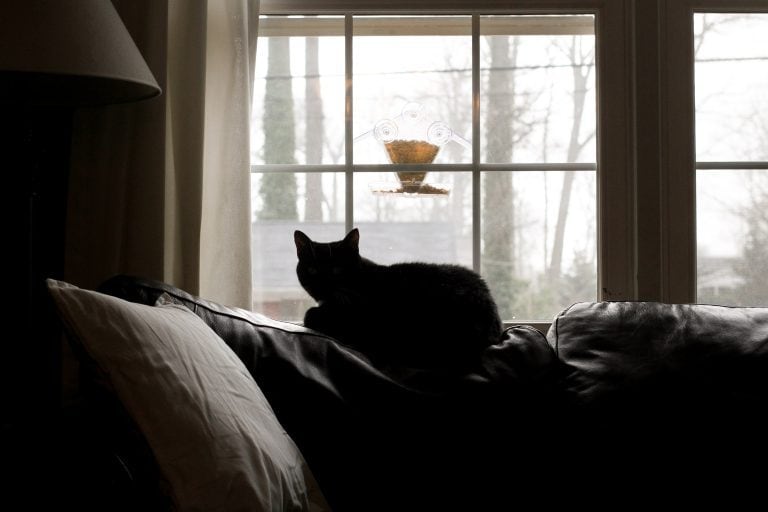 Looking at someone else's life with longing eyes is a surefire way to be miserable.
But look at my own life with the intention to hunt for good is a surefire way to be less miserable!
I am not trying to minimize suffering, of course. Hard circumstances are hard, and it is disingenuous to call them anything else.
But in my experience, even in the hard, not-so-ideal times of life, there are always small mercies to be found. And the more I practice finding those small mercies, the better I get at seeing them, and the less I have a "why is my life not as good as other people's??" attitude.
For a material-possessions example, here's how I hunted for the good regarding my tiny bathroom.
For a location example, here's how I've thought about my neighborhood.
For a recent minor-suffering example, it wasn't fun to get omicron in January.
But:
it was a pretty mild case
it happened before the semester started, so I missed no classes
I got sick before the girls did, so I didn't have to be careful around them once they got sick
now I really don't have to worry about getting sick with covid this semester!
Also, I don't love that I fell and twisted my knee while carrying stuff out of the abandoned house with my brother and his wife.
But:
my knee has slowly been getting better on its own
it was not the worst knee injury I've ever had
I didn't need crutches (I had crutches for months once when I was a teen)
I have been able to still walk
it didn't happen before my ski trip
I'm the one who twisted my knee, not my brother or his wife (they left for another ski trip last week, so it would have been way worse if they had been the ones who tripped)
there are escalators and elevators in public building and they helped give my knee a break from stair-walking
In a nutshell, two things can be true at the same time in my life:
things are not quite how I'd like them to be
there are small mercies to be found
Accepting that those two truths can co-exist has been hugely helpful to me! I can acknowledge that I'd like a larger bathroom or that I'd like to not be sick AND I can also appreciate the good about my bathroom, or see the small mercies in the timing of my sickness.
Alrighty. 1000 words in, I think I will stop typing for today. 😉
I usually ask a question at the end of my posts, but I'm not sure what to ask today! Ummm…say whatever you want in the comments.
P.S. Relatedly, here are four ways I fight discontentment (the post was inspired by a time I got knocked over by discontentment)