It's a Q&A day…let's dive in!
I am curious about the refurbished items that you have purchased, such as the electric kettle from eBay. I have always shied away from buying used electronics and appliances online. Have you done this before and are you pleased with your purchases?

-Bee
I usually just make sure there is a reasonable return period and I make sure to test the item as soon as I get it.
I also only buy from reputable sellers with plenty of feedback. I would not, for instance, buy a used iPhone from a random person on craigslist, but I will buy a refurbished iPhone from Amazon Warehouse Deals.
Also, I tend to tread with less caution if the item is a lower dollar amount. The electric kettle was not nearly as big a risk as an iPhone, so I didn't feel too much stress about it.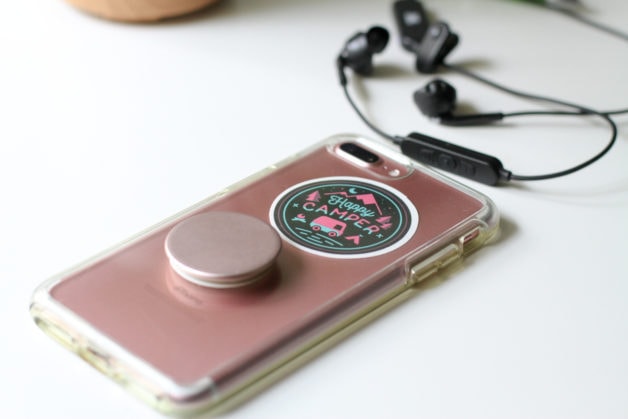 I keep bringing up the risks of iPhones, but I have had lots of success with buying refurbished iPhones through Amazon Warehouse Deals. I have never been brave enough to buy one on eBay, though!
And I most definitely am not brave enough to buy an iPhone from a person on Facebook Marketplace…there are even fewer consumer protections in place there (which makes me think that shysters would be more likely to try to sell there.)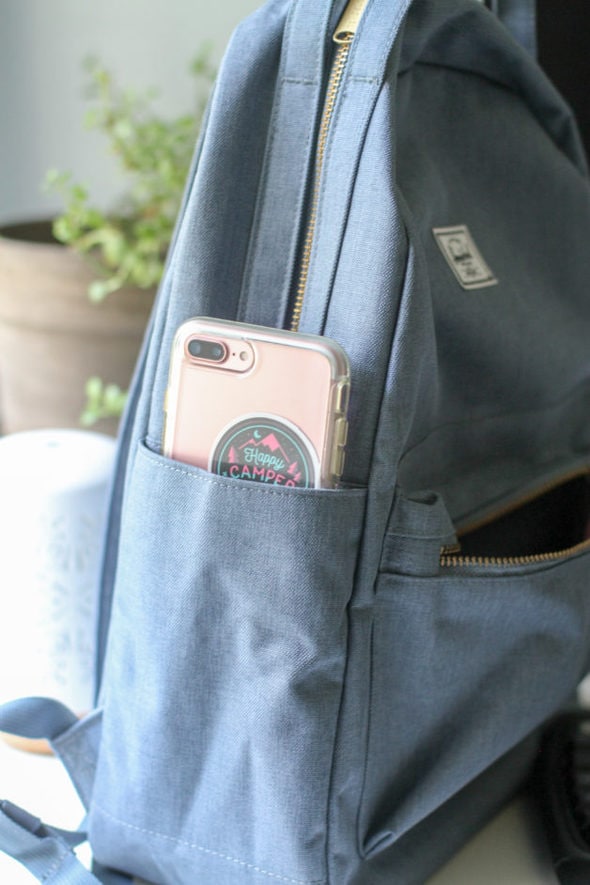 Buying brand new is the lowest risk option, of course.
But buying second-hand is (usually) the lowest price option.
So every shopper has to weigh their risk tolerance and find the sweet spot between A) risks and B) saving money.
Kristen, I'm puzzled at all these courses you're having to do before going to nursing school. In my state in Australia you just go straight to university after school and begin your degree.

-Lisa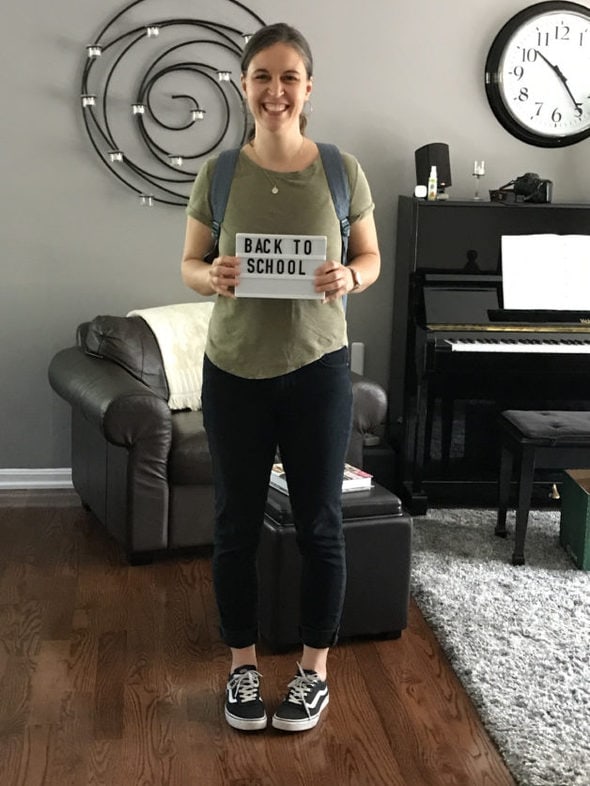 I'm not sure how it works in every state in the U.S., but at my school, there are certain classes you have to take before you start the two-year R.N. program.
For instance, you have to take Anatomy and Physiology 1 and Intro to Biology before you can even apply to the program, and you have to have some general ed. classes done, such as English, math, and so on.
Then once you get into the nursing program, the classes are 100% nursing-related.
I could put off developmental psych and microbiology and do them concurrently with the nursing program, but I figured I'd rather knock out everything I can beforehand.
That way, my workload will be as manageable as possible when I'm in the nursing program.
When your kids were little, did you have a set grocery shopping day that you planned around? Or did you try to go when your husband was home and could stay with the kids? Did you keep enough food at all times that you could skip groceries for a few days if necessary?

We used to live in a very tiny house and it just made more sense to only store the food we ate for just that week. Now we have slightly more storage (and a baby and toddler!) and I'm trying to adjust our food strategies. You are so resourceful and practical and I'd love to hear your advice from that phase of life.

-Katie
Yes, when my kids were little, I generally did have a set day that I went grocery shopping. Since I homeschooled, I had to take all of the kids with me every time, so I tried very hard to only go once per week.
Life has changed so much for me; now it's no biggie for me to run out for an ingredient or two, but when I had to load up four small people for every trip, even a "quick" stop was not very quick, especially in the winter when I had to get everyone bundled up.
I remember in this stage of life, one afternoon I realized I did not have the buns that were necessary for my dinner plans. And it felt like so much work to take all the kids out to the store, I immediately decided I would just bake buns because that seemed much less overwhelming.. Ha.
I know some people are organized enough to go every two weeks (or less), and I did make occasional efforts to that end. But honestly, it felt like so much work to try to stretch the trips; it was easier just to go once a week.
That said, I always had a chest freezer and a pantry shelf in my laundry room, so it's not like we were totally out of food at the end of 7 days! I always have a stash of food around, often comprised of things I bought in bulk or got on sale.
I'd suggest that you experiment and see what works for you. You might land on something that's perfect for this stage of life.
But then you will have to experiment again at some point because the only constant thing in parent-life is….change!
I am not an experienced baker, but decided to try my hand at making batch of whole wheat buttermilk dinner rolls (not your recipe).
Everything seemed to be working out. First rising looked good.

However, after I split the dough into 12 portions, made round balls and placed them on a prepared cookie sheet for the second rising, the dough didn't hold its shape. The rolls spread out and flattened. They did still rise, but were huge disks, not nicely shaped dinner rolls.

Is this a result of not kneading enough prior to the first rising?
Kneading was very difficult because the dough was very sticky. The recipe cautioned not to add additional flour.

Please help.

-Nick
That sounds like a too little flour problem; most people do err on the side of adding too much flour, which is probably why the recipe mentioned being careful about that.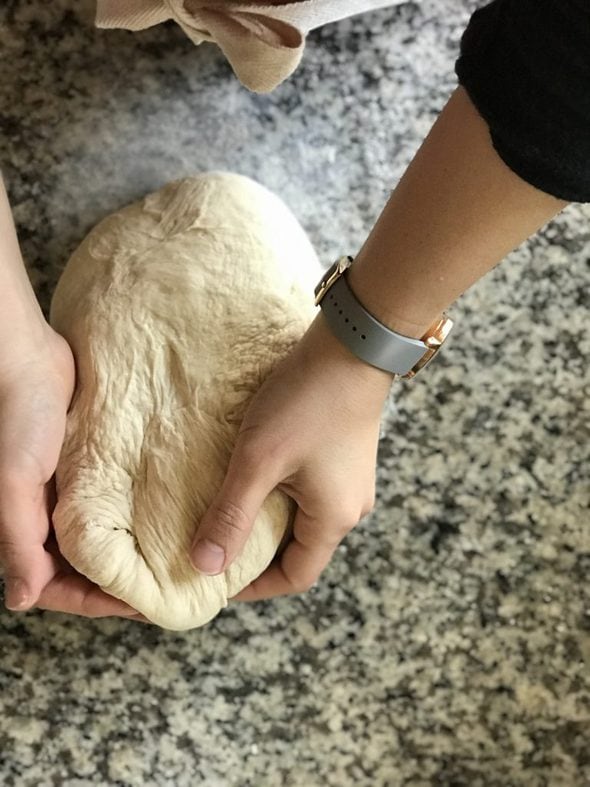 But perhaps you are one of the few new bakers who erred on the side of too little flour.
Proper roll dough should hold its shape a bit after you knead it, but it should be soft enough to relax a little if you plop it onto the counter in a ball.
If it's like Play-doh, it's way too stiff and it won't rise. If it flattens out right away, that's too soft and you need more flour.
Here's what my dough looks like after kneading: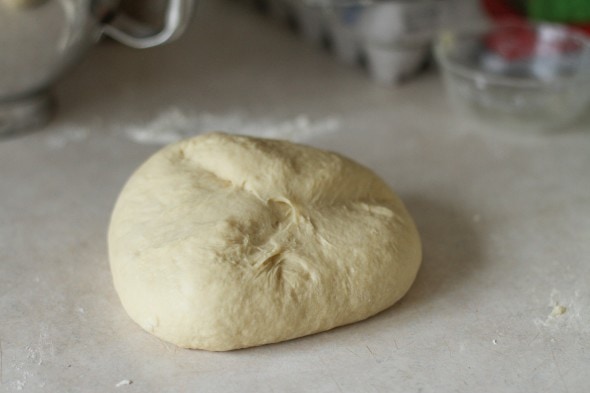 I doubt your flat rolls were caused by improper kneading, but just in case: you can usually tell if a dough is sufficiently kneaded by poking your finger into the dough.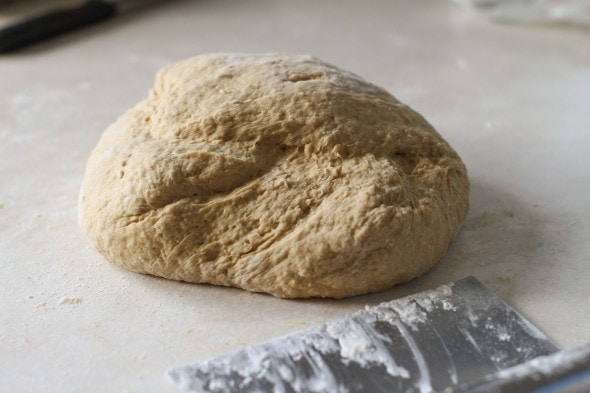 If your finger indentation bounces back quickly, then you have kneaded enough to develop the gluten in the flour.
If your finger indentation doesn't bounce back at all (or it's slow to bounce back), then you could knead the dough until it does pass the finger indentation test.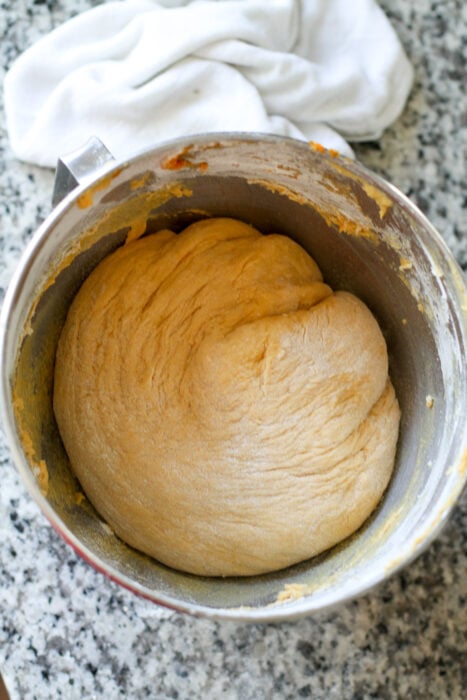 I hope that helps!
Readers, if you have input on any of these questions, do share in the comments.
P.S. Got a question for a future Q&A post? Send me an email.