The other day, someone found my blog by searching for "owning a cat: honest review".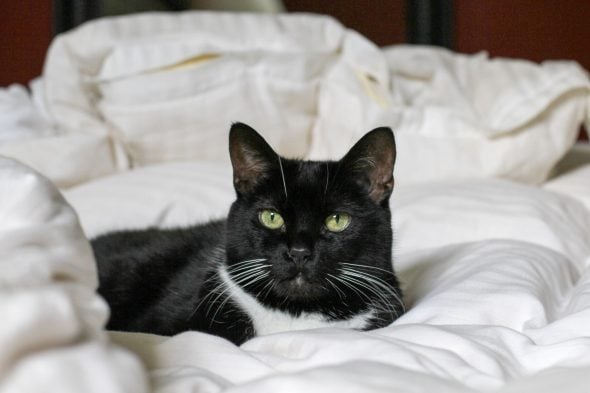 I'm guessing google sent them to my blog because I have a Dinnerly post that has the phrase "an honest review" in the title.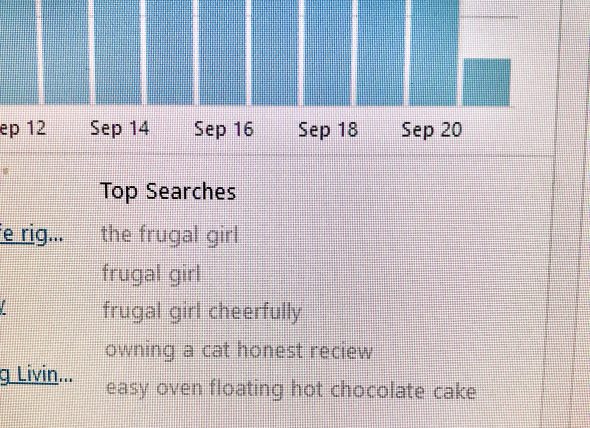 I posted a screenshot of this search phrase on my Instagram because I thought it was funny, but several readers said that they would actually really appreciate a review post about owning a cat!
And I realized that when I was trying to decide if I wanted to own a cat, I would have loved to read an honest review of cat ownership.
Especially from someone who had a lot of hesitation about the idea.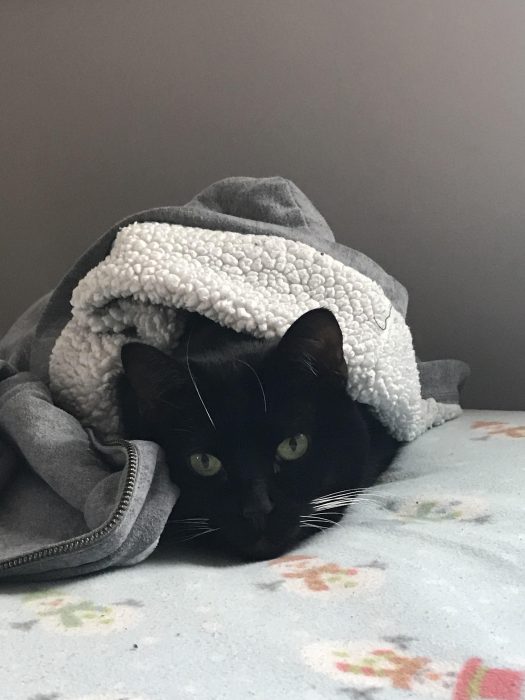 So, here we are.
I'm an unlikely cat owner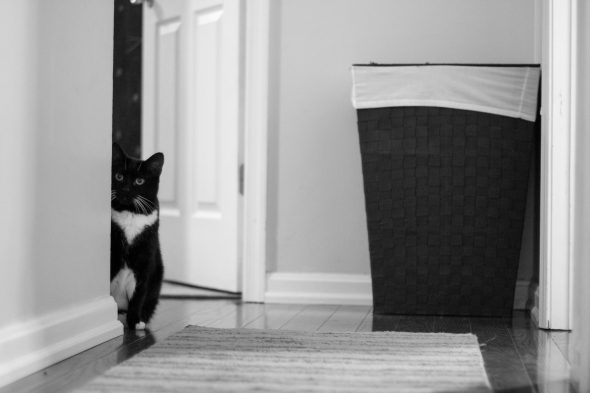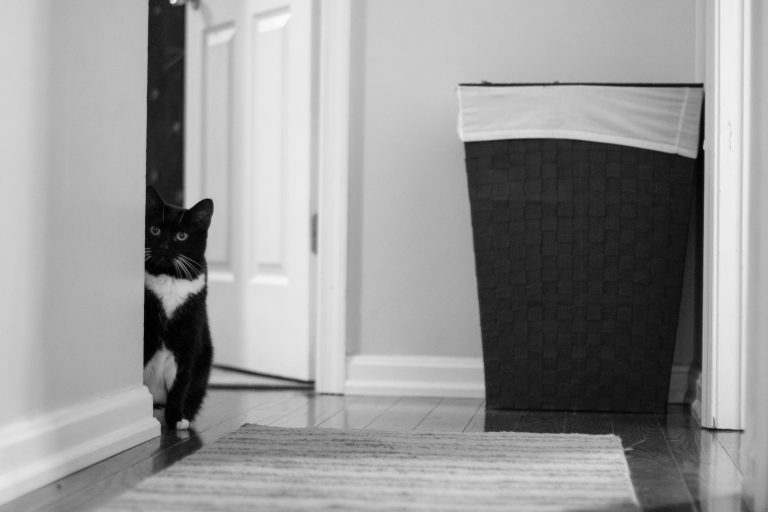 I never in a million years anticipated that I would have a cat walking around my house.
(Please read the second paragraph in this post for embarrassing proof!)
I didn't grow up with cats, for one thing.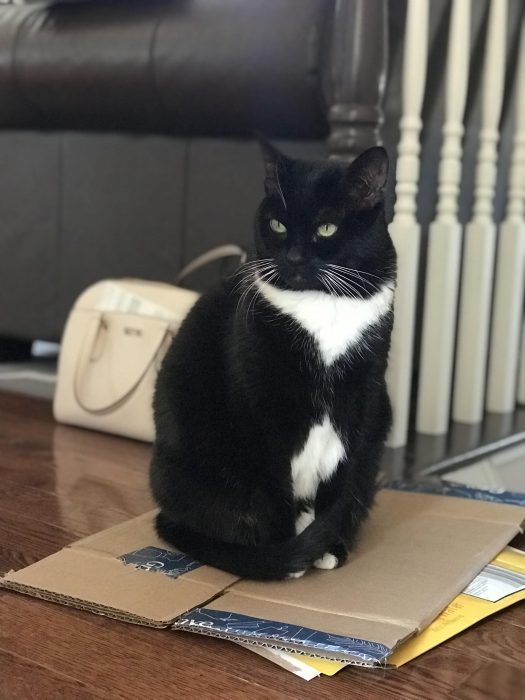 And I've never been a super animal-crazy person.
Also, I like things to be clean and neat.
To wit, when I first met Mr. FG, I told him that I did not ever, ever want to have a dog. That was a non-negotiable deal breaker to me; if you want a dog, then I am not the girl for you.
PERIOD.
I didn't have such strong feelings about cats, but I certainly did not anticipate owning one.
I previously said yes to caged pets
I might not be a huge animal lover, but 4/4 of my kids are.
So in the past, I've said yes to a number of caged pets.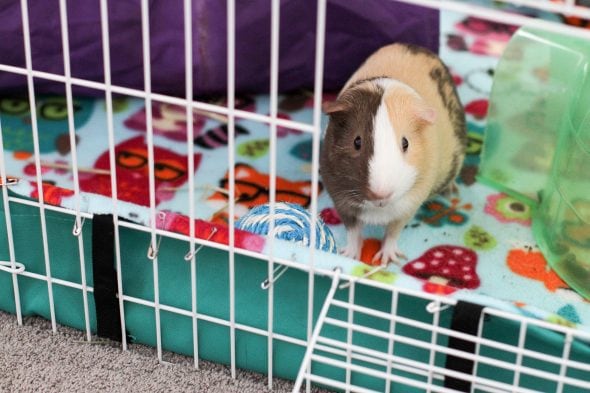 We've had
fish
many hamsters
a guinea pig
lizards
And I had even consented to a tarantula (luckily, we ended up with a second lizard instead. Whew.)
However, Lisey really, really likes cats, and she really, really wanted to adopt one.
I was scared. And nervous. So many unknowns!
Things that scared me about cat ownership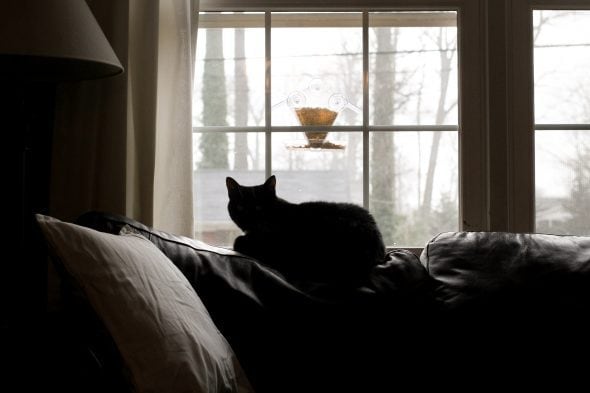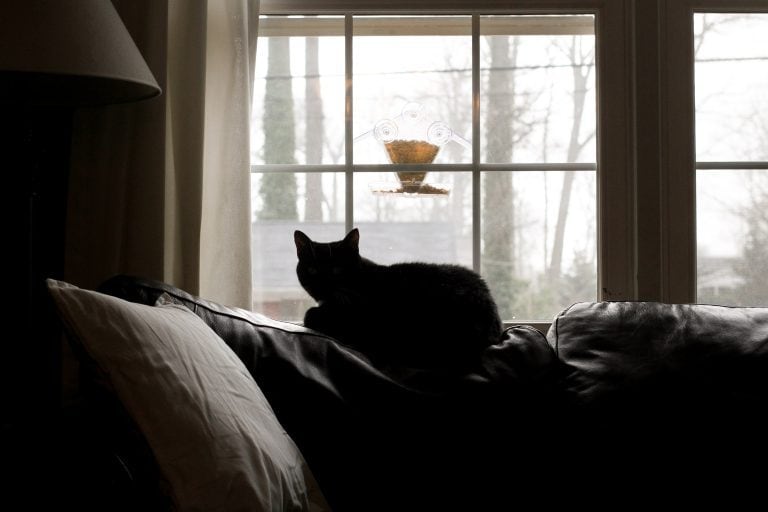 Since I'd never owned an un-caged pet before, I had a lot of concerns.
I was worried that:
the cat would scratch our house up
the litter would smell up the house
cat hair would be everywhere
cat paraphernalia would take up a lot of space
it would be a lot of work to take care of a cat
we'd have to go to the vet a lot
a cat would be expensive
owning a cat would just be very inconvenient
How have my worries panned out?
Well, I am happy to say that this has been way, way easier than I anticipated.
And in many ways, a cat is less work and less mess than a guinea pig (or even a hamster).
I was surprised!
The Scratching
Our cat was 7 years old when we adopted her, so she was already long past the super scratchy kitten phase.
I was worried she would scratch our leather furniture, but she hasn't. She does scratch our doormats, but I don't really care about that.
And when we first got her and she slept in Lisey's room, she would scratch at the door trim when she wanted to be let in.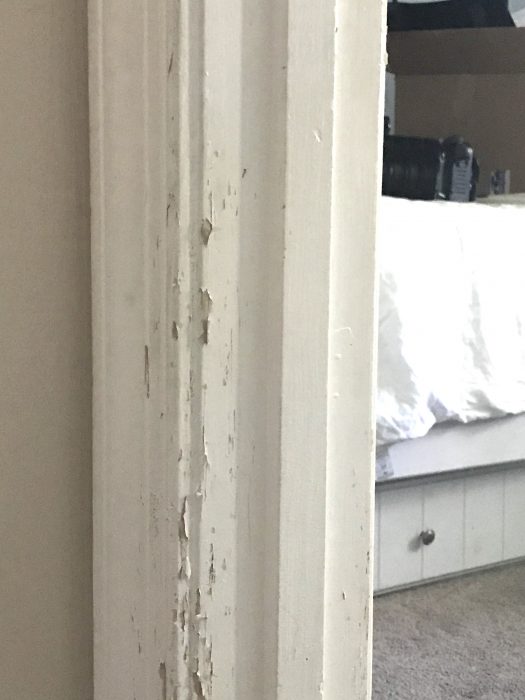 But now that she sleeps by herself, she doesn't scratch at the doors anymore.
Which means it is probably safe for me to sand and paint this door trim!
The Smell
I have been pleasantly surprised at how not smelly the cat has been.
We use Arm and Hammer Slide litter, and it is seriously good! As long as we scoop it every other day, the smell is very minimal.
This litter is more expensive than some, but it's worth it in my book.
And the cat herself really does not smell.
(Unlike a dog. Ha.)
I really cannot emphasize enough how good this cat litter is. If smell is a problem, you really need to give this brand a try!
Cat Hair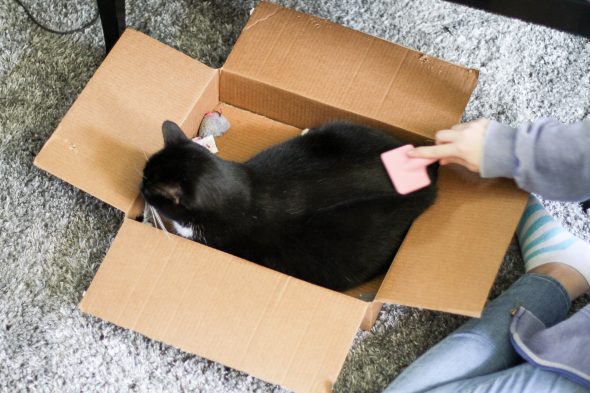 Shedding probably varies by breed, but it has not been bad with ours.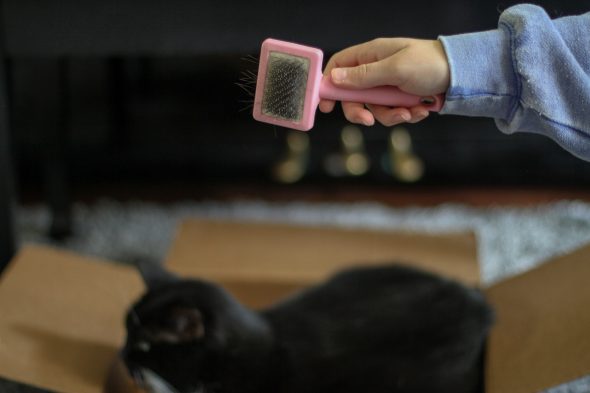 Sonia keeps up on brushing her, which removes a lot of the hair. And the regular sweeping/vacuuming we do manages the rest of it.
Basically, we haven't had to add more cleaning than we were doing before.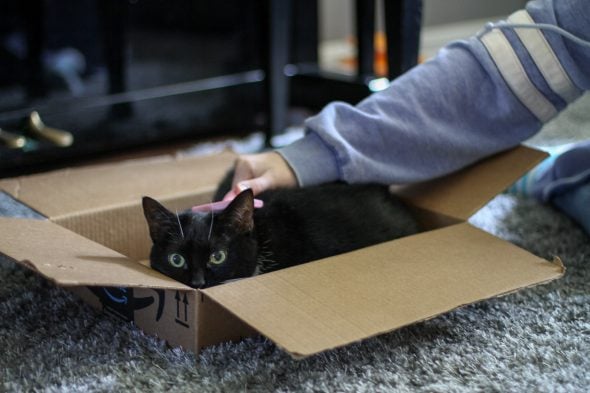 Space Issues
Since the cat has free roam of the house (obviously!), we don't need a cage. So that's a plus.
A litter container and a feeding station take up a lot less space than a big guinea pig cage.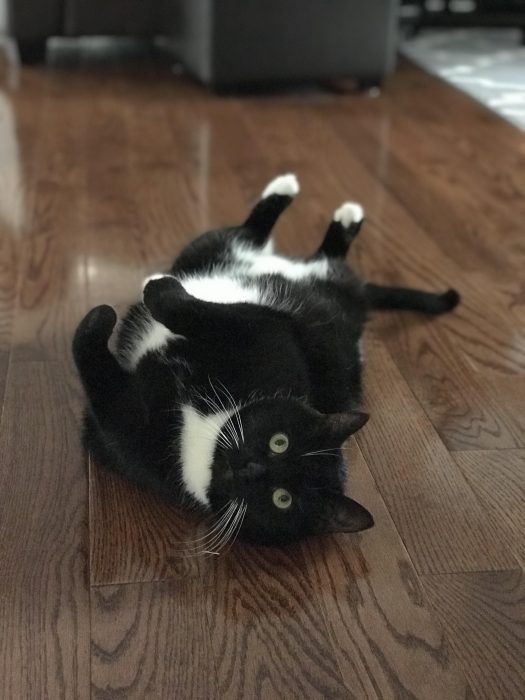 Amount of Work
I think cats are less work than guinea pigs, mainly because scooping a litterbox is so much less work than changing bedding in a cage.
The Vet
We haven't had to take our cat to the vet much at all; mainly we've taken her in for nail trimming.
Zoe and I did have one successful nail trimming session with her, but since then, we've just had unsuccessful attempts. So, we've decided to just pay the $15 every few months to get her nails trimmed.
At the vet, she's so scared, she's very subdued and she lets them trim her without complaint.
At home, she gets a little spicy when we try.
The Expense
Adopting our cat was free through the county animal shelter, so $0 there.
Vet costs have been minimal, as I mentioned.
We get free rabies shots through the animal shelter, so that's another $0.
We get our litter and food delivered through Chewy, and I'd say that runs us about $150/year.
And a few times a year, we need to pay $15 to have her nails clipped.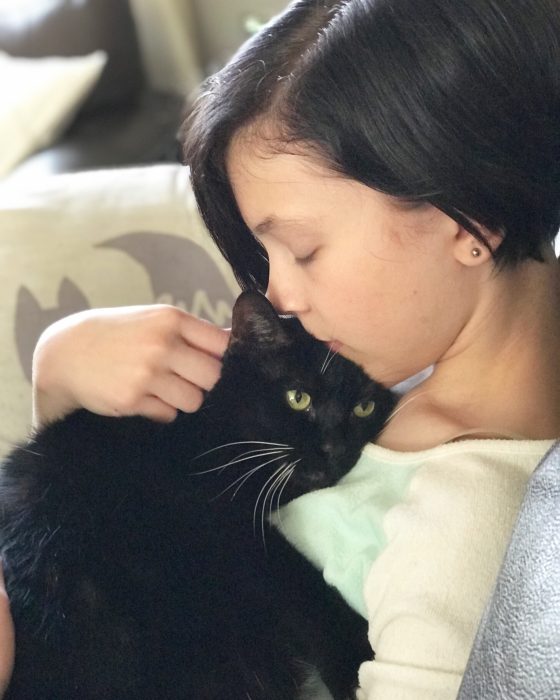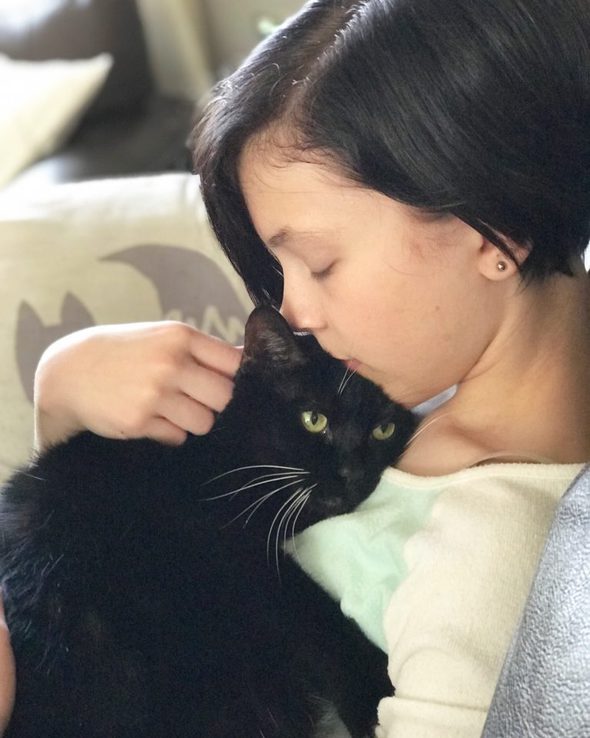 Overall I'd say this is pretty affordable.
Of course, I imagine that as she gets older, we will have some more expenses, but for now it's not bad at all.
The good parts of owning a cat
I addressed my worries already, so I figured I should talk about the upsides of owning a cat.
She makes my girls very happy
This is the largest upside of cat ownership by far. The girls just adore the cat, and since they are happy, I'm happy.
I like to do things that bring joy to my kids!
She's a very social cat
I know some cats are loners, but our cat loves to be near people. She's very attention-starved in the morning just from us sleeping all night with our doors shut.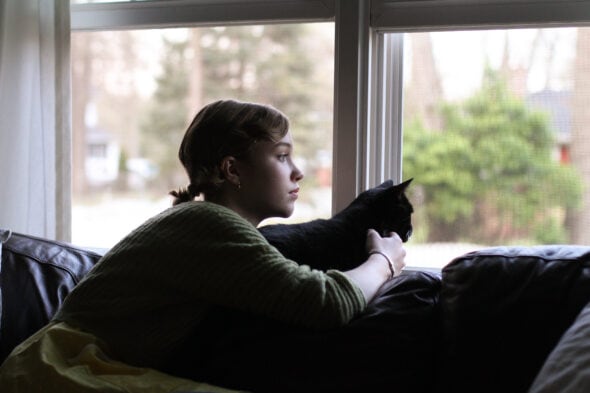 So, she's fun to have around because she wants to be petted and scratched.
She makes us laugh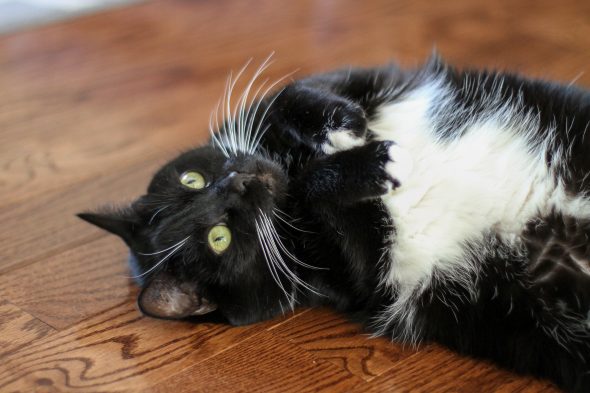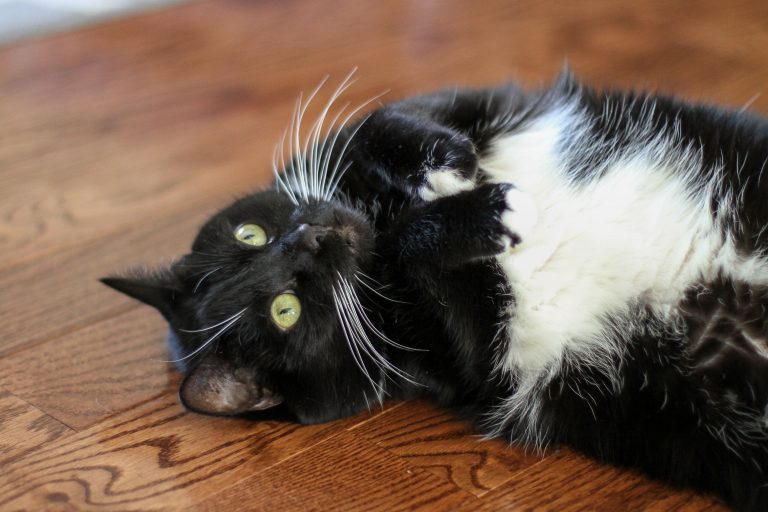 She does funny things like making chirping sounds at birds, running around scared at nothing, batting at bookmark ribbons, and licking drink condensation.
She's really sweet when someone is sick or sad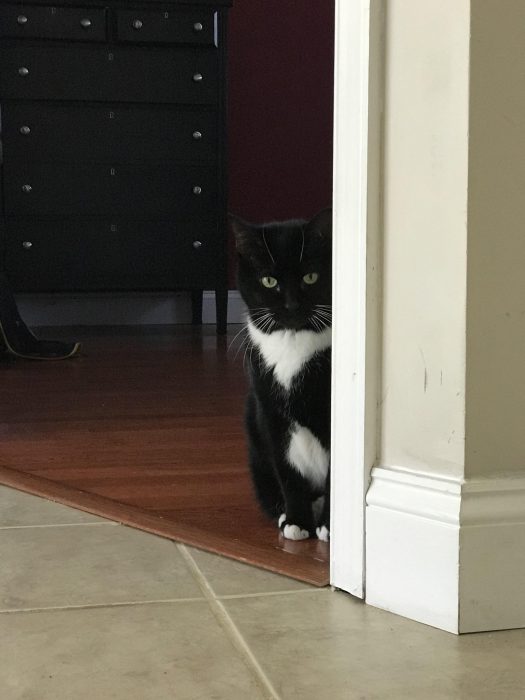 I don't know exactly how she seems to know this, but she will often choose to go sit with someone who is not feeling well.
For instance, she rarely sits on Lisey's bed during the day, but after Lisey had her wisdom teeth out, the cat stayed right beside her in bed for several days.
I don't know if it's just happenstance, but it IS very sweet.
In conclusion:
I'm really glad that I said yes to Lisey wanting a cat.
The joy she's brought to our family has been worth the small amount of inconvenience.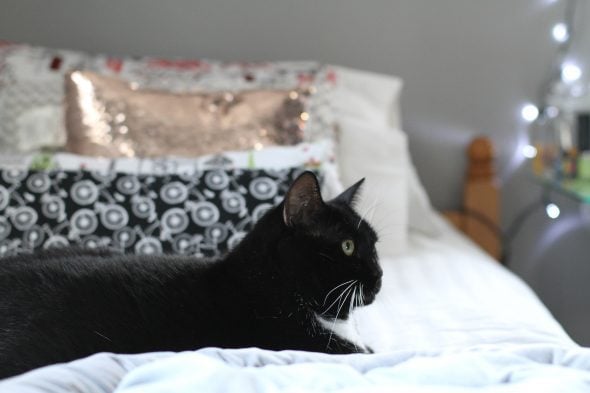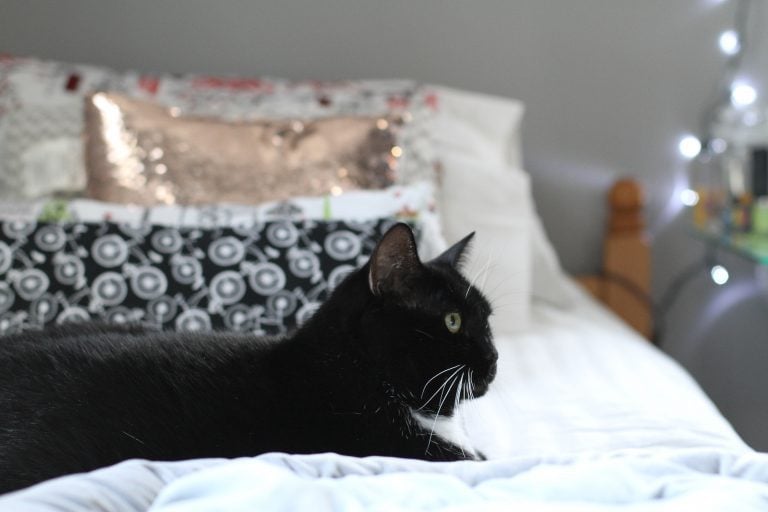 That said, I am still holding firm on the No Dog policy. A girl has to draw a line somewhere.
How do you feel about cats?