A while back, I wrote about why I don't use meal kit services, like Blue Apron or Hello Fresh.
I keep getting emails from them asking if I want to try them and blog about them, but I've always felt they're a little too expensive to be a good fit for my blog.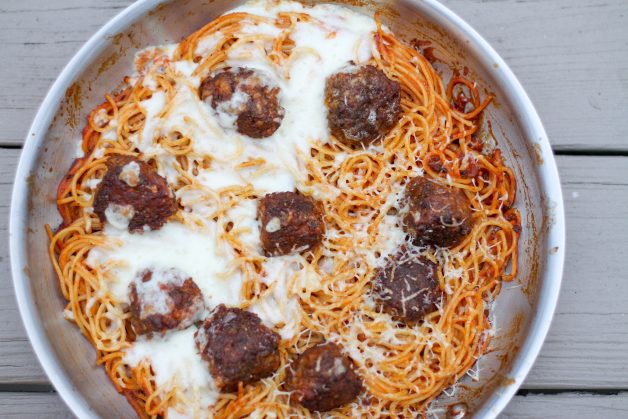 But, I recently got an email from Dinnerly, a company that offers a similar service, EXCEPT it's half the price!
(Blue Apron and such charge $10 per serving, and Dinnerly charges $5.)
That is definitely way more affordable, so I said yes to them sending me a box to try.
_______________________________________________
Looking for a Dinnerly coupon code?
_______________________________________________
Dinnerly is also different from Blue Apron et al because their meals have only six ingredients and six steps. This cuts down on packaged waste and also on your cooking time.
So! My box arrived: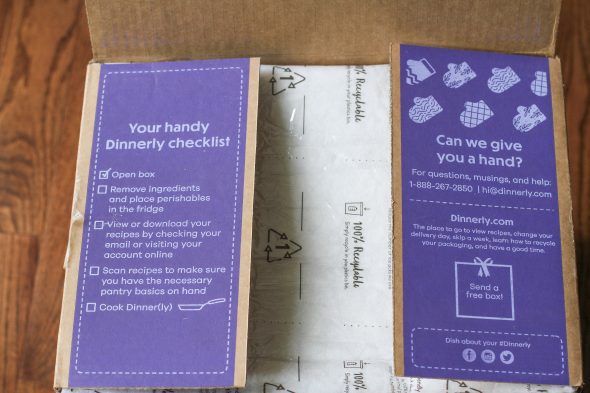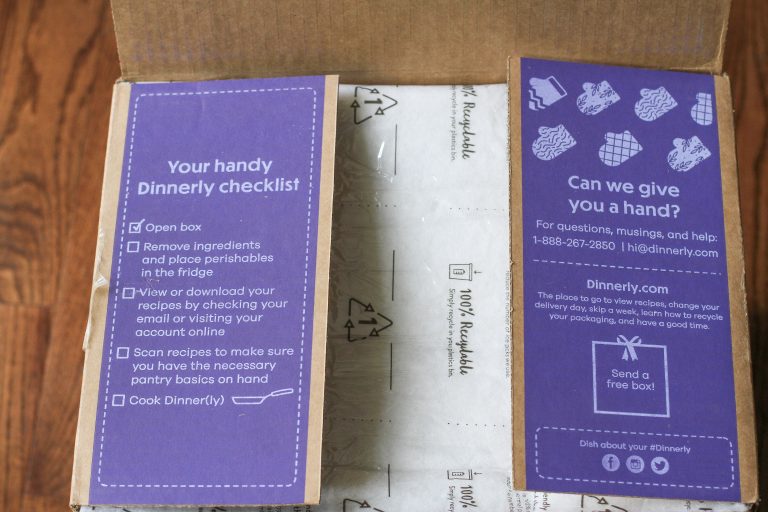 Here are all the goodies from my box.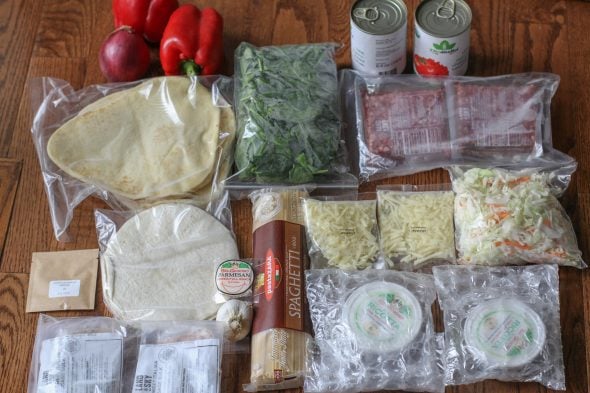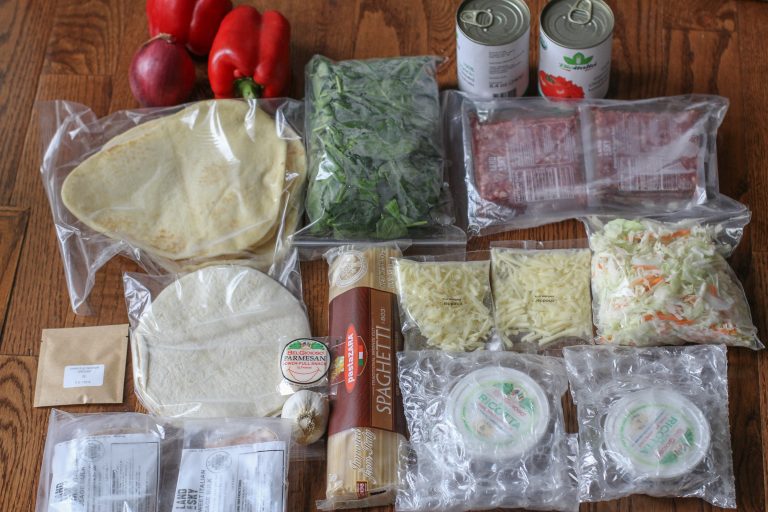 Why is Dinnerly so cheap?
Dinnerly is half the price of other meal kit services, but they still provide high quality ingredients.
For example, the two packages of ground beef are grass-fed, and the canned tomatoes are organic. So, they're not skimping on quality.
Rather, they save money by doing minimal marketing and creating meals with fewer ingredients.
Another way Dinnerly saves costs is by sending digital recipe cards instead of the printed kind.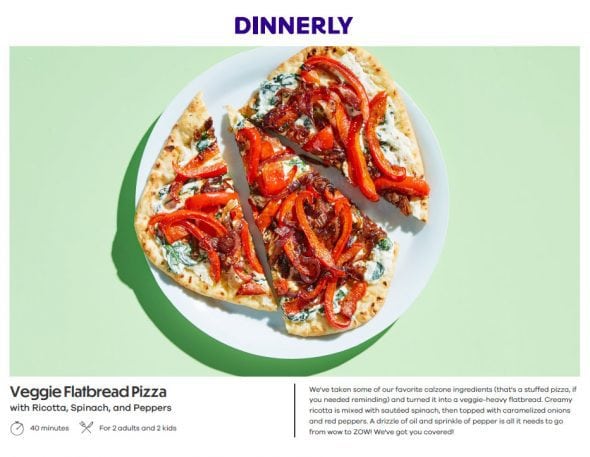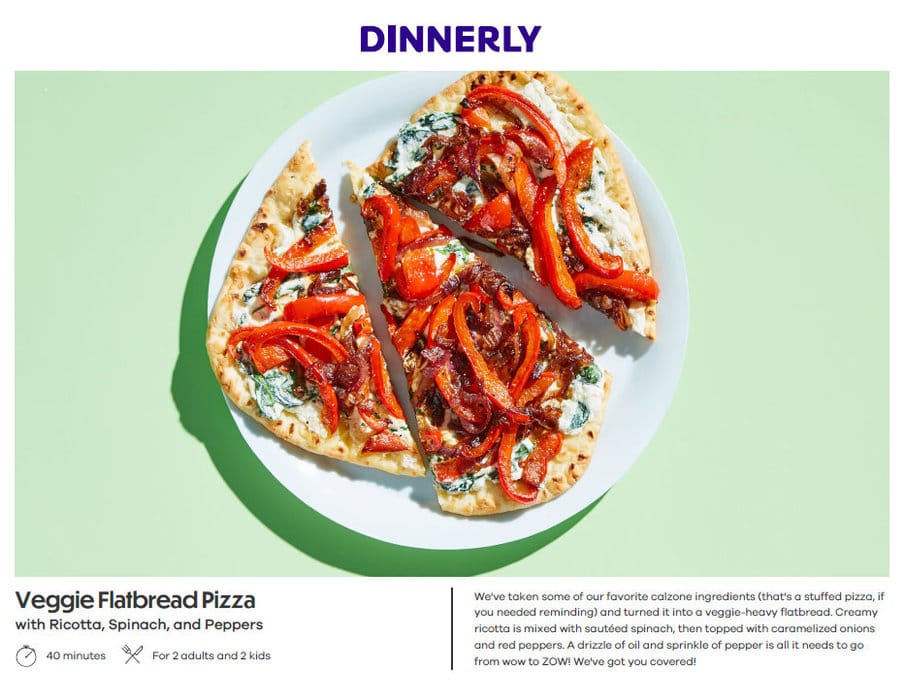 Each recipe has step-by-step instructions, with six steps or less.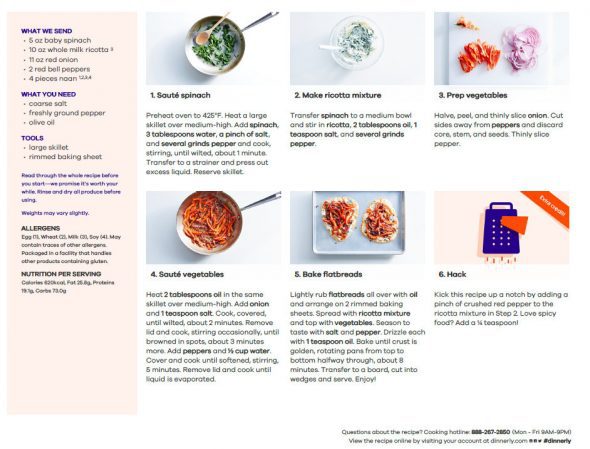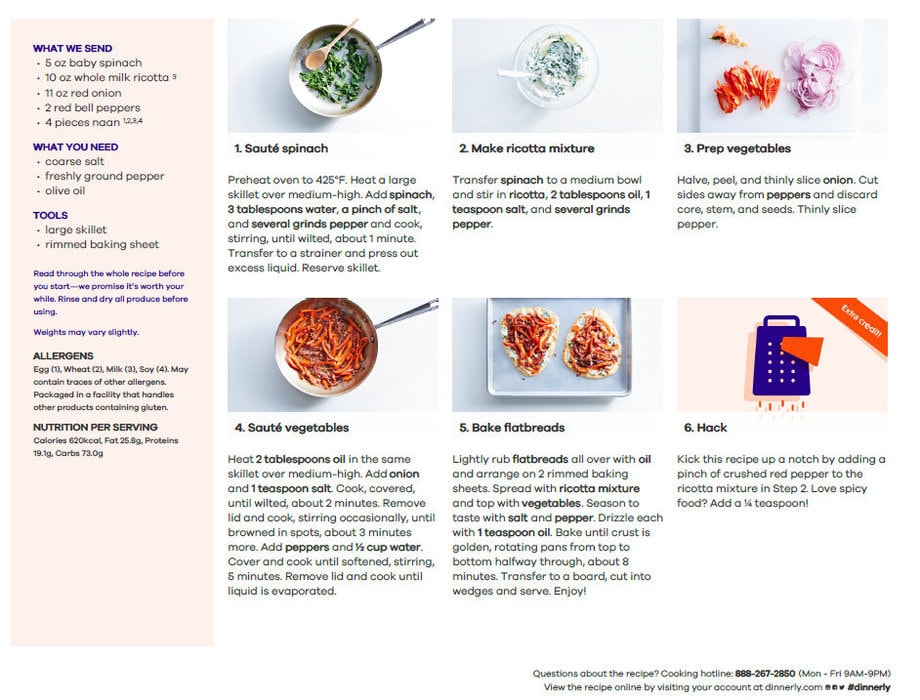 Because the recipes are super simple, they're very manageable for kids.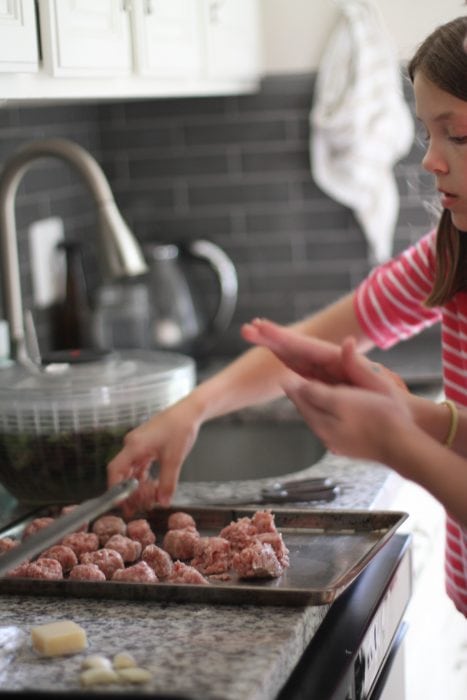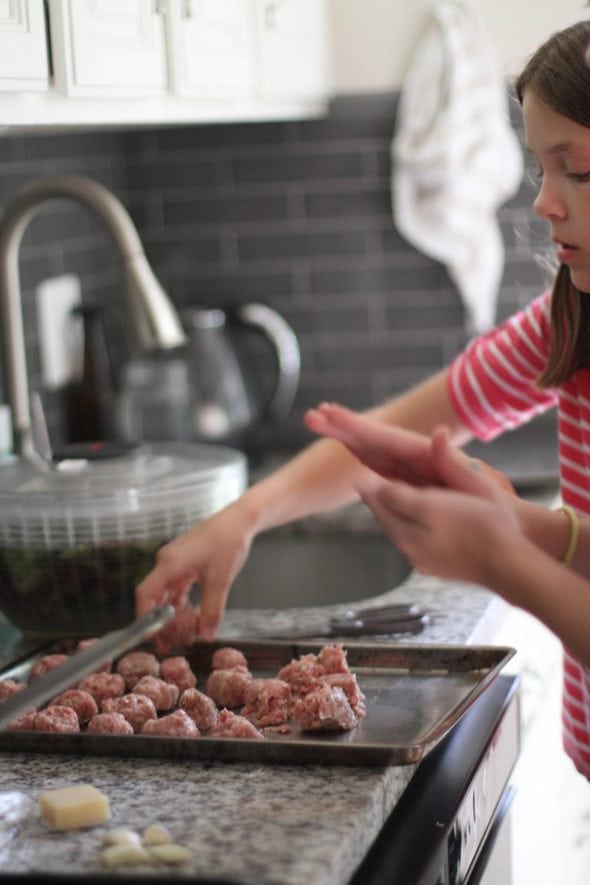 Zoe and Sonia worked on the spaghetti and meatballs together, and Sonia did most of the work for the veggie pizzas as well.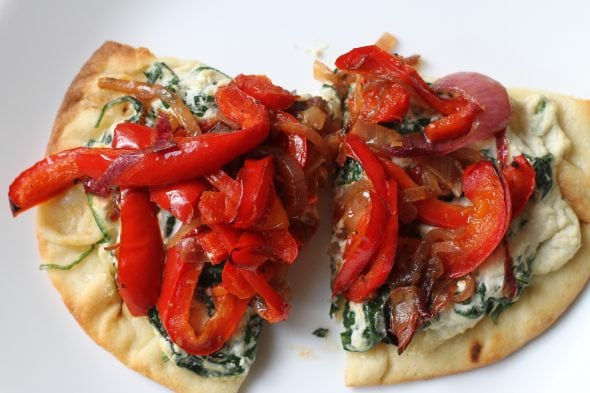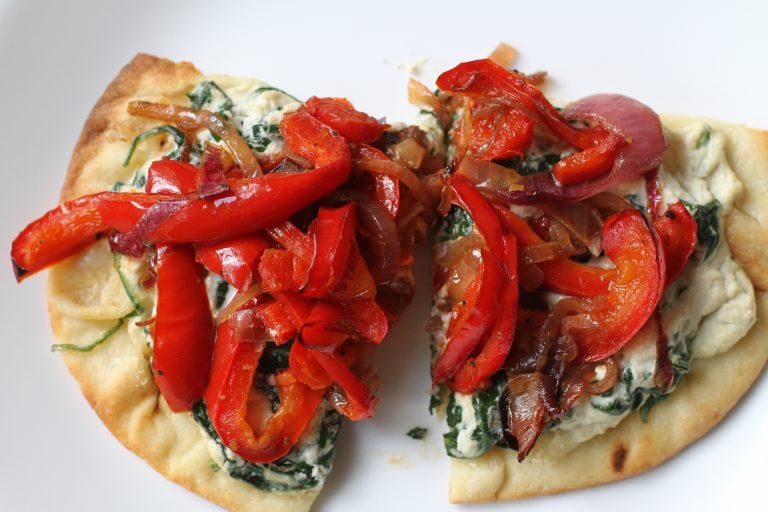 "I love Dinnerly, Mom!", she said. 😉
Dinnerly meals basically provide you with a main dish, and I added things like a green salad or fruit salad.
But that feels very easy to me…it's coming up with a main dish that is a larger headache, and Dinnerly covers that.
Is Dinnerly cheaper than grocery shopping or fast food?
Well, that depends.
The portion sizes that Dinnerly sends are definitely bigger than the portion sizes that we tend to eat, which means that the four-person box could feed six of us.
That makes it actually under $5 per serving.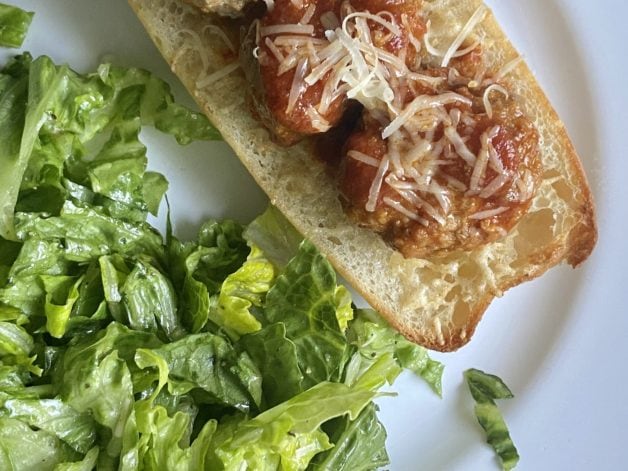 I can feed us with grocery store food for less than that, but I can't take us out to eat (even fast food) for that price.
So, if you got a Dinnerly box as an alternative to takeout or fast food, I can definitely see it saving you money. And you'd likely be healthier too.
(You can't buy grass-fed ground beef at a fast-food place!)
What about the packaging?
Dinnerly does not send their meals in styrofoam. Yay!
Instead, they come with paper insulation.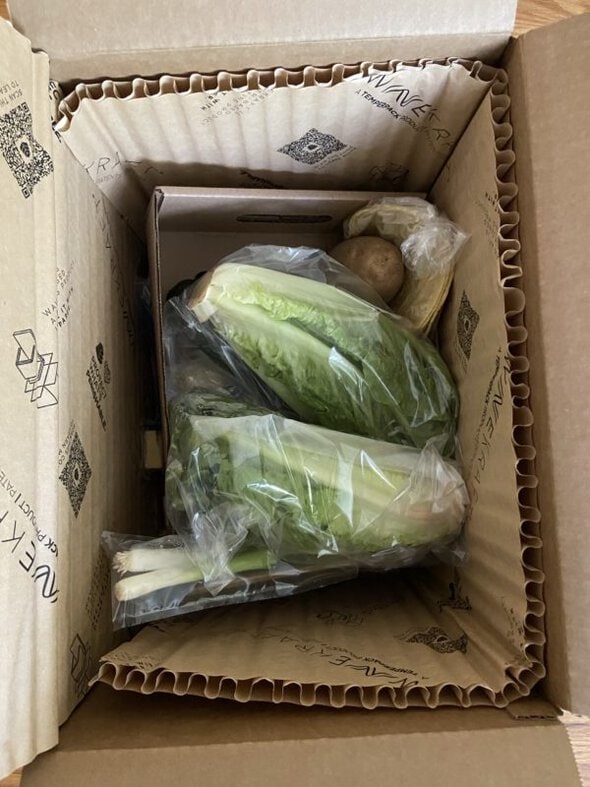 And that's recyclable or compostable, which is awesome.
My younger cat, Chiquita, loves to play with the insulation, though. 😉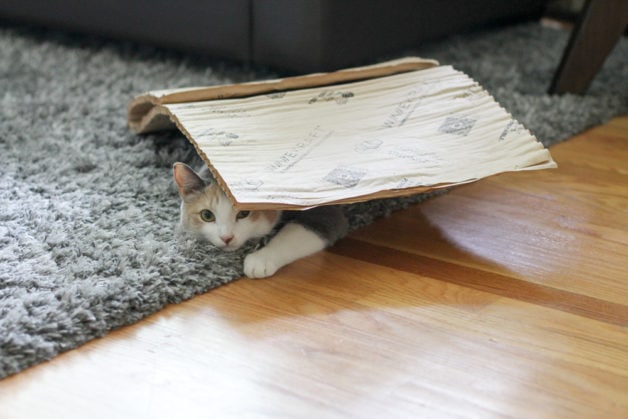 Then there are the ice packs, which are potentially the most wasteful part.
You can dump the gel filling into the trash and then recycle the outer plastic, but it is a bummer to dump the filling in the trash.
Of course, you can reuse the ice pack, but how many ice packs would one person need?
(I typically offer mine free on a local Facebook giveaway group.)
Dinnerly's small portions of ingredients also produce more waste than typical grocery products would. But since Dinnerly has fewer ingredients, there's less packaging waste than you'd get with Hello Fresh or Blue Apron.
To give you an idea, the next two photos show all of the ingredients in one three-meal Dinnerly box.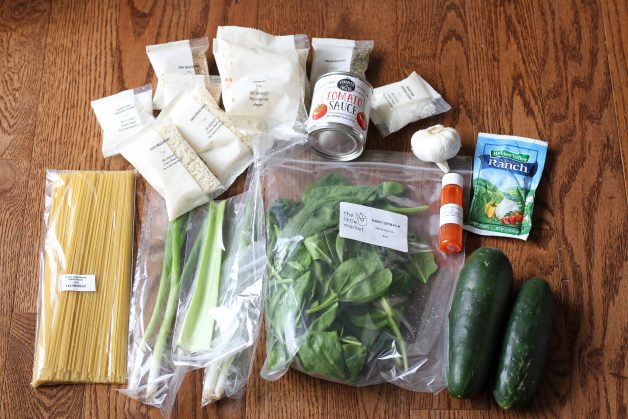 Anyway, a Dinnerly box produces more trash than a bag of groceries would, but less than typical meal kits would.
You can read more about Dinnerly's packaging here.
Also worth noting: if you get takeout food, that tends to come with a lot of trash. So by comparison, I'm not sure Dinnerly would be any worse than takeout on that front.
Is Dinnerly organic?
In the boxes I've received, there have been multiple organic ingredients (including organic ground beef), but the boxes are not 100% organic.
Are Dinnerly meals tasty?
So, I think I generally prefer the meals I make on my own, because they're usually a little more complicated and interesting.
Dinnerly's meals tend to be more basic than what I'd choose to make.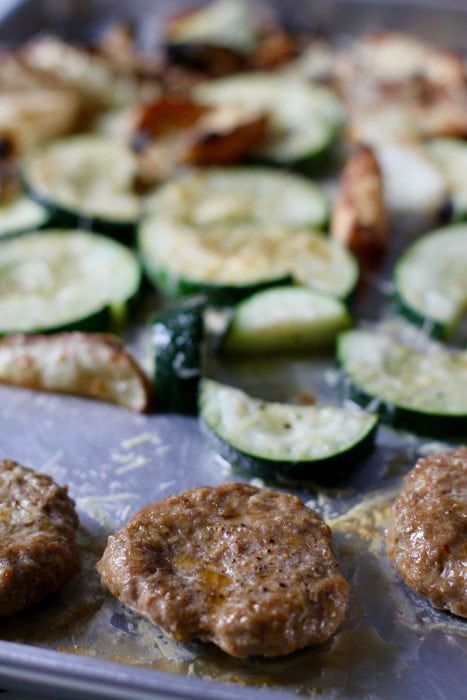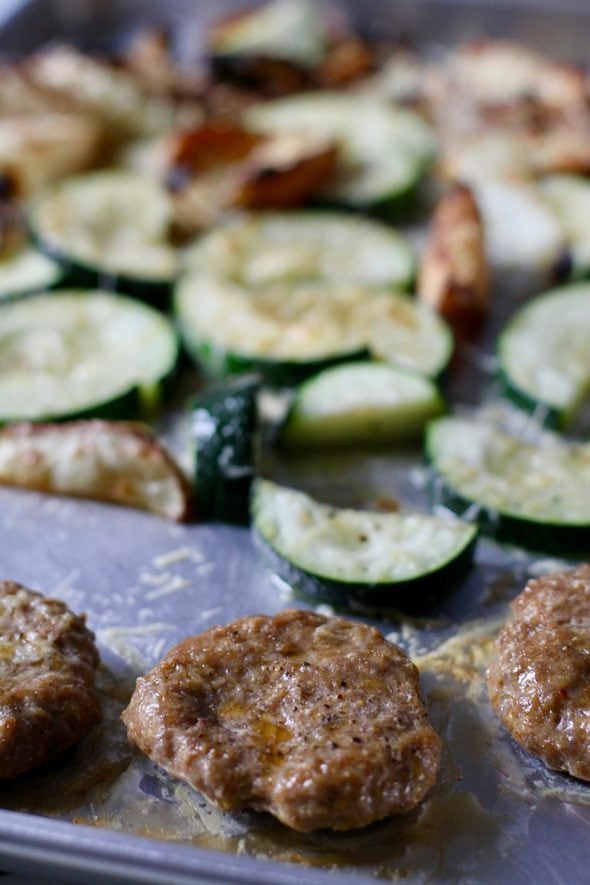 But, the upside of this is that the meals aren't hard to make!
Presumably, you'd be ordering from Dinnerly in order to simplify your mealtimes, so I think simple is good.
And the meals from Dinnerly do sometimes have interesting components…for instance, the spaghetti dish called for making Parmesan crisps, which I will definitely do again.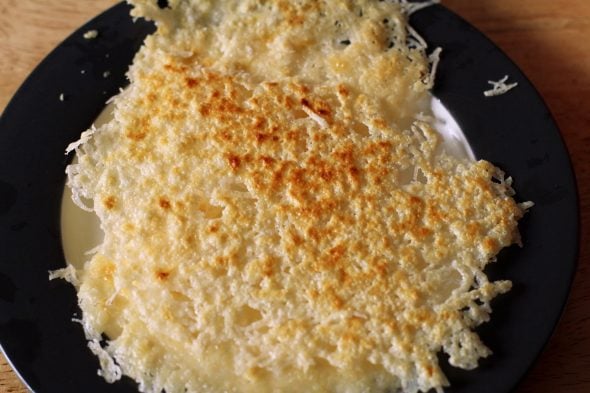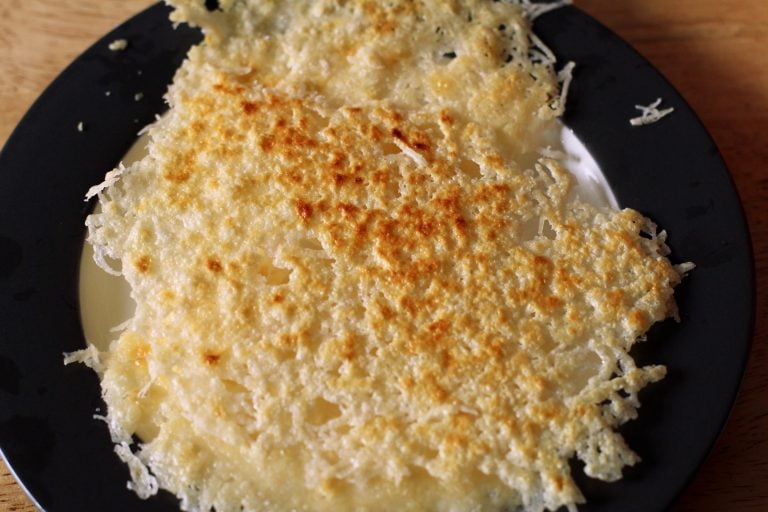 The sauce was just mascarpone cheese (which I'd never tried before) and it made a great easy sauce.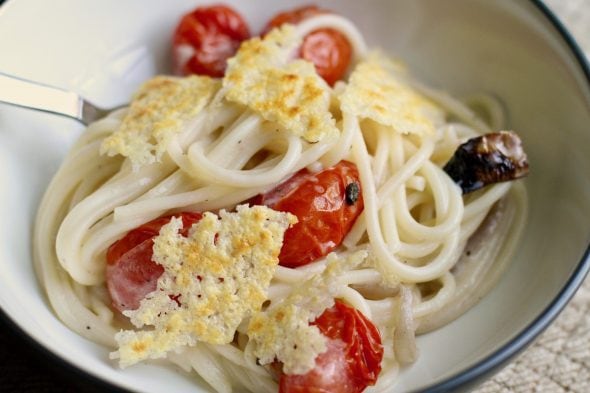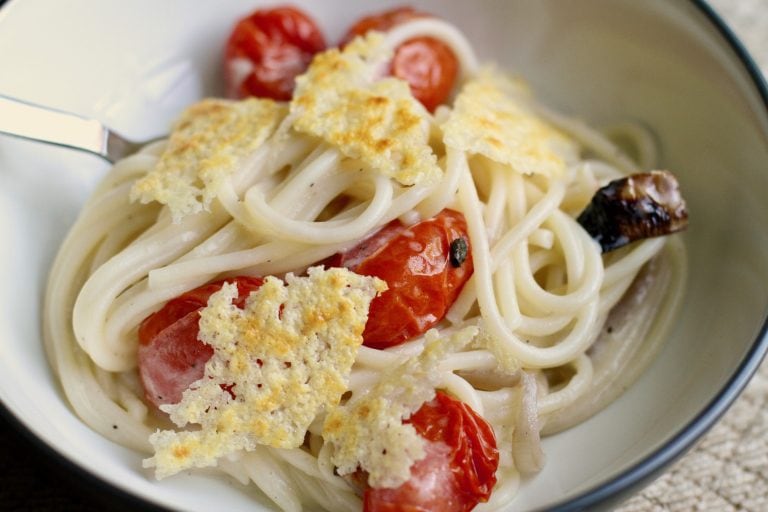 You can see Dinnerly's current menu plan right here.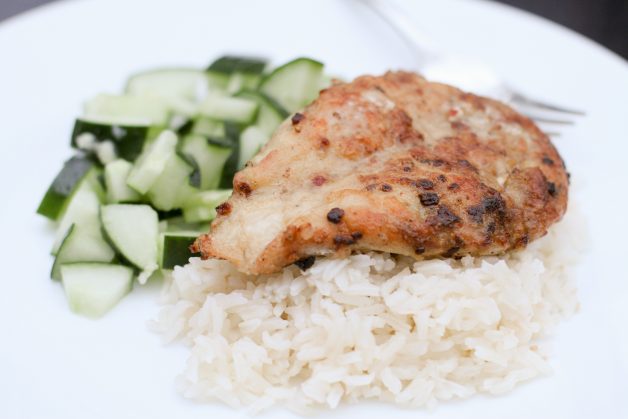 Who should not try Dinnerly?
I don't think I'd recommend it if:
you have a medium to large household
you already know how to cook
you are good at picking out recipes
Basically, if you're already an experienced, adventurous cook who has no problem grocery shopping, cooking, and avoiding takeout, then Dinnerly probably just isn't necessary for you.
Keep on rocking as you are!
Who might find Dinnerly useful?
If you:
keep getting takeout despite your best intentions
aren't very experienced in the kitchen
want a simple way to learn to cook
want a simple way to get your kids to cook
enjoy meals that are kid-friendly
need some simple, quick recipes to add to your repertoire
need a temporary break from your usual kitchen duties
then I think Dinnerly could be a great option for you to try.
Where does Dinnerly deliver?
Dinnerly delivers almost everywhere in the U.S.!
How do you get started?
Click here to visit Dinnerly and choose either the two-person size or the four-person size. Dinnerly can come weekly (3 meals per box), or you can skip deliveries as often as you like. Totally up to you!
If you give Dinnerly a try I'd love to hear what you think.
___________________________________
Looking for a Dinnerly coupon code?
___________________________________