Several months back, I found this frame at Goodwill for $2.50. I LOVE it when I find frames with mats, because mats take a picture from good to fabulous.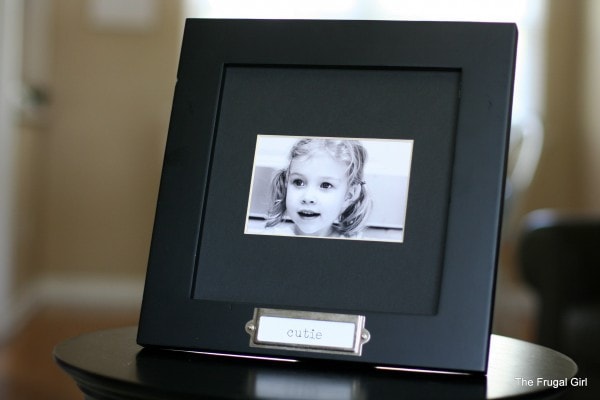 It came with a little tag that said "meow" on it, and since the odds of me EVER owning a furry pet that walks around my house are nil, I took that out and made my own tag.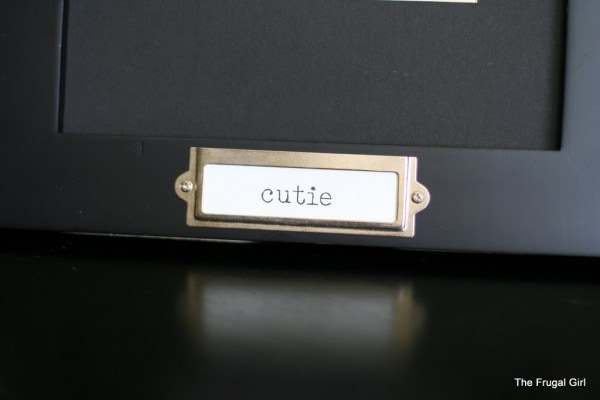 I l o v e typewriter fonts. Happy sigh.
Did you notice something weird about this picture frame?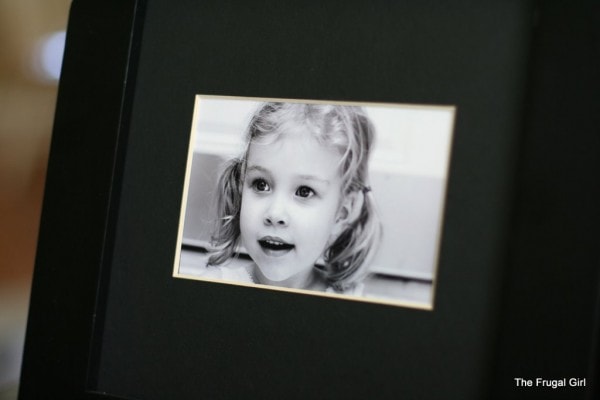 Did you? It might be sort of hard to tell from the picture, but this frame has no glass.
When I bought it from Goodwill, it did have a perfect piece of glass inside, but a month or two after I set it on the sofa-side table, someone (it might have been the person in the frame, actually!) knocked the picture frame right off of the table. It hit the floor and the glass shattered into what seemed like a million pieces.
Now, if I'd bought that frame new and had forked over $25 for it, this event would have been kind of upsetting to me. But when a used $2.50 frame loses its glass, it's not really a big deal to me, and I'm much more able to be gracious towards my (bull-in-a-china-closet) children. 😉
I find this to be true with items other than picture frames too. Remember the white Freecycle dresser I painted for Zoe? Well, two years after that project, my children have delivered a number of dents and dings to that piece of furniture, and it really doesn't bother me. If we were talking about a $750 white dresser from Pottery Barn Kids, though, I'm pretty sure the dents and dings would be a tish bit more upsetting to me!
Also, as I've mentioned before, the vast majority of my kids' clothes are hand-me-downs, and I think that this helps me to be a calmer, kinder mother when the inevitable spaghetti, chocolate, and banana spills and drips happen. Because the clothes are free, it's just not going to be the end of the world if I can't get a stain out.
I don't want you to think I just go willy-nilly through life without trying to take good care of my things…I do pre-treat stains, I do try to keep heavy, dent-causing objects away from my furniture, and I did think that picture frame would be safe on a table near a carpeted floor.
But, when you live with four children, no matter how careful you are, things are going to break, they're going to get dented, and they're going to get stained. It's just how life is.
So, that picture frame? At first after it broke, I felt a little bummed out because I didn't think it'd be at all easy to find a new pieces of glass to fit that frame.
Then the light bulb went off in my head.
Who says picture frames HAVE to have glass anyways? The print inside was a freebie I got from Walgreens, so it's not like I need to keep it super safe and protected, and besides, doesn't glass almost always have a glare problem in frames?
So, now my sofa-side table proudly sports a glass-less picture frame, and I'm even less worried about the frame than I was before! Because when your frame has no glass, you never have to worry that the glass will break. 😉