When I wrote about how happy I am to see Joshua and Lisey going out into the world and being both kind and hard-working, several of you asked me to write about how to parent in a way that encourages these two traits.
So, I'm going to try to do that in two separate posts…one for hard work and one for kindness.
Before we get to that, though, I want to say that though I'm willing, I don't feel particularly well-equipped to write about parenting. I've only parented my own four kids, and that hardly makes me an expert.
Plus, it's hard to know how much of our children's good traits are due to parenting anyway! Some of who they are is just innate and Mr. FG and I deserve no credit for that.
And, since we're Christians, we believe that God is working in our children's hearts. Obviously we don't deserve credit for that either. 😉
Ok!
I think those are all the caveats I have for now.
So.
Here are some ways that I think we've encouraged good work habits in our kids.
We've given them chores.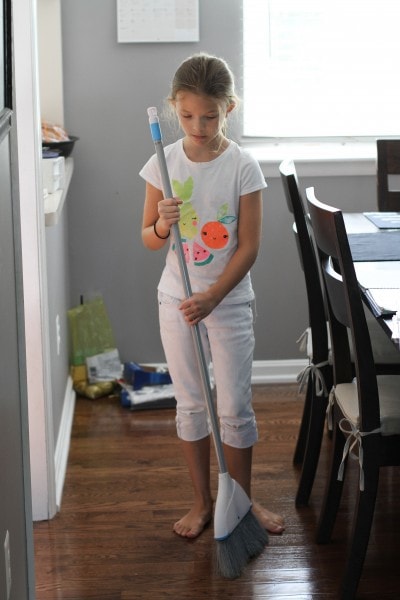 From the time our kids were little, they've had responsibilities around the house.
It started with being responsible for picking up after themselves, and gradually evolved into more typical chores.
For example, Zoe's 11, and she makes her bed, washes, dries, and folds her laundry, cleans up her room, and does an array of household chores like bathroom cleaning, vacuuming, sweeping, and window-cleaning.
We set firm work-then-play rules.
Our kids always have been expected to do their school work and chores before they use their screen time or play with friends. Knock out the tasks and then you're free to do whatever you want!
This is a helpful system because it teaches that dilly-dallying doesn't pay, but focusing and working hard does.
We haven't accepted poor work.
If my kids do a halfway job on their schoolwork or chores, I make them go back and finish it properly.
Obviously, I take into account their age and skill level (4 year olds won't make their beds perfectly!), but if it seems clear to me that they aren't doing their best, I have them fix it.
Sweep in the corners, clean behind the toilet, put away all the shoes, wipe the whole table.
(Joshua and Lisey don't need these reminders anymore, and Sonia and Zoe mostly don't either. But there was a lot of re-doing of chores that happened in years past!)
We've encouraged independence in work.
Of course we're there for our kids when they're truly stuck, but if they just need to try harder or read the directions again, that's what we want them to do.
For instance, if my kids come to me with a math question, first I ask them if they've gone back to try to find the information in the relevant lesson. If they haven't, I have them do that (or look up relevant terms in the index or glossary). After they've exhausted their independent options, then I'm totally willing to help if they're stuck.
(Usually they can get un-stuck themselves!)
The point is that I want them to know how to solve problems for themselves and how to keep trying instead of giving up easily.
We taught them to obey.
When our kids were very small, one of our big parenting focuses was laying a foundation of obedience.
(I love you, I'm here to take care of you, and you need to do what I say.)
As they've gotten older, our parenting has become more nuanced and less black and white, and we do a lot more talking and discussing and explaining than we did during the toddler years.
Even so, we hope there's still an underlying current of expecting respect for people in authority and a willingness to do what they ask (so long as it's not an unacceptable request, of course!)
When you live in someone's house, you need to respect the rules. And when you work for a company, you need to respect the rules and do what your boss tells you do to.
(If they say no phone use, you don't use your phone. If they say you need to wear a particular uniform, you wear the uniform. If they ask you to do a task you dislike, you do it.)
We don't expect them to love all of their work.
Few of us adults love every task we have to do, right?
So it makes sense to tell our kids, "Hey. We understand. Sometimes we don't feel like going to work/doing laundry/paying bills/cutting the grass. It's normal. If it was all fun, it wouldn't be called work!"
If my younger two say, "Moooom! I don't feel like doing X.", then I say, "That's totally ok. You don't have to feel like it. You just have to do it."
And sometimes when I'm facing a task I don't like, I'll say something about it. "Oof. I really don't feel like painting anymore." That's honest, and I think it's helpful for them to see me dread a job and do it anyway.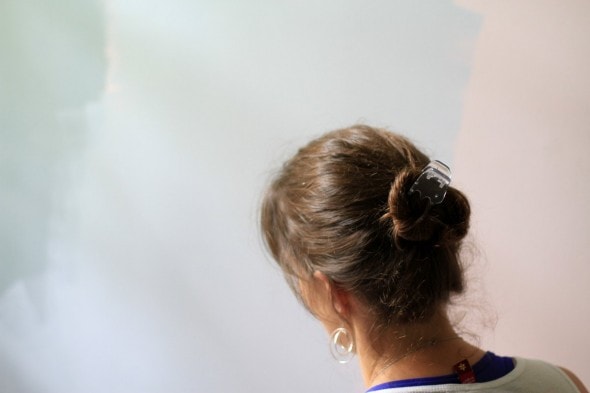 Learning to acknowledge and then push past lazy/tired/bored/"I'd rather play" feelings comes in awfully handy in the adult world.
We don't rescue them from consequences.
There are times when we show them mercy, of course, but as a general rule, they've had to face the natural consequences of not doing their work or of doing poor work.
If they skip doing school one day, ok, but the book still needs to be finished. A day off now is an extra day toward the end of the school year.
If they don't do a breakfast chore, then by lunchtime there's a breakfast chore and a lunch chore to do.
If they're not careful during a math lesson and get a bunch wrong, there are a lot of problems to go back and correct (which takes more time than being careful in the first place would have!)
I asked Joshua and Lisey…
I asked Joshua and Lisey about this, and in addition to the things I mentioned above, they both said that they're motivated because things just go better at work and school if you work hard. If do your assignments on time, you don't end up with a huge workload at the end of the semester. If you are consistently productive at work, you don't get in trouble and you do get praise.
I'm not sure if we did anything to help them see that clearly…maybe it's just that whole natural consequences thing I mentioned earlier, and they can see that this is just how the world operates. Work hard and you get smoother sailing most of the time.
Ok. I'm pretty sure that's not an exhaustive list, and I'll probably think of something else to add to it later. I hope it's helpful to you guys, though!
P.S. I know you might read this post and think, "Geez. These people run a cold, hard-nosed ship." And while it's true that we do have expectations of our kids, (and plenty of structure during their younger years), we also hope that our kids always feel loved, know that we are for them, not against them, and that we're on their team. We want to help them and encourage them. And they know our desire is to do what's best for them because we love them.
P.P.S. If you've got wisdom and experience in raising kids who work hard, feel free to add your own advice in the comments!