After one of my Stitch Fix posts, I got an email from Nadine West, a company that offers a service similar to Stitch Fix, but with a more budget-friendly price range.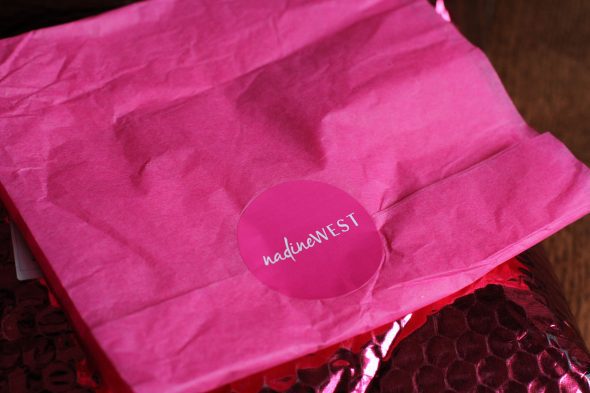 They offered to send me a box to try, and since you guys love my Stitch Fix posts so much, I said yes.
I filled out a style profile (a little less detailed than what Stitch Fix offers), and waited for my shipment.
The Nadine West shipments come in a bright pink padded envelope vs. a box like Stitch Fix. I assume this helps cut shipping costs, which helps them keep prices down.
My package contained a pair of leggings, two shirts, a dress, a pair of earrings, and a necklace.
There's no styling fee with Nadine West, and the pieces are definitely less expensive than even Stitch Fix's least expensive offerings.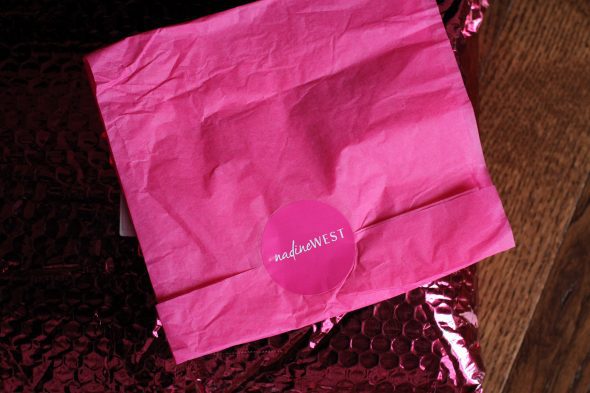 I know you want to see what I got, so, let's get to that.
First up are these leggings ($24.99), which are super soft. And they have pockets!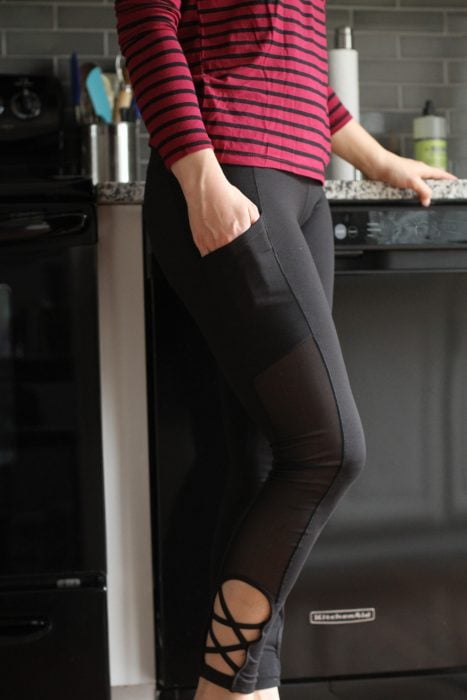 There's a mesh panel in the side, and then the lower leg has cut-out details. So, you wouldn't want to wear these on a cold day.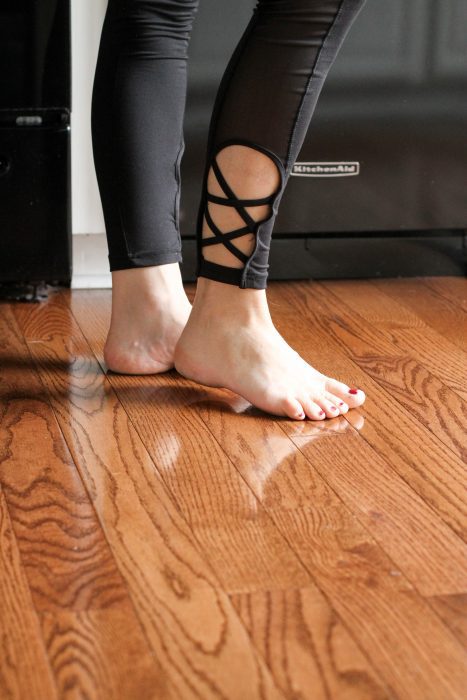 They're really comfy for hanging around the house, though.
I'm slightly worried that the mesh side panels won't hold up over time, but I guess I'll have to wait and see.
This hooded shirt ($28.99) was not my fave.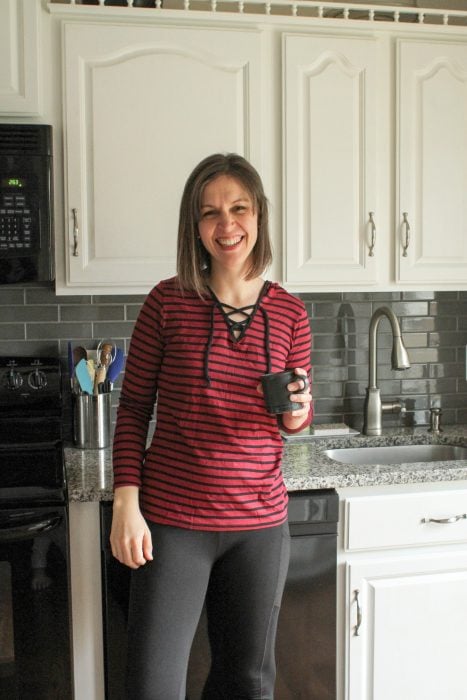 My main complain is that the length was weird, especially on my long-torso-ed self.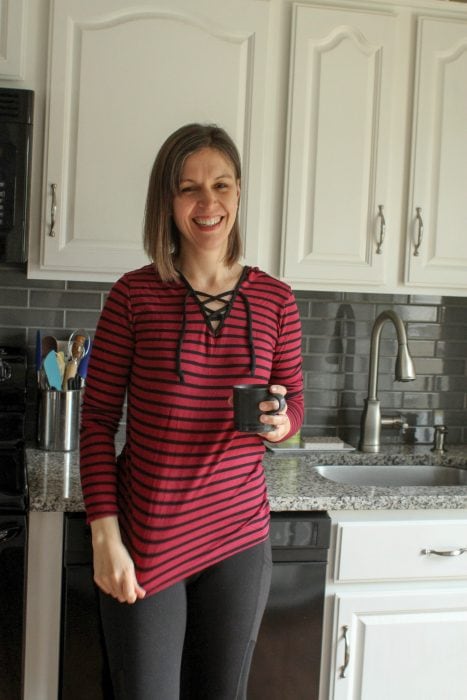 It also was totally not doing me any favors in the belly area.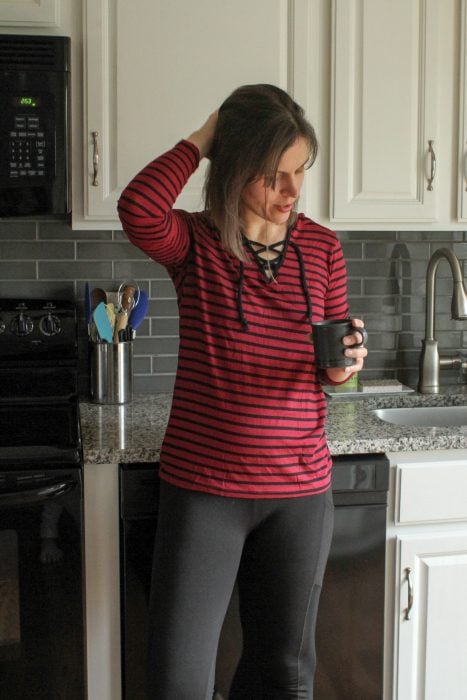 (and no, I am not freshly pregnant. The shirt just makes me look like I am!)
When I saw the next top ($24.99), I was excited because it has an interesting neck and also because dusty rose is a good color on me.
But the distance between the neck straps and the bottom of the v-neck was too great.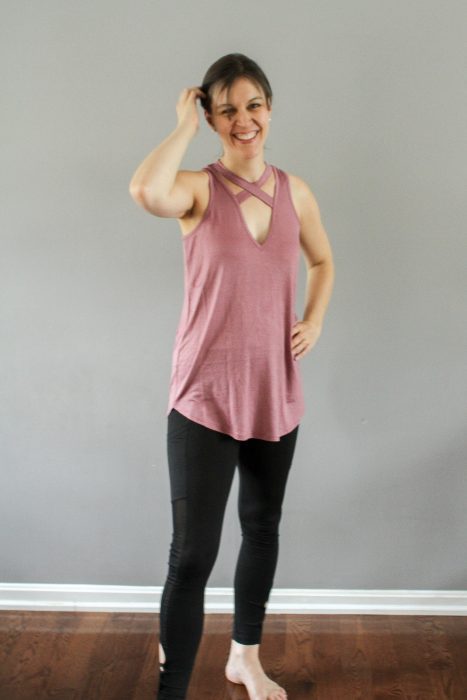 I feel like the spacing looks weird, and also, it's impossible to keep your undergarments under wraps. A less-deep v would have gone a long way for this shirt.
(I showed Mr. FG this top and he said, "It looks like you're wearing a ballet slipper around your neck!" He is not wrong.)
My last clothing item is this dress ($24.99).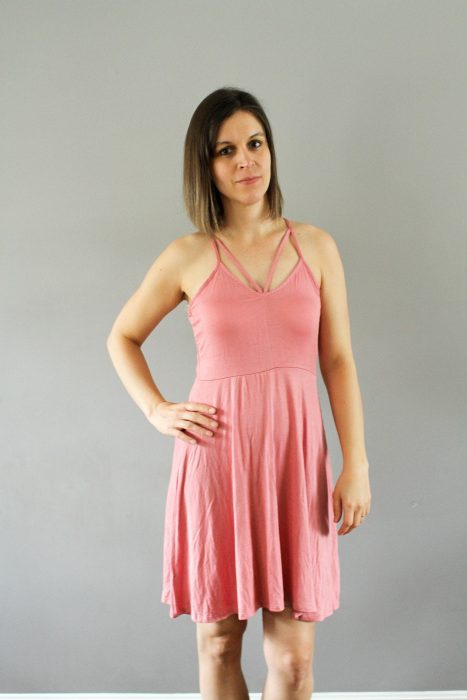 This dress felt rather cheaply-made, and if you look at the waistline, you can definitely see that something is not right with it. It's uneven, and it's not because I'm putting my hand on my hip.
Something definitely slipped through the quality control when this was manufactured.
On to the jewelry! I got a pair of gold dangly earrings ($9.99) that are a C shape. Gold's back in, and my jewelry hasn't quite caught up with that, so I'm going to keep these.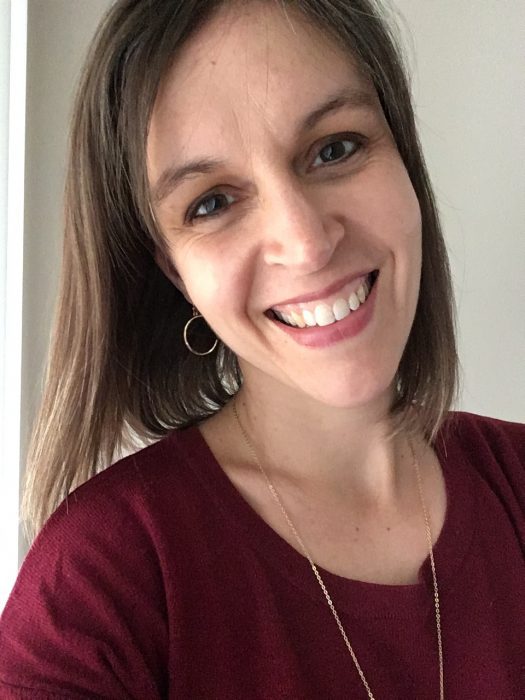 I also got a gold necklace ($16.99), which I'm going to keep. I like the way a long necklace dresses up a top!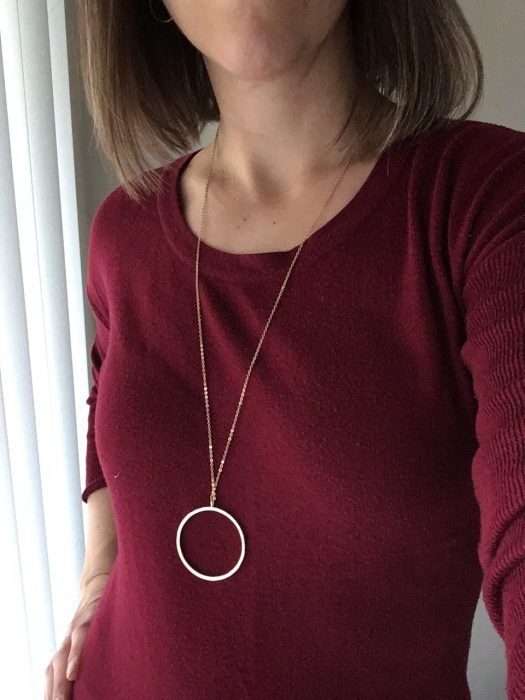 How does this compare to Stitch Fix?
As with Stitch Fix, you can send unwanted items back to Nadine West with the prepaid shipping label, and you are only charged for the stuff you keep.
Stitch Fix feels like a more luxurious experience, from the website to the packaging to the quality of the clothing. You pay more, but you get upgrades for paying higher prices.
Stitch Fix's customer service is quicker and more professional.
Of course, Nadine West is more affordable than Stitch Fix, so if someone is wanting to try a stylist-chosen clothing service on a budget, Nadine West could be appealing.
On other thing: it's nice to not pay a styling fee, but you do pay an initial shipping fee with Nadine West (return shipping is free).
The shipping fee is $9.78, and it gets credited toward anything you keep. So, it's kind of like paying Stitch Fix's styling fee, except it's half as expensive.
How do you get started?
Visit Nadine West, fill out a style profile, and use the code NADINE to get free shipping on your first order.
(I do not have an affiliate link, and I do not benefit from orders placed by my readers.)
Would you ever use this service? Also, if you've used Nadine West, I'd love to hear about it.
P.S. Thank you to Sonia for taking everything but the jewelry photos for me!