Frugal stuff is really quite interlaced into my daily life, and so I thought you might find it vaguely interesting if I wrote down today's activities.
I also failed to plan ahead which means that I don't have time to write a meatier post. Ahem. Hopefully this will be better than no post, though. 😉
Until now, I had no idea that I was going to post about my day, so I didn't live an especially frugal day on purpose. This is just normal, everyday life for me.
I got up this morning at 6:30, and after I'd done my hair and some makeup (free eyeliner, powder from Costco, and free mascara), I got dressed. I decided to wear this skirt: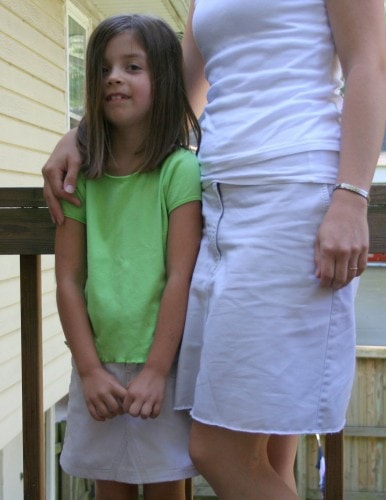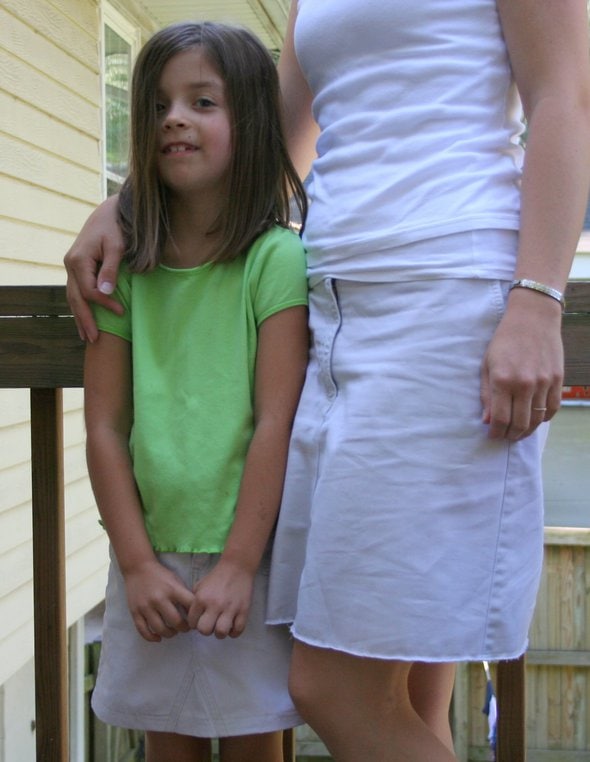 which was made from some old pants with holes in the knees, and which I've recently mended.
My shirt today is a black Eddie Bauer tank top that I purchased at an outlet 8 years ago for $10. The black was fading a bit so about 4 years ago I redyed it black, using some Rit dye that I picked up off of Freecycle.
My shirt is white in the picture because that photo is a year old, and my goodness, I can certainly tell that it was taken with my old lens. 😉
I read my Bible and also a chapter from a book about communication and the gospel, and then headed upstairs to pack my husband's lunch.
I used Pyrex containers, of course, and I packed a leftover panini sandwich, blueberries, yogurt, pistachios, and a few other things that I can't remember.
These all went into a reusable insulated bag (incidentally, the bag was a freebie from his former job).
Husband off to work, I fed the kids.
We had a combination of cereal that was bought on sale with a coupon and some bagels, which we got for free from our church this week (Panera donates day-old bread to my church).
I then proceeded to wash several loads of laundry in cold water. I ran those loads through the dryer for a few minutes on air-dry (cheap as dirt to do that) to shake out some wrinkles and hung it all out on my line.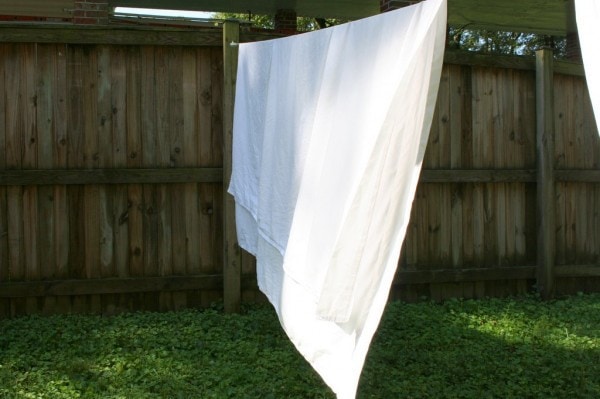 While I was out there I watered my tomato, basil, and pepper plants.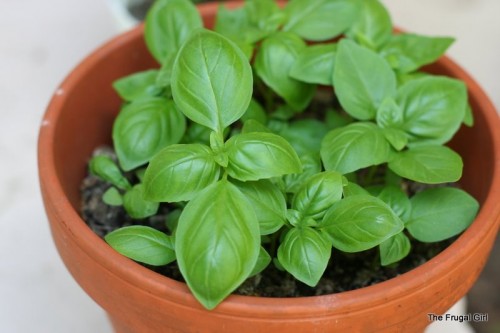 Planning my menu was next, so I got the sale ads and sat down to figure out what we'd be eating for the next week. I think I wasted some time on the internet after that.
I then took the kids out to ride their bikes for a little while, emphasis being on "little" because the weather is oppressively humid and hot today.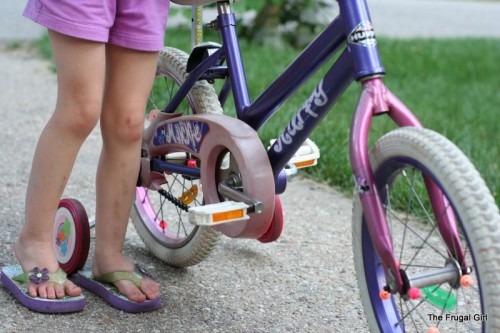 Following a lunch of leftovers and yogurt/fruit smoothies, we headed out to do 5 errands. After getting gas ($.05 off on Thursdays!), depositing some checks at the bank, and shopping at a local grocery store, we headed to Goodwill. There I found a perfectly good hand mirror, which I've been wanting so I could see the back of my hair, for 50 cents.
I also found a square glass storage jar with a metal lid that seals (this will allow me to get rid of one of my plastic containers) and a double pack of bath confetti (this will be put away for Sonia's Christmas stocking, as she is the bath queen.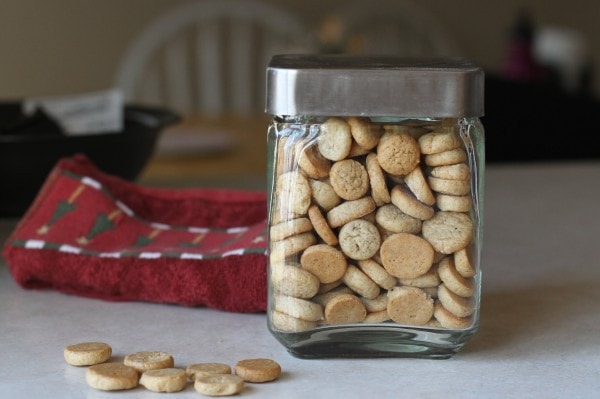 Oh, and Zoe found a teenie beanie fish that she wanted to buy. It was $.25 so I decide she could afford that. 😉
All told, we spent $2 for the mirror, glass container, bath confetti, and fish.
Our last stop was Aldi. We got our groceries, packed them in our cloth bags, and headed home.
I got a flat tire on the way home, but that was not at all frugal. Mercifully, it hadn't leaked much air yet and I only noticed the flat when I got home.
After unpacking our groceries (and taking a picture, of course!), I made a black bean/corn salad to use my cilantro right away. I am TRYING not to waste cilantro. Really.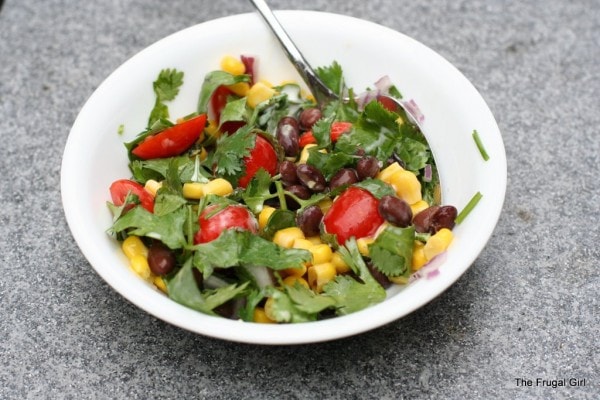 I also made yogurt with one gallon of the milk that I bought (it's currently incubating in the cooler).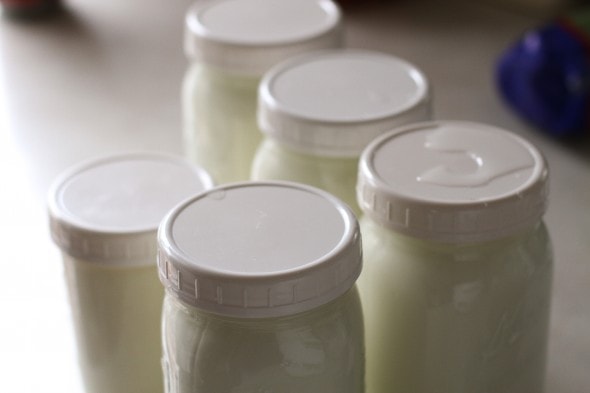 When my husband came home, I got a lesson in replacing a tire, and I'm proud to say that I can do it all by myself.
(Maybe this is frugal? I wouldn't have to pay a tow truck to come get me if I got a flat tire in the future.)
For dinner, we had grilled cheeseburgers made from ground beef that was marked down at Aldi, and cherries, which were on sale.
After dinner, I brought in my laundry, put my clean sheets on my bed, threw the rest of the laundry in the dryer for a few minutes to dewrinkle, folded it, and put it away.
We had family worship with the kids, I read bedtime stories to Zoe and Sonia, and now everyone is in bed.
So, that was my day…I didn't do anything amazing that earned lots of money or anything astounding that saved us hundreds of dollars.
And living like this for one day wouldn't accomplish much. But faithful, consistent frugality does yield some very pleasant fruit, and considering that I don't even mind living like this, I think I'm going to keep right on plodding along the frugal road.