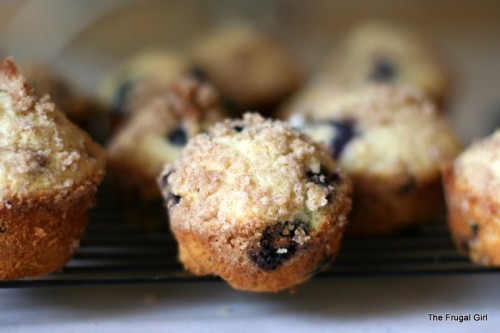 While we have eaten a great portion of our 20 pound box of blueberries by the handful, I have also been using them in a few other ways. We've made fruit salad with them, added them to our spinach salad, and today I used them in some muffins. If you are not fortunate enough to have fresh blueberries at the moment, fear not…frozen berries can be used as well. See the very bottom of this post for frozen berry directions.
In order to make these baking posts simpler for you, I'm going to do what a lot of other bloggers do, which is to walk you through the recipe with pictures and then post the actual recipe at the bottom of this post. Then should you wish to print the recipe, you can just copy and paste the ingredients and directions into something like a Word document and print it. That way you won't have to waste pages and pages of paper the way you would if you tried to print a recipe with all the pictures. Feedback on this would be good…if you hate it or you love it, let me know. I want to do what is most user friendly for you.
So, here's how to make blueberry muffins.
First, heat your oven to 350. This way it should be properly heated right about the time you're ready to bake your muffins.
Mix the dry ingredients together. I find that a wire whisk is the best tool for this.
Then beat the milk, egg, and oil together. My hand-dandy manual egg beaters do a great job right in the measuring cup.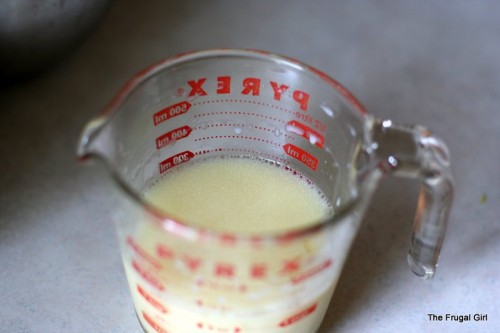 Measure 1 cup of fresh blueberries,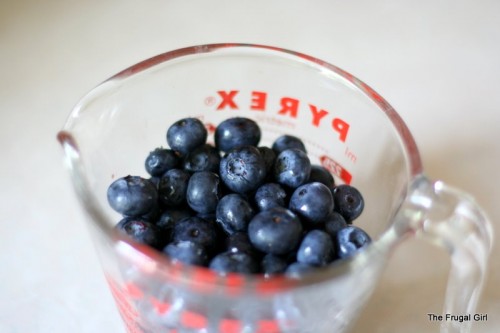 and gently mix them into the flour mixture.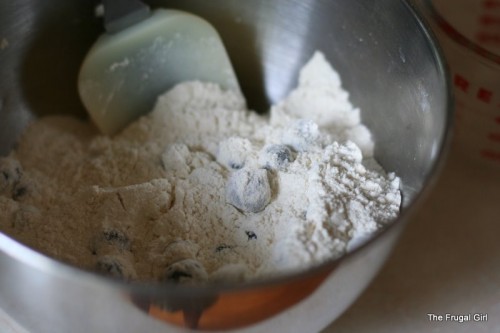 Add the liquid ingredients and gently mix until you have a mostly homogeneous mixture. You do not want to over stir, or your muffins will be tough. Ideally, you'll still have a few streaks of flour.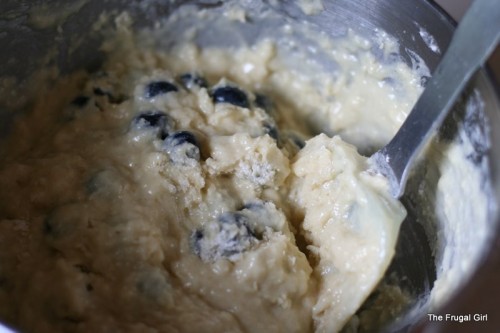 Spoon the muffin batter into a greased 12 cup muffin pan (alternatively, you can use muffin liners).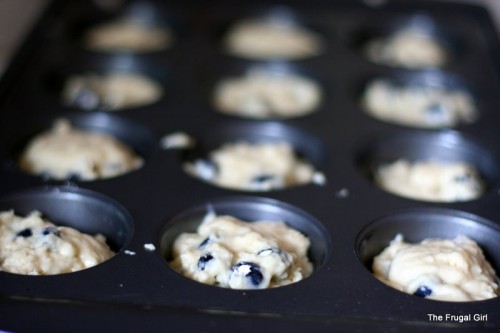 To make the streusel topping, combine the flour, sugar and cinnamon, and using a pastry blender or a fork, cut in the butter.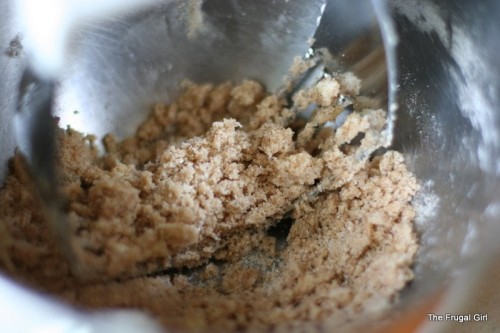 Sprinkle atop the muffins. Bake for 20 minutes. Let cool in pan for a few minutes, then remove to a wire rack.
Blueberry Muffins
2 cups flour
1/2 cup sugar
3 teaspoons baking powder
1/2 teaspoon salt
1 cup fresh blueberries
3/4 cup milk
1/3 cup oil or melted butter
1/2 teaspoon vanilla
1 egg
Streusel Topping
2 tablespoons flour
1/4 cup sugar
1/2 teaspoon ground cinnamon
4 teaspoons butter
Heat oven to 350.
Mix flour, sugar, baking powder, and salt together. Gently mix in blueberries. Mix milk, oil, vanilla, and egg, and gently fold into the flour mixture. Spoon into greased 12 cup muffin pan.
To make streusel, combine flour, sugar, and cinnamon in a small bowl. Using a pastry blender or two forks, cut in butter.
Sprinkle over tops of muffins and bake for 20-25 minutes, or until lightly browned.
Note: When I use frozen blueberries, I don't thaw them and I gingerly mix them in after I've combined the wet and dry ingredients so as to avoid having a lot of blue streaks throughout the batter.