Last year, Old Navy carried a line of velour holiday dresses which sold for $39.50. I didn't see them until after Christmas, when they were marked down to $19.99. At 50% off, I decided they were worth a try, so I hauled a couple back to the fitting room and tried them on. I liked the one style pretty well except for the bell sleeves it had, and ultimately I decided it wasn't worth $19.99.
A couple of months later, I was at Old Navy(I think it was when they were having their $.99 flip-flop sale), and I took a quick glance through the clearance racks, as I always do. Lo and behold, there was that bell-sleeved dress, and it was marked down to $.97! At that price, I felt like it was more than worth it to buy the dress and try to modify the sleeves. If that didn't work, I figured I could always cut the dress up and use the fabric for something else…$.97 was certainly a good price for the fabric.
Out of curiousity, I tore the old mark-down stickers off of the tag, and it looks like it went from $39.50 to $19.99 to $4.99 to $2.99 to $.97. Quite a downward price spiral! They obviously weren't selling well(I saw them at $19.99 for months), and I think it was probably due to the odd sleeves. The rest of the dress is rather form fitting, so the loose sleeves just didn't seem to fit the overall style of the dress.
At any rate, I hung the dress in my closet and forgot about it altogether until this week. Since it's sort of a holiday-looking dress, I figured I'd better try and modify it before Christmas was gone.
Here's what it looked like off the rack(and trust me, the sleeves are even more odd-looking on a person).

I tried the dress on inside out and pinned the sleeves a couple of different ways before deciding on a very simple fix. I basted the sleeve so that the inside seam was straight, thus removing the bell shape.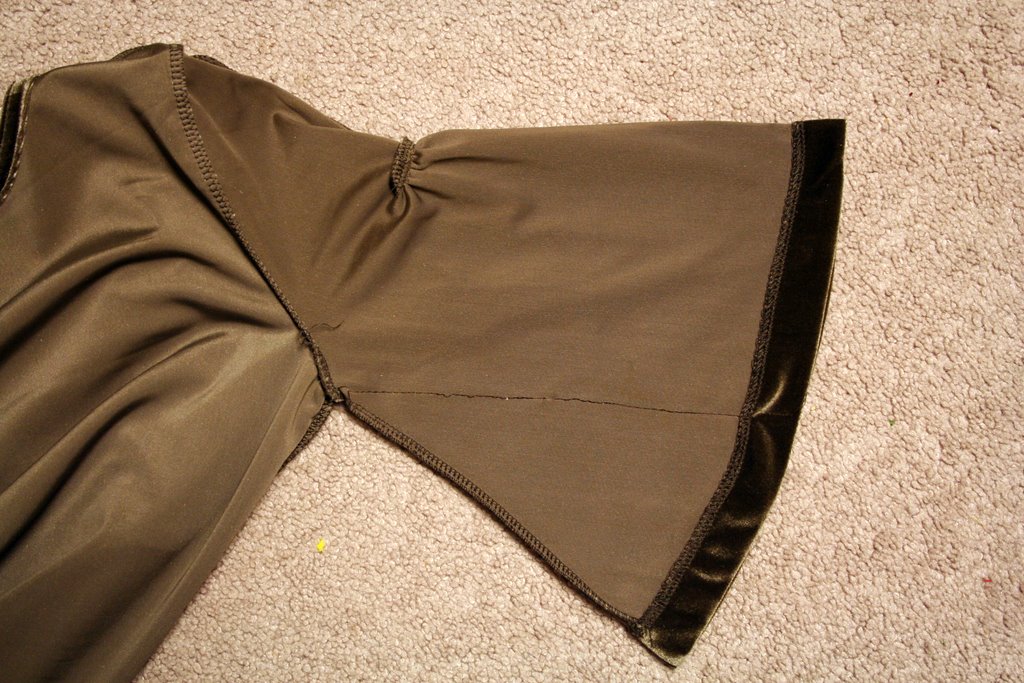 I then tried the dress on, and happily, my first effort fit perfectly! So, I sewed the new seam properly and cut off the excess fabric. Here's what the dress looks like now: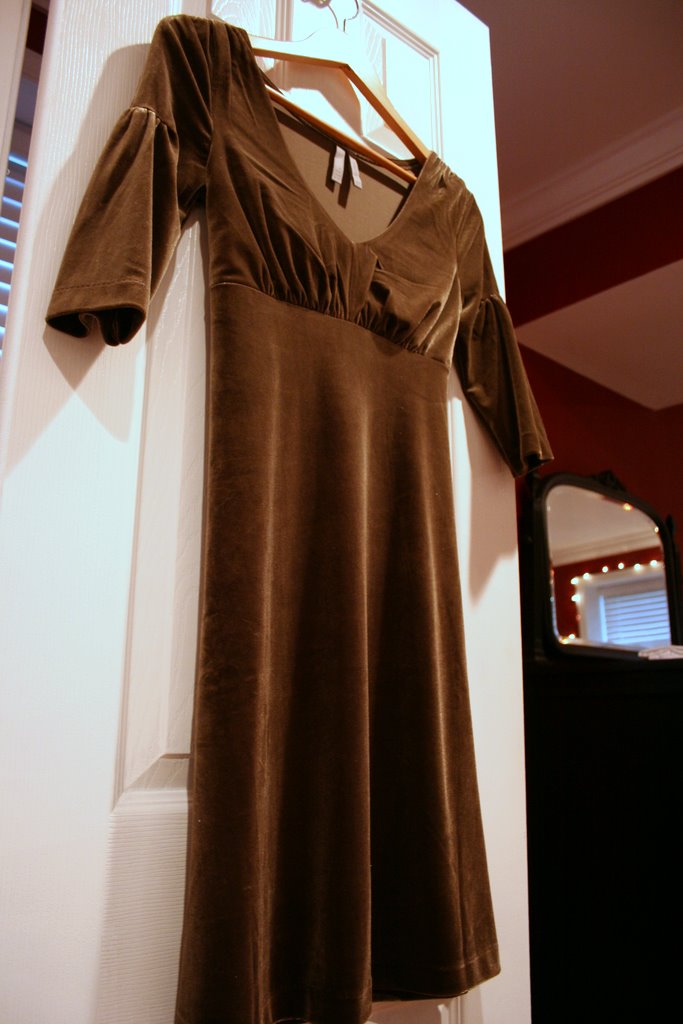 And lastly, here's a picture of what the sleeve looks like on me. I apologize for the poor quality…my son took it, and he's not very good at taking no-flash pictures! And I'm sorry for the variations in color among these pictures…the dress is a silvery brown in real life.

So, there you have it…this is quite possibly the most inexpensive dress I've ever owned. Finds like this are the reason I am forever checking out the clearance racks when I go shopping. 😉