I first read about making cloth gift bags a few years ago in The Complete Tightwad Gazette
, so the credit goes to Amy Dacyzyn.
They can, of course, be made from new fabric but as any experienced seamstress knows, that immediately ups the cost of a project.
So, I prefer to make them from free fabric. 😉
Where do you get free fabric?
The best source is old clothes.
You might have some in your closet…I've made quite a few gift bags out of two old dresses I no longer liked.
Another good place is in bags of hand-me-downs, or bags of clothes from Freecycle.
If you can't obtain any free fabric, you might want to take a look around your thrift store. You can sometimes get a screaming deal on old pjs, or old prom dresses, and those work very well for making gift bags.
Really, any fabric that's shiny or fuzzy is a good candidate for this project. I made this particular gift bag from an old velvet dress, which someone gave to me.
(And which, I am somewhat embarrassed to admit, I wore for quite a few years.)
I laid the fabric out flat and cut a rectangle. If you can, cut from the edge of the garment and you'll have one seam already done for you.
(In case you're wondering, the Whoppers are there because that's the gift that was going into the bag…a gift from Lisey for her dad, and I was trying to see what size the bag should be.)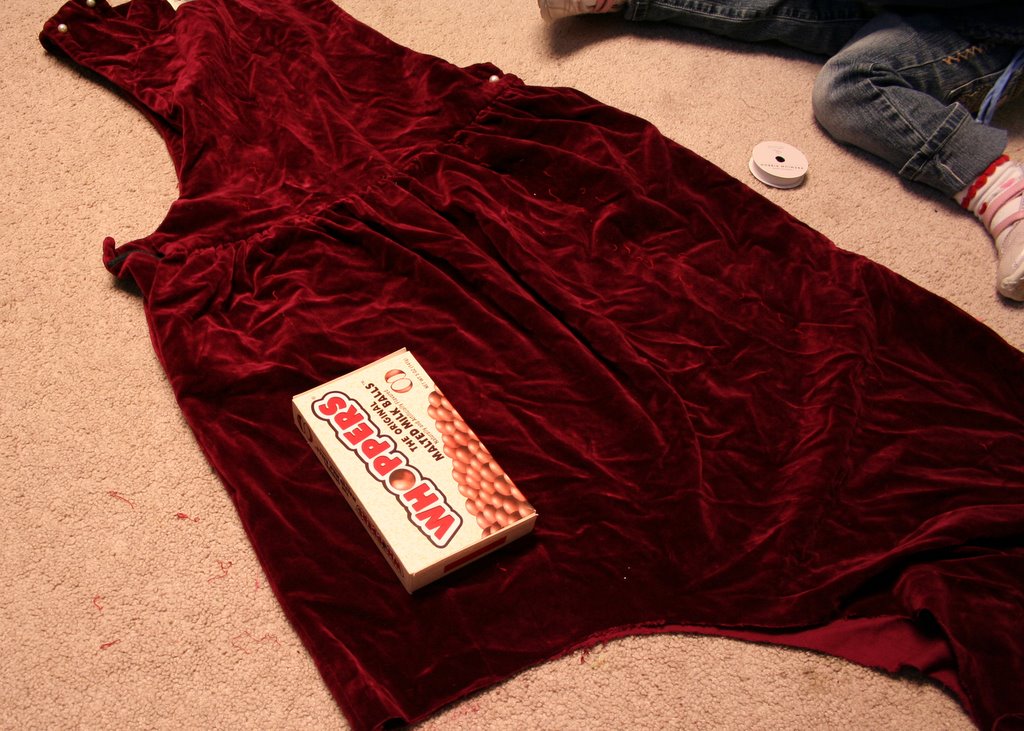 I turned the rectangle inside out and sewed seams around three sides of the fabric.
Then I clipped the corners so that they would be square when I turned it inside out.
I then turned the top edges over(about 1/8 inch) and sewed a tiny hem.
After that, I folded the top edge over again(this time around 5/8 inch), and sewed around the top.
And ta-da, the gift bag is done!
However, it's awfully boring looking.
I've found that the key to making these bags look nice lies in the closure.
I've tried a bunch of different drawstring options, but the nicest-looking closure is the simplest: a ribbon tie.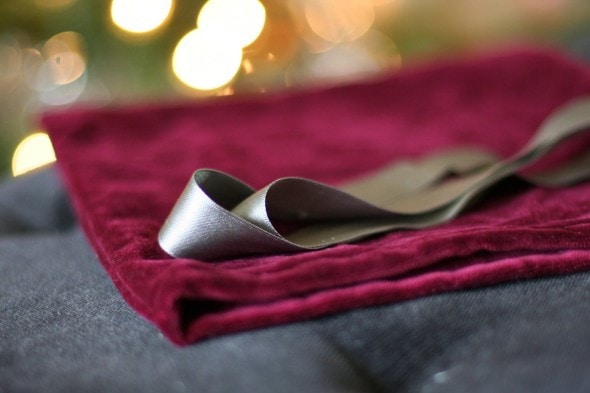 I have a pretty decent stash of ribbon in my scrapbooking desk, so I picked a ribbon from there to tie the gift bag.
This ribbon was salvaged from an Ann Taylor bag.
(Which came filled with hand-me-downs…you didn't think The Frugal Girl shopped at Ann Taylor, did you???).
I made this one out of an old velour dress.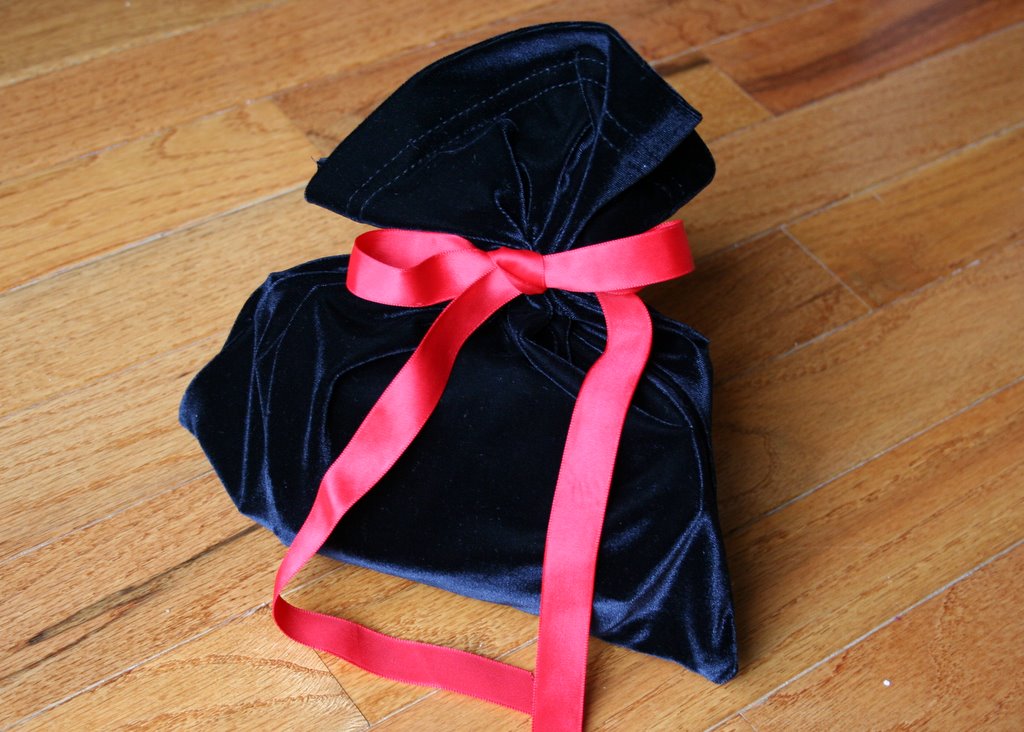 And this one (which Sonia picked…it matches her colorful personality!) is made from some pj pants that I got on Freecycle.
Pants work GREAT for this…if you make one from the lower part of the leg, you only have to sew a seam on the bottom of the bag.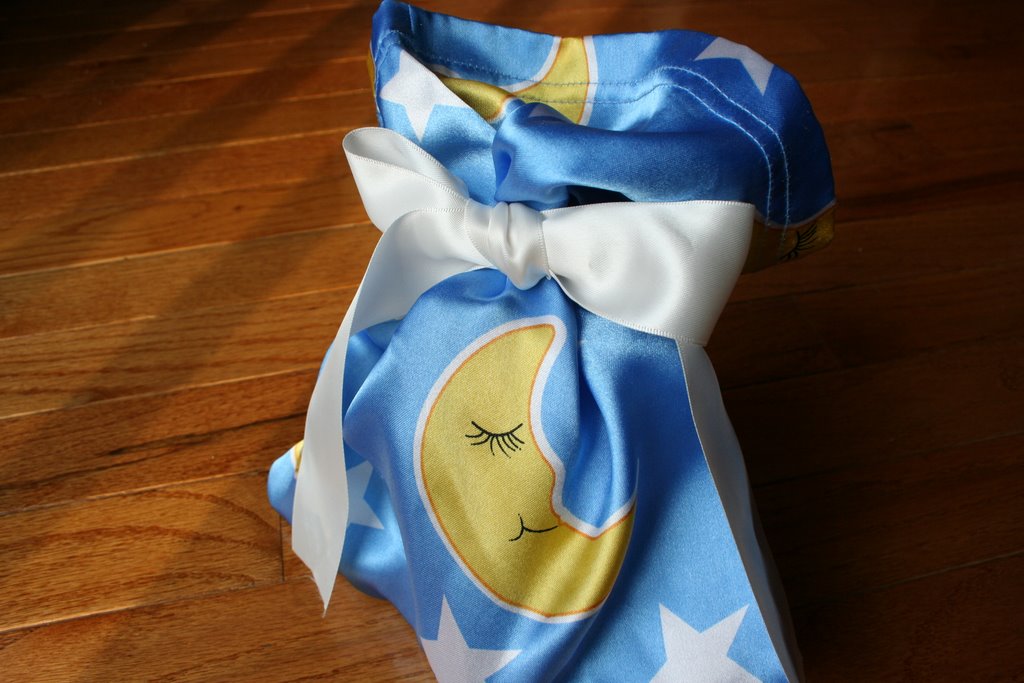 Lastly, here's one I made out of an old ironing board cover (yup!)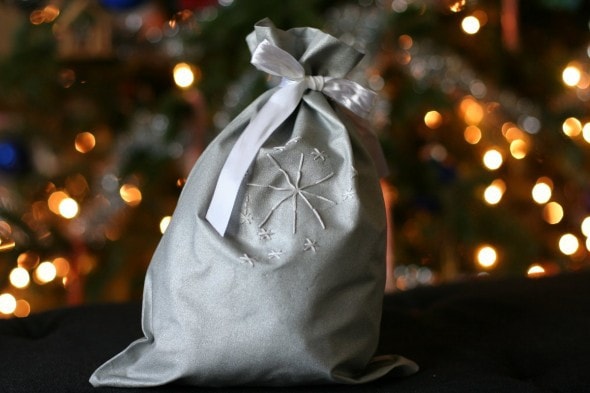 Cloth gift bags blow my hair back for a few reasons:
they're free/cheap (the only cost for mine was the thread, which I already had)
they save money (you don't have to keep buying wrapping paper/tissue/gift bags)
they're environmentally friendly (you're not using new materials to make them, and they're infinitely reusable).
Lest you be ridiculously impressed, I should tell you that I haven't made nearly enough yet to contain all of our Christmas gifts (I think I have six altogether).
But I'm working on it, one old garment at a time.
_________________________________
Want more upcycling ideas? Check out my ebook, Reuse, Refresh, Repurpose, which contains 20 ideas to help you breathe new life into old clothes.
And if you liked this post, subscribe to my blog so that you never miss any of my future upcycling posts.