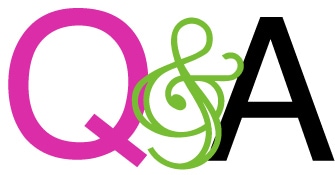 Every Monday, I answer a few of the questions that my readers send me. If you have a question you'd like me to answer in a future Q&A post, just leave me a comment here or email me (thefrugalgirl [at] gmail [dot] com) and put Q&A in the subject line. I look forward to hearing from you!
What do you think about Tumblr as a blog host? Too juvenile? I agree that Blogger is cumbersome, but I just haven't ever committed to WordPress.
-Sydney
I haven't personally used Tumblr for blogging, but my initial thought is that Tumblr is more helpful if you're posting more photos than words (which sometimes is the case around here, I suppose!).
I think Tumblr looks nicer out of the box than Blogger does, though, so that's an upside.
Just so you know, WordPress doesn't have to be a big commitment. You can start a WordPress blog for free at WordPress.com!
If, down the road, you decide that you want more design flexibility and the freedom to run ads, you can always move your WordPress.com blog to a self-hosted WordPress blog. That's what I did after a few months on WordPress.com and it wasn't a hard process.
A lot of people who get serious with their blogs eventually move to WordPress, and if you start out on WordPress.com, the transition is a whole lot easier than if you start on Tumblr or Blogger. So, if you think there's a chance you're going to be in this blog thing for the long haul, get yourself over to WordPress.com and start a free blog there.
Do your kids participate in any extra activities (scouts, dance, sports, lessons)?
-Ingrid
At this point, no, although we're planning on starting them in a Kung Fu program soon. My mom gives the kids lessons in Latin, Spanish, and composition each week, but of course, that's not a terribly formal situation. 😉 And the older three take piano lessons, but the teacher is yours truly, so that's not exactly formal either.
We're not opposed to extra-curricular activities, but Mr. FG and I are both very committed to avoiding an over-scheduled life for our kids because we think free playtime is really important for their health and well-being.
The girls have expressed interest in stringed instrument lessons in the future, and Zoe would like to learn how to dance, so down the road, we'll probably have more extra activities on our plate than we do right now.
I had a question for you about how you did Bible study with your kids when they were younger. I have a 4 year old and a one year old and while we read their children's Bible almost daily I am at sort of a loss for more activities to do with them to help them grow in their faith. If you don't mind sharing I would love to know your approach.
-Mary
Well, with younger children, I do like to keep it simple! As you know, four-year-olds and one-year-olds don't have a very large attention span. 😉
We've always done family devotions with our kids, and that usually includes a short Bible reading, prayer, and sometimes singing. Every day, one of us is responsible for the prayer portion, so each kid gets a turn praying throughout the course of the week (kids the age of yours may need some help remembering things to pray for.).
You could have your children memorize Bible verses too…children are so great at that. Songs make this fun and easy, so we love the Seeds albums
. They're fun, catchy songs that will make verse stick in your head.
Aside from formal things like family devotions, there are lots of opportunities throughout the day to teach children about Jesus, so don't miss those! For instance, when you see a lovely sunrise, you can talk about how we can thank God for the beauty of that. Or when your child wants to repay evil for evil, you can talk about how Jesus loved us when we were His enemies, and we should follow in His steps. And when your child does something wrong, there's a great opportunity to talk about how we all do wrong things, and that's why we all need Jesus (I make a point of explicitly including myself in that.)
If you're like me, your faith isn't just something you think about on Sunday mornings…it's something that's soaked into every day living. So, talk about your faith as you go about your days with your children. You'd be surprised how much they're paying attention!
In a nutshell:
1. Keep the formal stuff simple.
2. Don't miss all the informal instructional opportunities throughout the day.
________________________________
Readers, feel free to add your advice to mine!
________________________________
Today's 365 post: Mulberries on the Beach
Joshua's 365 post: Haunting