…but the basic parts of the bed are painted. Yay!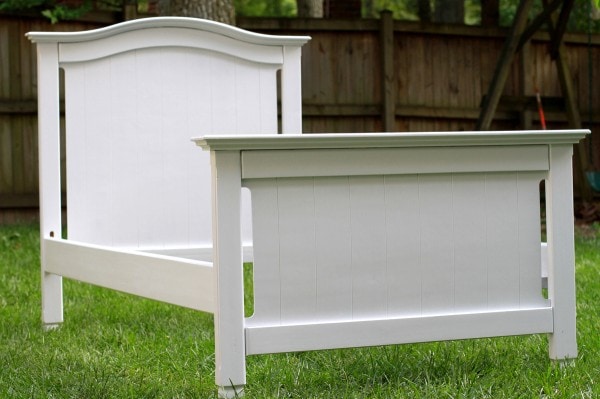 I always have a moment of doubt when I start a project like this, but I'm happy to say that I am now 100% sure that I like the bed better this way.
I talked to Zoe about it yesterday and asked her if she thought we should leave the bed wood-toned.
"No!", she said.
I asked her why, and she said, "Then it would look….not good."
There you have it-the authoritative word from Zoe.
I haven't even started on the drawer part at all, but I don't think that'll be terribly time consuming (though it's going to be a bit of a pain since these drawers are the type that won't come out all the way).
Did I tell you that one of the slats for the box spring/mattress area broke on the way home?
Well, it did.
But just last night I found a board in our scrap pile that appears to be just the right thickness, so once Mr. FG chops it down to the right length, I think we'll have ourselves two more slats.
So, we're getting pretty close to the point where Zoe can actually use her bed, and she and I are both pretty excited about that.
Save