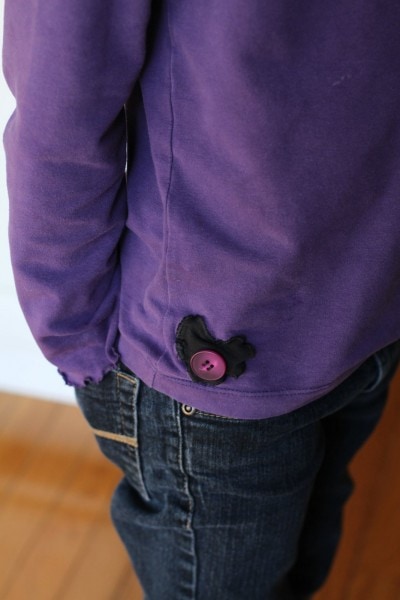 First, the part I'm proud of, and then something super basic…
This past fall, in a bag of hand-me-downs we found two heavy-duty long sleeved shirts that were almost Zoe's size. It's kind of hard to find knit shirts made of thick, warm knit fabric, so I really wanted to keep these. However, they seemed to be from a previous era where waistlines were higher and shirts were shorter.
So, the torso part fit Zoe but the sleeves were too long. Since I'm not super great at hemming knit clothes, I thought I might just cut the sleeves to the right length and leave them unhemmed (Knit fabric doesn't fray.)
But then I remembered reading about how you can make a lettuce-edge hem by using a tight zig-zag stitch, so I gave it a try.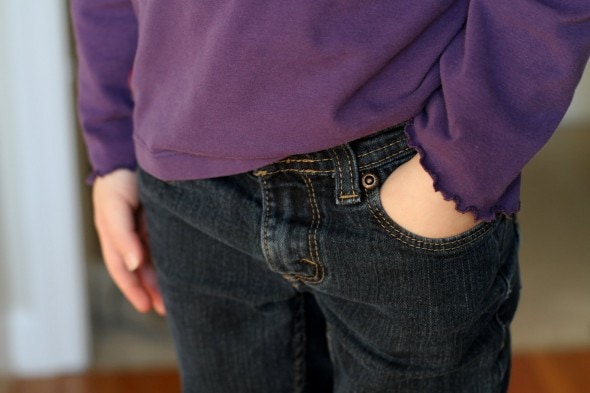 And I'm pretty darn pleased about how it came out. I did this first on the black shirt and then on the purple one, using one of Zoe's well-fitting shirts to determine the proper sleeve length.
The black shirt was good to go, but the purple one had a tear near the hem.
So, I took some of the fabric I'd cut off the sleeves of the black one and sewed kind of a messy heart over the hole.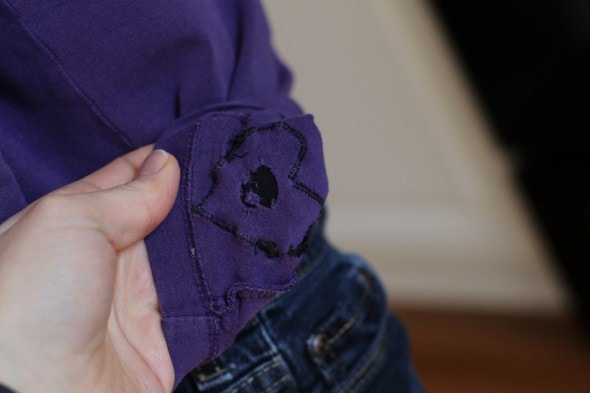 Zoe picked out a button from my button box to add to the heart.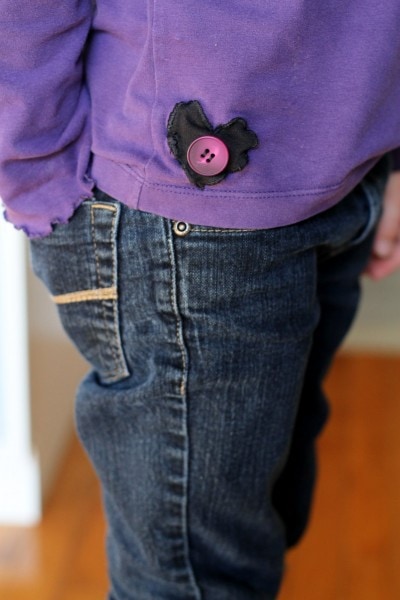 I've never done something like this before, and I'm quite sure there are ways to make it more flat and even (probably involving interfacing), but hey, this worked out ok for my first ever attempt and it makes the shirt wearable.
And Zoe is happy with it, so, you know.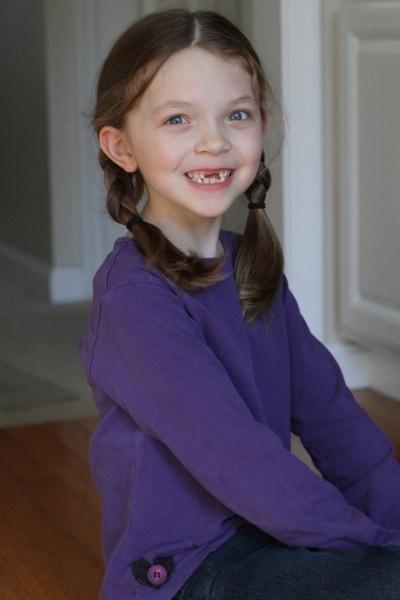 I've said it before and I'll probably say it forever…trying to rescue stuff that's ugly/damaged is such a low-stress proposition. If the hole repair had been unsuccessful, it would have been no big deal. I paid nothing for the shirt and Zoe wasn't going to wear it with the tear anyway, so I had pretty much nothing to lose.
And it only took me a few minutes, so I wouldn't even have been out much in the way of time.
Now for a much more basic repair, which I hesitate to even share here, because it's so basic. But just in case one person on the planet doesn't know how to do this…
Zoe's jeans adjuster came out of her pants the other day, and I just hooked a safety pin on one end and fed it through.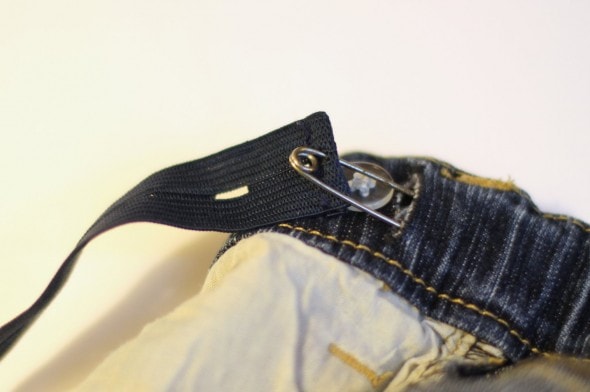 I learned how to do this when I sewed my first pair of shorts as a kid, but it's awfully handy whenever ties or adjusters make their way out of clothing.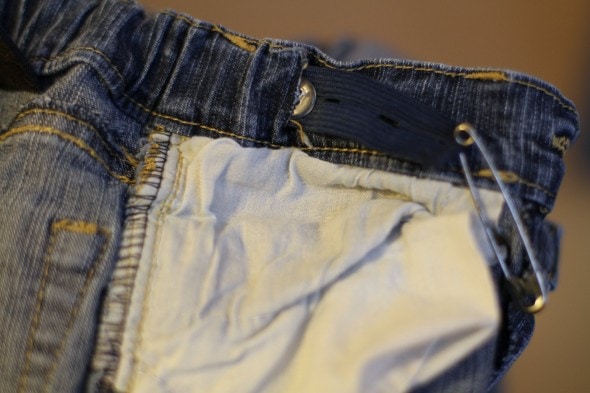 So, now I'm curious: How many of you already knew how to do this?
I'm guessing it's a high percentage because I checked with Mr. FG last night and much to my surprise, he knew how, even though he is not at all a sewing kind of guy.
___________
Joshua's 52 post: Extra-Terrestrial
I think this one is a great picture, but it's even better if you remember he took it with a $100 point and shoot.
(Says she who is terrible at moon pictures. Even with an SLR.)