I just love it when international readers write in, offering to participate in this series; it's so much fun to get a glimpse into life in various parts of the world. Today, we're meeting F, a Parisian reader.
Here's F:
1. Tell us a little about yourself
I am a 36-year-old French gal, living in Paris, France. I am happily single and childless by choice – I never saw myself having children, although I adore kids.
I have nephews and nieces, many of my friends have children, and I love them all, but I am just perfectly happily being The Cool Aunt™.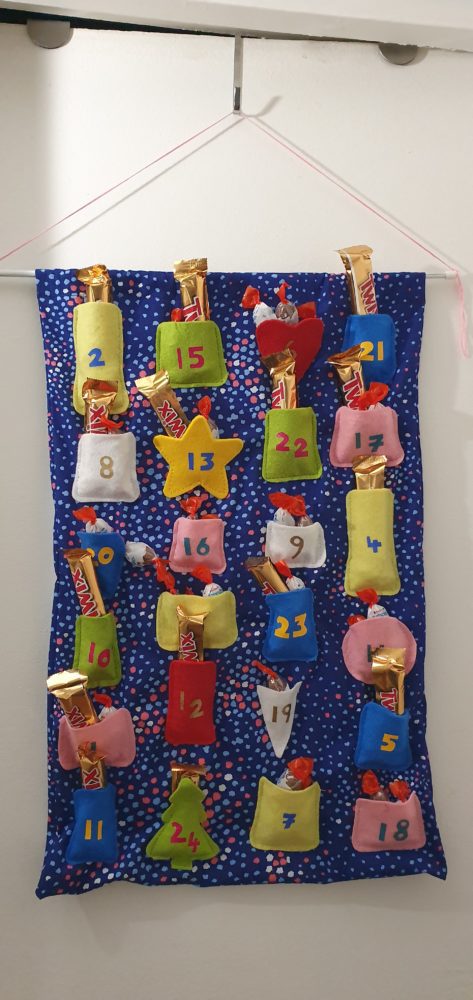 The Cool Aunt sewed an Advent calendar for a friend's child, using 100% repurposed materials
I worked for the same market research company for 10+ years, but was let go in July this year. Since I had been wanting to change jobs for a while, I am taking the opportunity to step down from work and find myself a new career.
Right now I am looking for a consulting firm to start what we could translate as a "skills assessment": a 4-6 months process, during which they help you know yourself better and try and then find the best job for you, based on who you are, your values, your priorities etc. I'm not sure this exists/is widely spread in the US, but in France it's very common. I am quite excited to start this journey!
Other than that, I love traveling, walking/hiking, sewing (especially mending!), DIY/finding cheap solutions to practical problems (like reader Rose, I thank Google and YouTube everyday!), TV shows, fanfiction, and assembling IKEA furniture.
Contrary to the *overwhelming* majority of French people I am not a foodie, and I hate cooking with a burning (ha!) passion. I do have a sweet tooth, especially for sorbet, and I will probably eat any type of dessert you'll throw my way. I like baking cakes, making crepes or anything sweet and uncomplicated.
I am very impressed by the WIS, WWA posts every week!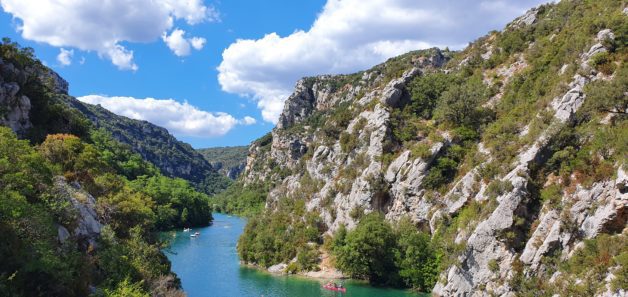 Beautiful Provence, France
2.How long have you been reading The Frugal Girl?
I believe since 2010; I'm not sure how I ended up here, probably from a Pinterest post. I came for the frugality, but stayed for the positivity and overall good vibe 🙂
I read Kristen's blog everyday, and hers is the only blog I read regularly.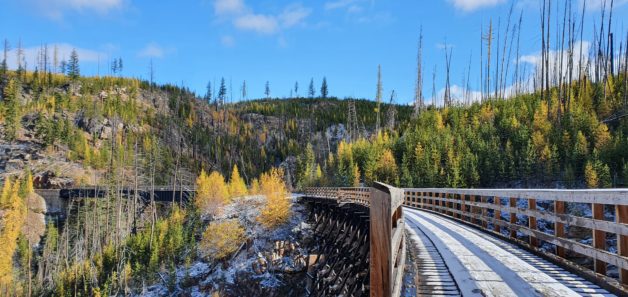 One of my favorite hikes in Canada this fall: Myra Canyon Trestles
3. How did you get interested in saving money?
When I started my job in Paris in 2010, my salary was very low, and I had trouble making ends meet/saving money. Rent was almost half my income at the time, and everyday living costs in Paris are very high, especially when you're young and no one taught you how to be reasonable and how to budget.
I searched for tips and tricks on the internet to help me budget better. I had lived on my own before as a student, but was supported by my parents and didn't feel as much responsibility towards money until I earned my own and didn't depend on them.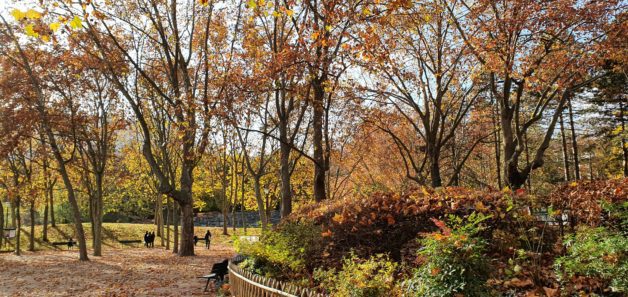 The park closest to my apartment, where I do my jogging
4. What's the "why" behind your money-saving efforts?
As you may have guessed I am a very independent person, I choose to live solo, and in order to do that without worrying about money while still living comfortably, I need to be smart financially.
I also realized a few years ago that I didn't really believe anymore in the overspending/ consumer society that we're living in, so I'm trying to buy less overall, waste less, repair more, etc.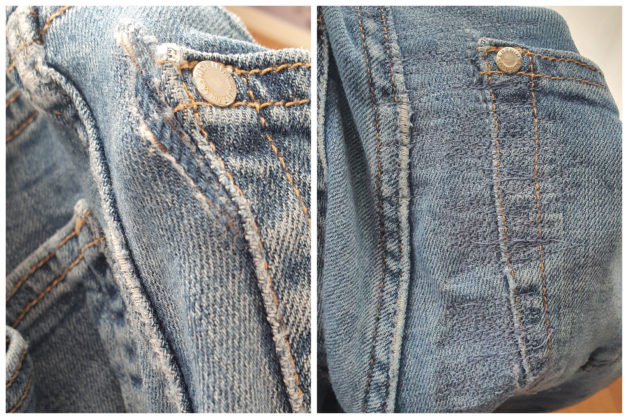 Frayed jeans that I mended thanks to a YouTube tutorial
5. What's your best frugal win?
Parisian life is crazy expensive, so my frugal wins lie in the everyday life. I always try to find coupon codes, free alternatives, or simply: not buying the item. I always ask myself 'do I really need this?', and, perhaps more importantly, 'is there room in the apartment to store this?'.
Since I don't have children, Kristen's 'Could this be an heirloom?' philosophy doesn't really apply to my situation, but I rephrased it in my head as 'will this last several years/a lifetime?'.
I love going to the cinema so I have a monthly plan where I pay $25 and can go as many times as I want within the cinema's network. One full price ticket costs $12.50 over here so it's a good deal when you go regularly.
Most recently, renting a car online ahead of my trip to Canada has saved me hundreds of dollars: I spent $900 for my rental, for one month. Most rental agencies offered twice this price, because there was a shortage of rental cars at the time. The trick is to compare websites, only rent from the big agencies (not the budget ones), and try different discount codes and even different websites for the same agency – i.e. their website from Italy, Spain, the UK, the US, France etc.
Just make sure to check the currency, as dollars, euros and British pounds are definitely not the same!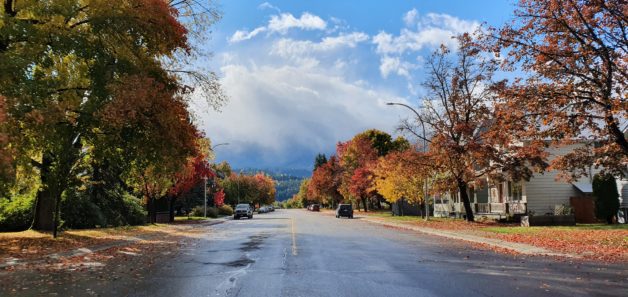 Autumn colors in Revelstoke, British Columbia
6. What's a dumb money mistake you've made?
I spent $300 on a pair of shoes. 25 year-old-me was an idiot.
7. What's one thing you splurge on?
Travels and electronics.
I love traveling, and started traveling solo in 2018, when I spent 3 weeks visiting New York City, Chicago, and DC.
In 2019 I spent 3 weeks in California.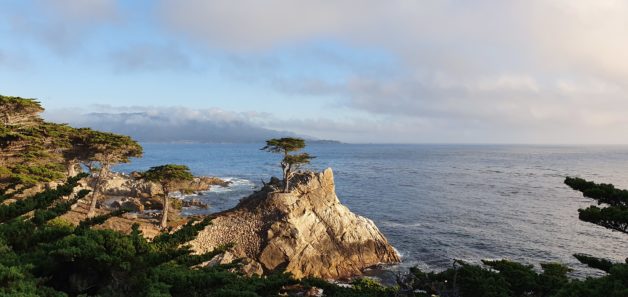 The Lone Cypress in Monterey, California
In 2020, because of the pandemic, I stayed in France and spent 3 weeks in Provence, in the southeast of France.
And in September-October 2021, I spent one month in Canada (British Columbia and Alberta).
My trips are not cheap, because I do not compromise on accommodation – no camping or hostels for me! – and no one splits the costs with me. Hotels, car rentals, gas, national parks entry fees, etc. are all on me. I save money on hotels by choosing motels and cheap (but clean 😉) hotels, and on food by eating sandwiches or cheap things.
As I dislike spending for visits, I generally stay away from museums, amusement parks, or expensive touristy attractions. I love hiking and walking in cities, and these are mostly free.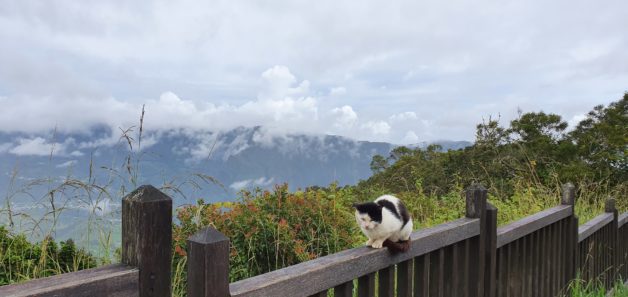 A before pandemic trip to Reunion Island, where my best friend lives
As for electronics, I prefer having a reliable smartphone that takes great photos over a cheap one that doesn't work well. So when my phone or laptop break down, I usually buy the latest models but make them last for years.
8. What's one thing you aren't remotely tempted to splurge on?
Like most of Kristen's readers it seems: beauty products, expensive clothes and jewelry. I do wear expensive perfume, and always have as far as I remember; my dad always included perfume as a Christmas present since we were kids.
I also have a few designer handbags that I received as gifts for milestone birthdays (20th, 25th, 30th)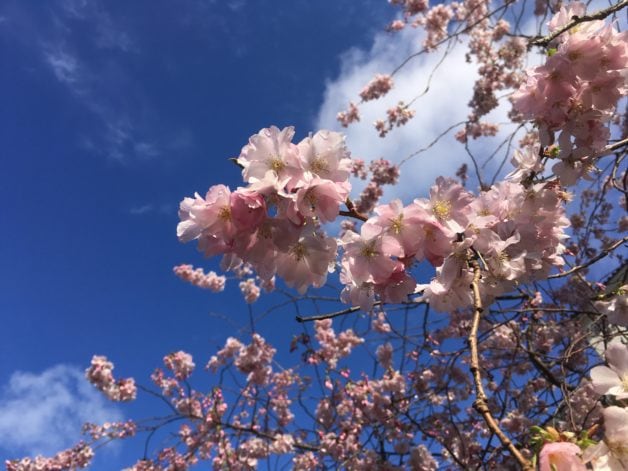 Sakura in bloom, in a Parisian park
9. If $1000 was dropped into your lap today, what would you do with it?
Probably a downpayment for an apartment.
I am still renting a very small studio apartment – 240 square feet/22 meters square. My plan for 2020 was to stop renting and finally own a bigger place, but the pandemic and my dad passing away that year delayed this project.
Then I was let go, and there is zero way of obtaining a mortgage in France without a 'permanent contract' job, so this project will probably be postponed until late 2022 or 2023.
If I had to spend the $1000 right now, I would donate half to charity and spend the rest on a getaway weekend, brunch with a friend, and Christmas presents.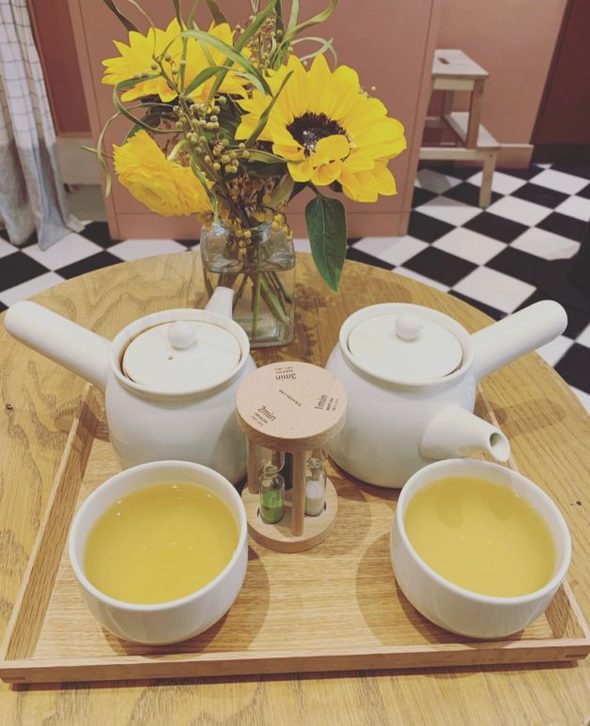 Tea with a friend last week, at a Japanese place in Paris
10.Share a frugal tip with other Frugal Girl readers
If you have trouble staying out of debt, I recommend being honest with (but kind to) yourself and really assess where your money is going.
Start a new Excel spreadsheet, open up your past 3 monthly bank statements, and fill in everything that came and went in these 3 months: income, random expenses, groceries, utilities etc. Then divide by three to get a monthly average.
This was a wake-up call for me, helping me identify the money that went down the drain. I used to spend a lot at Amazon or H&M, on unnecessary stuff, but since all purchases were for small amounts I didn't realize how much those added up at the end of the month.
I also unsubscribed from all shopping-related email newsletters: this was a game changer, there is now much less temptation to buy things I don't need!
Just be kind to yourself, everyone makes dumb purchases, and marketers, magazines and Instagram know how to lure you into purchasing stuff you don't need.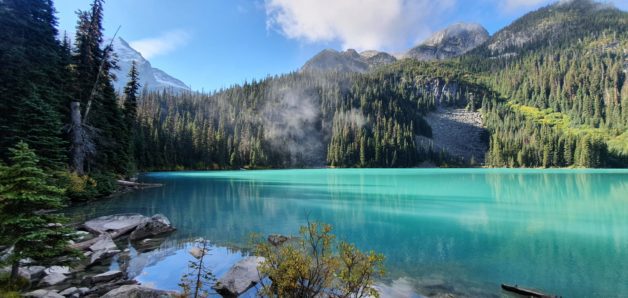 Joffre Lakes, British Columbia
Another tip that's both frugal and effective in boosting happiness: a decade ago I started a project where I took two empty jars, and put "good moments" in one jar, and "bad moments" in another jar.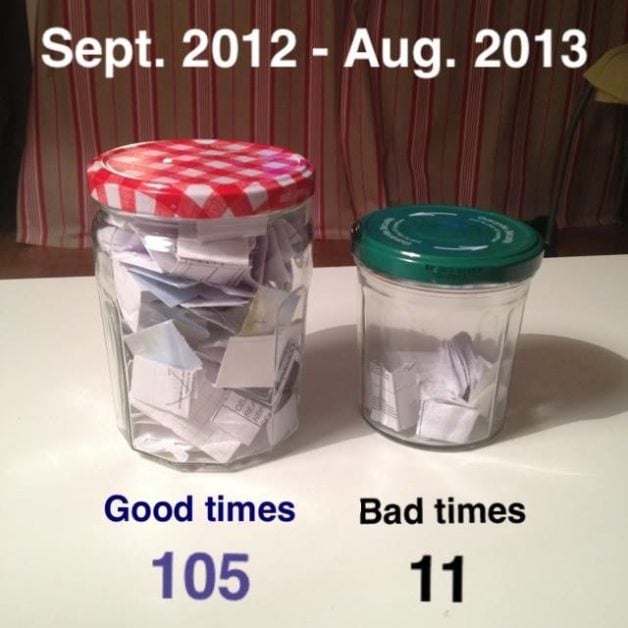 The good times and bad times jars: first edition
I repeated this exercise for a few years, then in 2017, to be more practical, I decided to dedicate a notebook to this purpose, and to only include good moments. I started with "3 good things that happened today", then "at least 3 good things" because 3 wasn't enough, and now it's "at least 5 good things".
A twist to Kristen's Thankful Thursdays, if you will. If you're ever feeling down at some point in your life, I encourage you to try this for a few weeks. It's free, and the results may surprise you.
For example, I learnt that most moments that brought me joy were shared with friends or family. This surprised me because I'm a huge nerd, and one of the most introverted people you'd ever meet! So now I know that when I'm feeling down, I should reach out to a friend or favorite family member and things will get better.
11. Is there anything unique about frugal living in your area?
I think a few other European readers have mentioned this but the health system is very different over here. Just like the German system described by Lea, the French system is based on taxes so it is not free per se, but I never have to worry about a medical bill. I do have out of pocket expenses for non-necessary treatments, but nothing major that would put me in debt.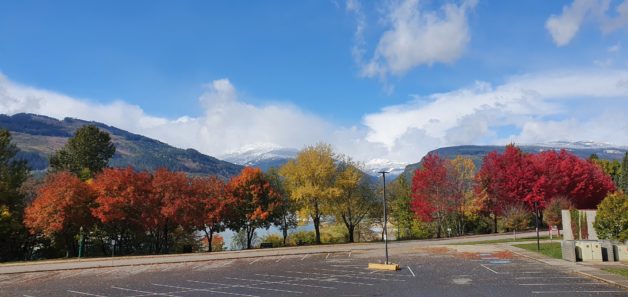 Same goes for unemployment, I can take around a year and a half off because I have accumulated enough 'unemployment rights' to get benefits for a long time.
People don't really live on credit here, most of us have a mortgage and maybe take a loan to pay for a car, but that's it. We use debit cards (but we call them credit cards, no idea why 😅).
We also have very cheap telecommunications plans. For example, my smartphone plan has unlimited calls, SMS, MMS, and 80go data and costs $17 monthly (not including the smartphone itself).
There's a cool app in France called "Too good to go", where you can buy products and food that didn't sell in time from restaurants, bakeries, delis and supermarkets around you, at a very discounted price. Not all the deals are worth the money, but it will put food on the table.
Another app called "The Fork", allows you to book a table online, with a 30-50% discount most of the time. A great way to try out a place that would have otherwise been out of your price range. If some readers are heading to vacation in France, that's a useful app to have.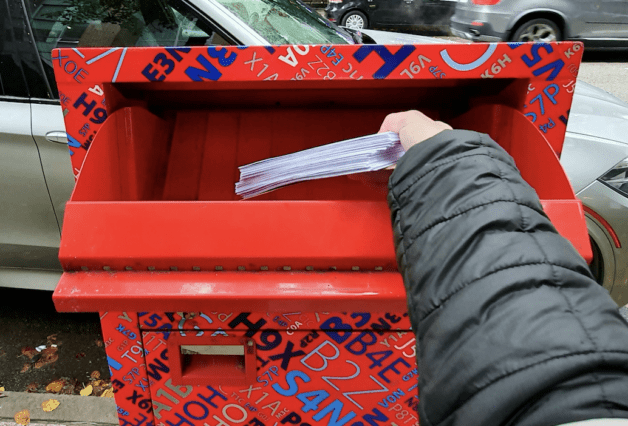 It is not very frugal, but I love sending and receiving postcards. This is me sending 40+ custom postcards from Canada, to my friends and family. I usually print a photo collage at Walmart/CVS and write on the back, which I think might be cheaper than postcards, but you have to buy envelopes.
Kristen, thank you so much for the opportunity to participate in this Meet a Reader series!
-F from France
_____________________
F, I adore your good times/bad times jars. What a wonderful idea! I also love that you guys have an app that allows people to rescue food that might go to waste.
And since I've been to California several times, my curiosity was piqued by your trip: what all did you visit while you were in CA?
Readers, the floor is yours!