Since the grocery store options are a little iffy for most of us, this seems like a perfect time for a freezer challenge. Are you with me?
Almost all of us have a stash of random food hiding out in our freezers (doubly true for those of us with chest freezers!), and right now, we probably have an extra measure of motivation to actually eat it!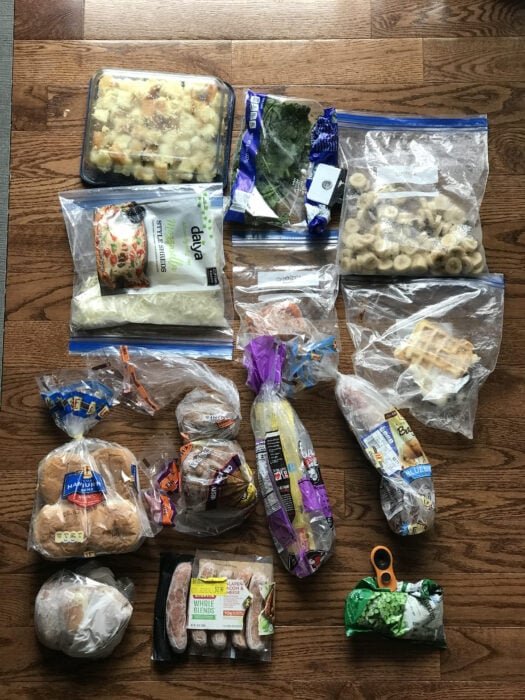 Why should you consider a freezer challenge?
Left to ourselves, we will usually grab whatever is fresh, new, and unopened, passing by the partial packages and odds and ends.
This perfectly good food to freezer burn, uneaten.
A freezer challenge helps you find all the random things and then make a plan for how to use them.
And sharing your "I used it up!" stories with other people is very motivating. At least, it is for me!
My freezer challenge items
My chest freezer is fairly full but because I completely emptied it last year, I know that nothing in there is super duper old.
Whew.
My kitchen freezer has gotten a little clogged with randomness, though, so that's what I decided to focus on first.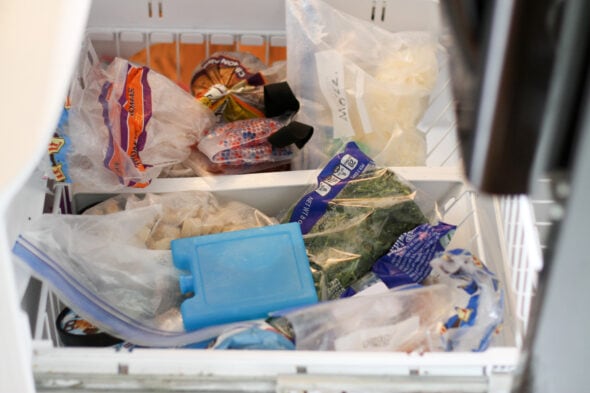 Let's start with a rundown of what I've got, left to right, top to bottom.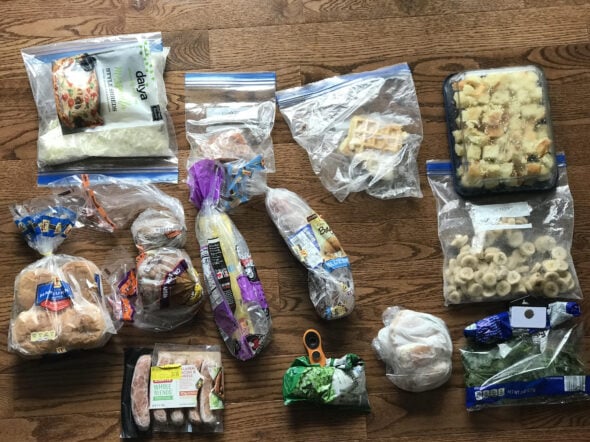 Row one
Mozzarella cheese, both dairy and non-dairy (maybe some pizza?)
2 roasted orange peppers (I should make some of this mayo!)
4 waffles (might get my girls to eat these)
a pan of bread cubes (overnight French toast)
Row two
6 burger buns (some kind of main dish sandwich)
partial loaves of banana bread
partial package of bacon (lots of options here; bacon should not present a problem!)
1 pork tenderloin (pork quinoa bowls)
a bag of frozen bananas (smoothie)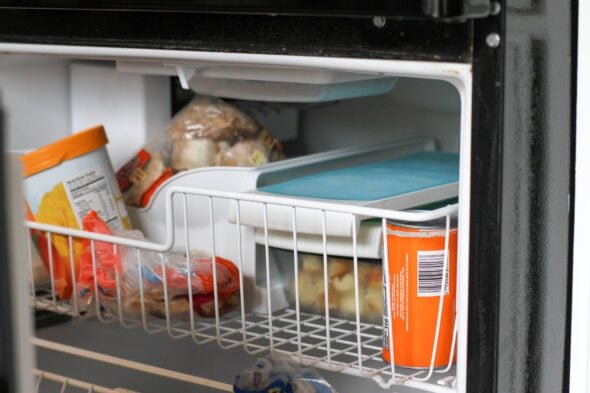 Row three
5 chicken sausages (maybe a lunchtime option; not good for dinner bc they have cheese in them and Sonia can't have dairy)
a partial bag of peas (I'll add them to pork tinga next week)
a handful of chicken thighs (thinking some Chinese chicken lettuce wraps)
frozen spinach (smoothie)
Since it's really fun to share freezer triumphs with other people, I'm going to start a daily freezer challenge thread in the Frugal Girl Facebook group.
The comment section here is great, but in the Facebook group, you guys can share photos of what you've been making with your freezer food, and I think that'll be fun.
And you can start threads of your own in the Facebook group as well, so if you need suggestions about a particular freezer item, that's a great place to get some ideas.
And non-Facebook people, don't worry…I'll do an update post here next week, letting you know how I did with my freezer stash.
Are you going to work on eating up your frozen food with me this week?