It feels kind of like I just finished with my summer bucket list and now it's December. What the what??
I'm going to do a brain dump of what I want to do in December here, and if you want to do the same, feel free to have at it in the comments!
Buy and decorate a Christmas tree.
We'll get a real one from the local fire department (don't worry, it gets composted by the county after Christmas. No landfill for the trees!)
Although, if we let the Christmas tree dry out, and then chop it up, it would make for some fun fire pit material (pine needles burn so dramatically. Like last year's Christmas wreath.)
Hmm….
Listen to Christmas music.
(at least, while Joshua's not at home. He gets tired of Christmas music pretty fast. 😉 )
We use Pandora for this, which is great because a) it's free and b) you can make customized stations.
This is a long-standing tradition that our teenagers have not gotten too old for. Yay!
Writing this reminds me…I need to buy candy eyeballs.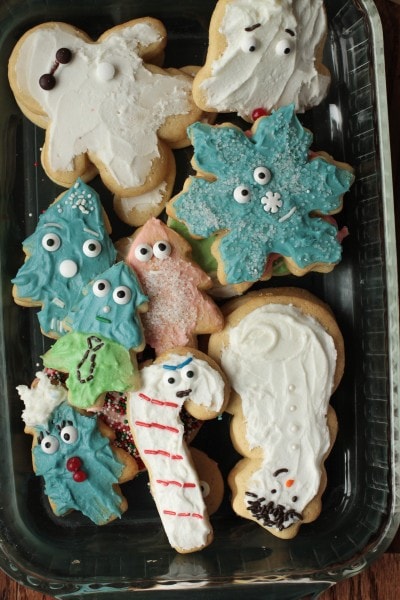 Eyeballs will really up your cookie game, people.
Put up outside lights.
The first warmish, dry day we get, this is on the agenda. Way better than doing it in the cold!
Bake some gifts for neighbors.
Gonna need to do one gluten-free option for one of my neighbors. But I'll probably go full-hog gluten for the rest, because, bread.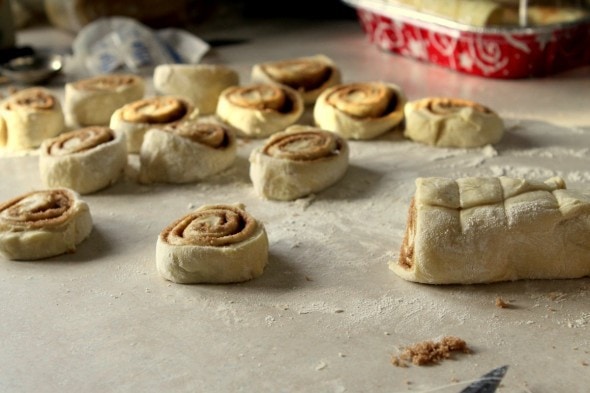 Make a calendar for Mr. FG's grandma.
I usually do this every year, but I didn't last year! I need to rectify that. Luckily, I already started. But before I finish, I need to get a snapshot of all six of us for the December photo on the calendar.
(Good thing my nose has shrunk from its previous Very Swollen state!)
Go see Christmas lights.
I'm not sure if we'll just drive through neighborhoods or if we'll visit a display…but either way, I'd like to make it happen.
Be kind. And not crabby.
If I get cranky during the Christmas season, it's usually because I am trying to do too much stuff. So, if Crabby Kristen comes out, I'm going to try to remember to take something off my plate.
Better to not get a Christmas something-or-other done than to be an unpleasant household member.
Remember that nothing is all good or all bad.
(I wrote a whole bunch of words about that concept here.)
No Christmas season or outing or gathering or family activity is going to be all good, because we're a bunch of imperfect people.
But luckily, it's usually not all bad either. Life is a mixture, and it's good to adjust expectations accordingly. Some things will go wrong, but some things will go right too. So, I'm going to expect some bad and enjoy the good and remember that the good/bad, easy/hard combo is NORMAL.
__________________________
Ok! That's it for me. Share your list in the comments if you'd like.