If I could start this post off with an emoji, it would be a sheepish one.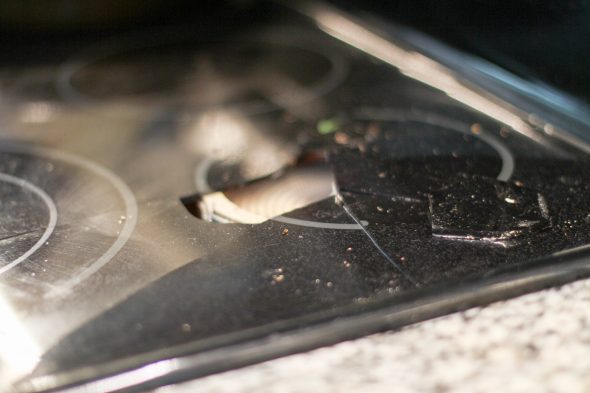 When I do dumb things like this, I often feel like I don't want to blog about it, because…embarrassing!
(Remember when I melted my hot water kettle by putting it on the stove??)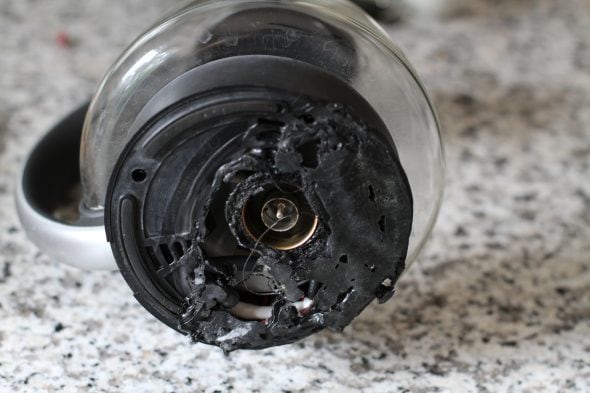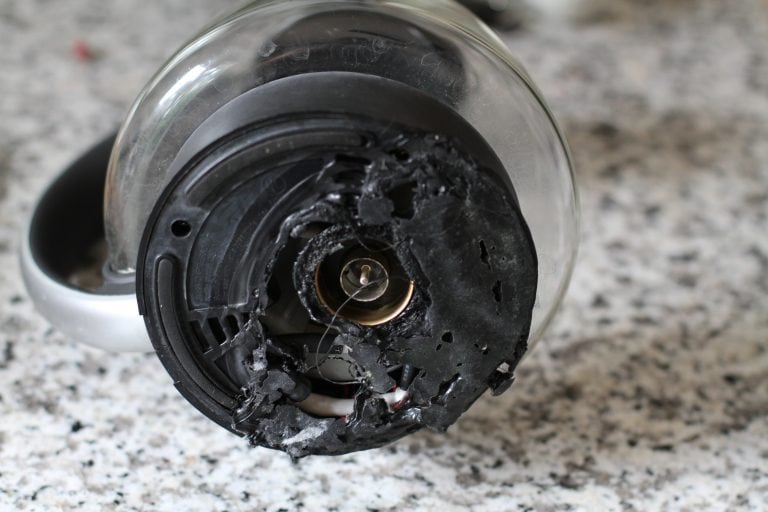 But I usually realize my hesitance is a pretty good sign that I should write about it.
So.
Here we are.
While cooking dinner one night about a month ago, I took the lid off my skillet to set it down on the stove top.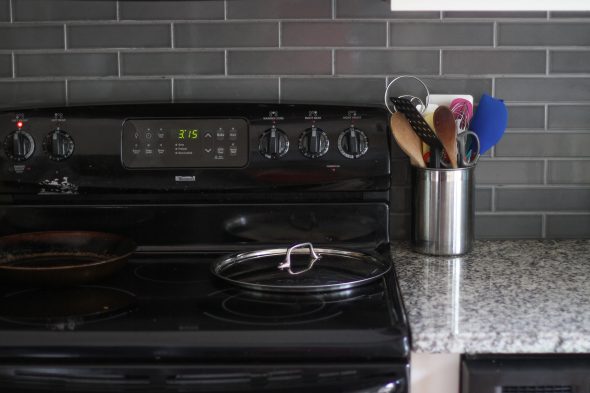 I stirred my noodles and then tried to pick the lid up.
But it was S T U C K to the stove top.
Suction has some serious power!
I knew if I cooled the lid off a bit, the suction would break. So, I put a cool washcloth on the lid to gently bring the temperature down, and…nothing happened.
I knew putting, say, ice cubes onto the pot lid might warp hurt the lid, so I grabbed a little gel cooling pack, figuring that might be gentle.
I barely had touched the pot lid with the gel pack and there was a tremendous POP.
I thought that I had surely ruined my lid, which would be a little sad because it's All-Clad.
But, uh…I picked up the lid and found this underneath: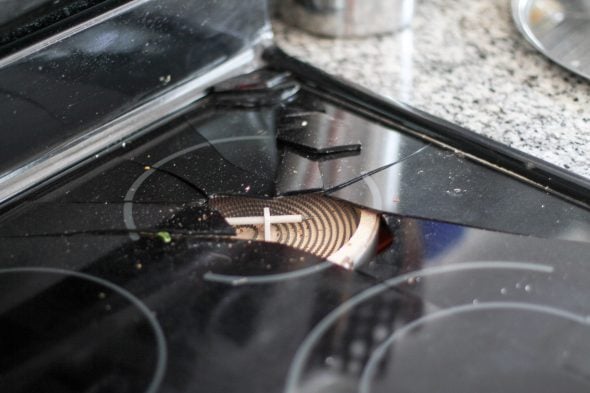 This is way worse than ruining a pan lid!
I have serious regrets about this life choice of mine. I should have just waited for the lid to cool down on its own. Where was my patience??
I seriously cannot believe I broke my stovetop. I think I said that probably 57 times that night, and here I am, still saying it.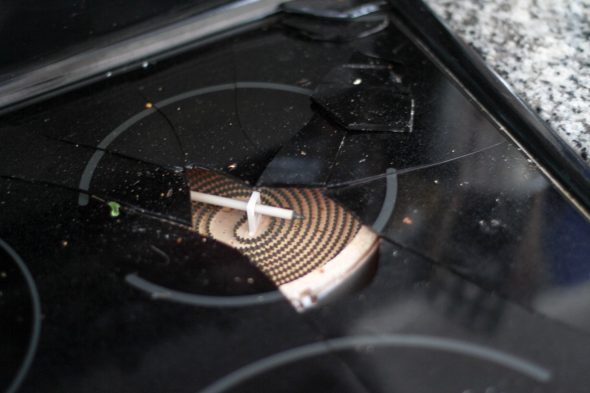 Multiple times that evening, I thought, "I should have just gotten takeout instead of cooking! There is no takeout as expensive as a stovetop!"
So, how much for a new stovetop?
I called my appliance guy to see how much he could get a stovetop for, and sadly, even his wholesale price for the glass top was $270, plus tax plus whatever he'd have charged to install it.
This Kenmore stove/oven is not an expensive one, since we bought it 14 years ago when money was super tight.
Basic was what we could manage.
(Four young kids, house to fix up, warehouse salary = a small appliance budget)
Anyway, putting this much money into a fairly old/basic appliance wasn't feeling super sensible to us.
Time for a new oven/stove
We landed on a stove that generally goes for about $1000 + sales tax.
However, we were able to find an appliance place somewhat near us that had the stainless steel/black color combo on clearance for $675 + taxes.
Unfortunately, stoves all over are on backorder right now (Factories are running slower? People are cooking at home and suddenly deciding to replace their stoves? Maybe a combo? I don't know.)
We ordered the new appliance several weeks ago, and at the time, the guy said he hoped to have it in during the month of August.
So, any day now!
How I'm cooking for now
Luckily, the really bad glass cracks are contained on the right side of the stove. Those two right burners are completely unusable, but the left two burners are still fine.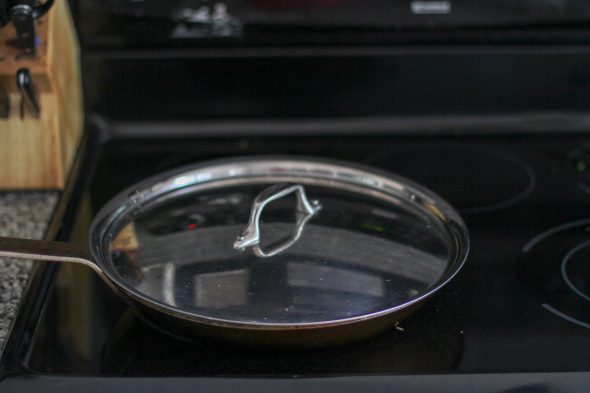 And since it's not like I'm cooking for a big holiday party these days, losing half of my burners is no big deal. I'm trucking along just fine.
It also helps that the oven is unharmed, so I can keep baking any time I want. Whew.
I've just been keeping the All-Clad pan lid sitting on the broken parts so that we don't accidentally cut ourselves.
And the lid also keeps me from having to look at the stove carnage every time I walk into the kitchen. I really don't need to be reminded that often. 😉
Fix or replace?
As things stand, we are spending $730.
If we'd fixed our old stove, we'd have spent probably at least $400 (part + tax + installation).
A $400 repair on a stove that we probably only paid $500 for 14 years ago just did not make sense to us.
Would it be less money out of pocket right now? For sure (a $330 difference).
But it doesn't feel very smart to spend almost the purchase price of the appliance on a repair.
Now, if we were talking about my very old washing machine? I would pay for almost any repair on that because the newer washing machines just do not clean as well as my old machine.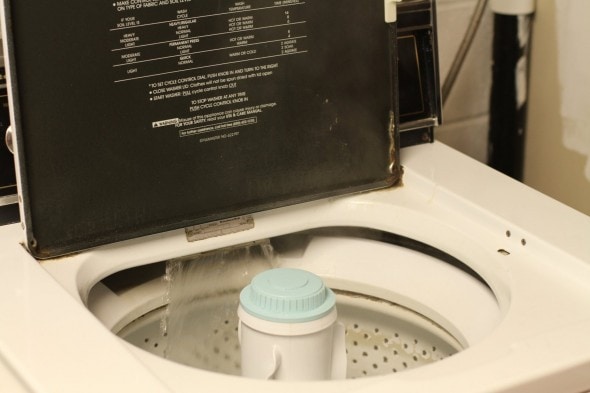 Stoves and ovens aren't quite like that, though; this new one will work just as well (probably better!) than my old one, and this one has convection, which I have never had before.
Also relevant: we had the money for a new appliance in our home improvement budget. If we didn't have money to pay for the new one, that would have tipped the scales in favor of repair.
So.
That is the end of my embarrassing tale.
And I'll be sure to show you my shiny new stove when it arrives!
Do you have an, "I can't believe I broke this!" story too?
Make me feel better and share, mmkay?
P.S. In the aftermath of my stove-breaking mistake, I employed at least 3/5 of the tips in this article about how to make yourself miserable after a money mistake.
(I wrote that post because I am a certified expert in this arena. 😉 )