You'll be pleased to notice that the stuffed animals are back this week. A reader wondered last week if I buy these stuffed animals each week, and the answer to that is a resounding no! My kids have an embarrassment of stuffed animals, and I try to avoid adding to the collection whenever possible. 🙂
Earlier in the week, I stopped at Safeway to use a flour raincheck I had. I bought 7 bags of flour for $10.50, and I didn't take any pictures of those bags. In fact, now that I think about it, they are still riding around in the trunk of my husband's car. I don't think I told him I bought flour while using his car, so he'll be kind of surprised if he opens his trunk. 😉
I also went to Aldi, of course, where I spent $59, and Weis, where I spent $50.26 (8 bags of flour were included in that purchase). I also paid $5 for two dozen eggs from my local blog reader. So, I spent a total of $124.76, which is $24.76 over my budget. However, last week I was about $25 under budget, so I'm still within my $100/week. Considering I bought 75 pounds of flour, I'm very happy with that.
This is our produce for the week.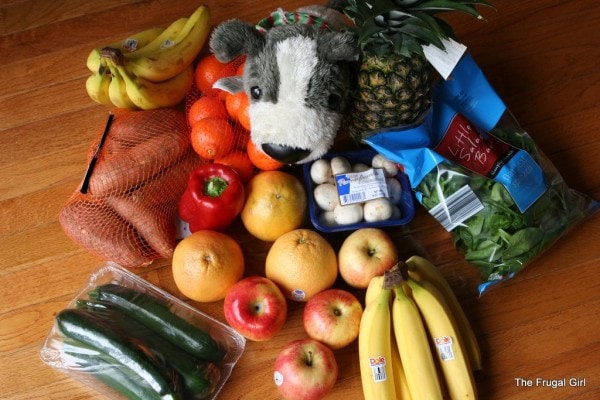 Our refrigerated/frozen stuff: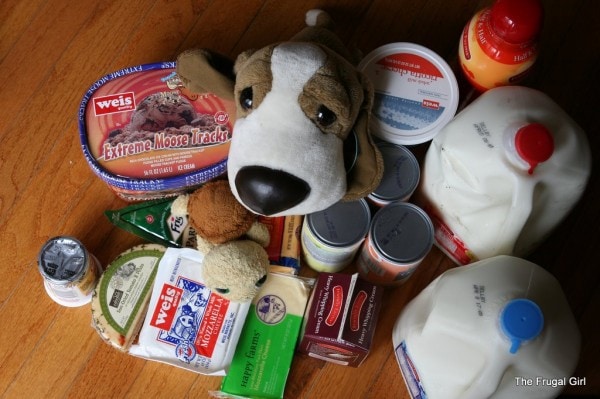 Our meat. The chicken is for future use (it was on sale) and so are the bratwurst (they were in the reduced bin, as they expire soon. No biggie to me, as they'll go into the freezer).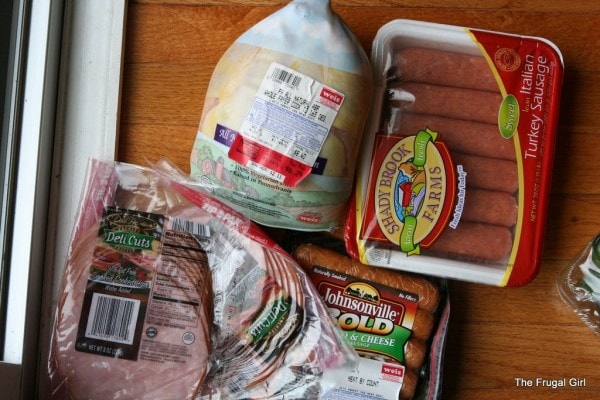 And here's the pantry-stuff. There's a pack of toilet paper beneath the tea and candy bars) and those three jars behind the peanut butter are 75% fruit jams from Aldi. They're new and they're really good!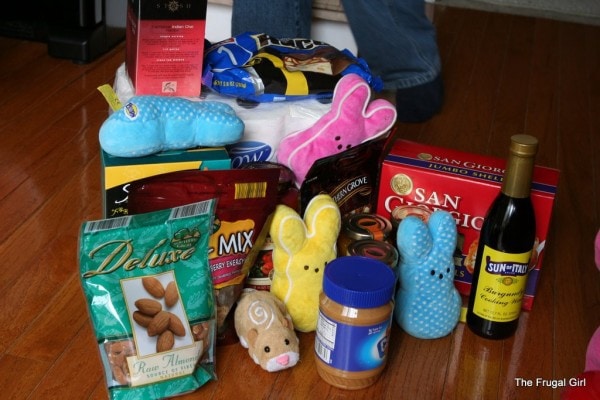 Last but not least, here's my flour from Weis, along with the spider that started this whole stuffed animal tradition..
Breakfasts this week will be yogurt, bananas, muffins, toast, and oatmeal. Lunches will be homemade yogurt, yogurt smoothies, fruit, sandwiches, and leftovers as necessary.
Dinners are as follows:
Saturday
Sunday
Monday
Tuesday
Teriyaki Chicken
Cheese Bread
Wednesday
Beef Burgundy over noodles
green salad
Artisan Bread (it got bumped last week!)
Thursday
Cream of Mushroom Soup (also bumped from last week)
Sun-Dried Tomato Bread (we got it day-old from church, where Panera donates old bread)
some sort of vegetable…haven't decided yet
Friday