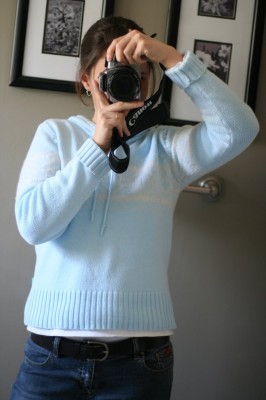 Over the past year or two, I've noticed that a lot of photographers have been taking on a 365 project at the beginning of the year. This project simply involves taking a picture every day and posting it on a blog. This has always sounded like fun to me, and I thought about starting one in January but didn't get around to it.
I thought maybe I'd wait until next January to start my 365, but then I thought, "Who decided this has to start on January 1st?". So I decided now was a good a time as any to begin!
I'm not entirely sure where this project will go…I'll just be posting whatever picture I happen to feel like posting, so the subject matter will vary, and there won't be a particular theme. I'll probably stick to posting just one photo, with very little text. If I make it too complicated, the odds of me sticking with it for 365 days are very low!
Not all of you will be interested in following this project, so I've created a separate page and separate email feed for it. That way, this space will not change at all, and those of you who want to keep up with my 365 posts can bookmark the new page or subscribe to the 365 email feed.
If you're interested in taking a peek, check out my 365 page, and if you like what you see, you can subscribe to The Frugal Girl 365 by email. You can do that either by clicking the link I just shared, or you can go to The Frugal Girl 365 and enter your email address into the subscription box on the right
I've also added a button up at the top of this blog that will take you to the 365 page so it'll be very easy just to hop on over after reading my posts here.
I hope you enjoy peeking at my life through the lens of my camera. 🙂