I'm here at the end of my cash-only grocery spending experiment. How did I do?
I spent $48.85 at Aldi, and I spent $44.68 at Weis, for a total of $93.53.
Soo, I'm all done grocery shopping for the month of November, and I have $18.34 left in my envelope. I'm pretty tickled about that, and while I don't know if using cash is the reason that I stayed under budget, I think I'm going to give the cash system another try this month.
Here's what I bought with my cash. 🙂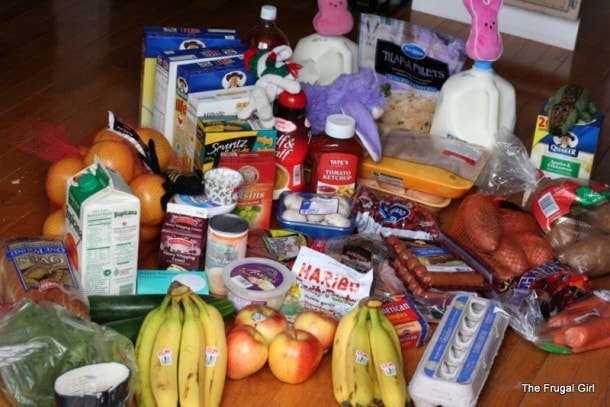 I was pleased that I was able to stock up on boneless, skinless chicken breasts (I was completely out, soI bought two large packs on sale) and grapefruit (I have 10 pounds of grapefruit right now!).
Breakfast this week will be yogurt, oatmeal, muffins, cold cereal, and maybe some granola if I manage to find the time to make it.
Lunches will be yogurt smoothies or yogurt, bread/sandwiches, fruit, and leftovers when necessary.
Saturday
Sunday
San Remo Seafood Dip
mini loaves of French bread (for dipping)
fruit
raw veggies
Monday
Cream of Crab Soup (can you tell I am using my splurge-purchase crab meat this week??)
green salad
Tuesday
Tropical Island Chicken
grilled vegetables (onions, peppers, and zucchini)
some misc. bread that needs to be used up
Wednesday
BBQ Beef Sandwiches
homemade buns (still working on the imitation Fuddrucker's buns!)
green beans
Thursday
Swiss Mushroom Chicken
toasted, buttered buns (I'll make extra on Wednesday)
whatever vegetables need to be used by then
Friday
Grilled bratwurst on buns
chips, veggies, and dip
fruit salad