Every week, I post a picture of the food that has gone bad over the last seven days. I started doing this in March of 2008 to help motivate myself to use up my food instead of wasting it and it's been very effective. Since it helped me so much, I invited other bloggers to join me in posting their food waste photos, and Food Waste Friday was born.
I'm not out buying Christmas gifts today…instead, I'm blogging about my food waste!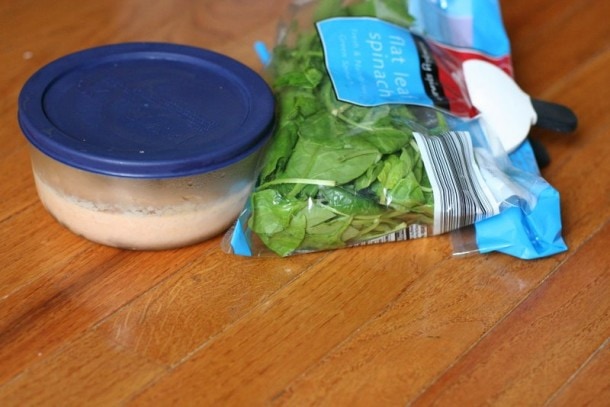 So yeah…I didn't exactly have the zero-waste week I was hoping for. I really did try, though! The picture would have been much worse if I hadn't been working at it.
The stuff in the container is some pink sauce, which had been frozen. I got it out to use on our leftover night, but then we didn't end up using it. And it sat in the fridge, for too long.
And then there is some spinach. I think I am going to take a break from buying spinach for a few weeks because I have been wasting it awfully frequently lately.
Maybe next week I will waste nothing.
________________________________________________________
How did you do this week? If you blogged about your food waste, link us up by entering your info into the Mister Linky Widget below. Participants get a spot on my Food Waste blogroll for the upcoming week, so join us! You'll save money, reduce your trash output, and get a little publicity for your blog!