On Monday, after many requests, I told you all that I'd devote a post to this topic, and I'm here to deliver on that promise.
Gift wrap is one of those many areas where saving money and being green intersect…I love it when that happens. There are quite a few different options for wrapping gifts on the cheaply and greenly (I know that is not a word), but here are a few of my favorites, which, in my opinion, don't cross the line between frugal and cheap. Unlike some frugal people, I do place a somewhat high value on having my gifts look pretty. So I am sort of picky about which money saving wrap methods I will use….they have to be inexpensive AND visually pleasing.
I've already linked you to this post once this week, but in case you missed it, you can check out my cloth bag tutorial from last December.
I usually only use these for exchanging gifts within our family because after I spend the time making them, I'd sort of prefer to keep them!
I don't have nearly enough of these to use for all of our presents, though my collection is slowly growing.
Gift Boxes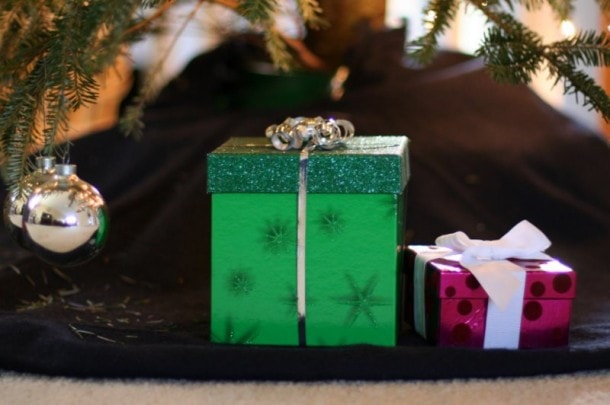 I own several of these adorable little boxes, which make great "wrapping" material for small presents like jewelry. I got some of them when I purchased some 70% off jewelry (clearance, of course!), and I kept the boxes because I thought they were so cute. The green sparkly ones (I have two) came from our church's Sharing Closet (which is like freecycle in a room).
These are really tempting for small children to open, so to keep the present safe and to dress the box up a bit, I like to tie ribbon around the boxes. If you want to be really green (not to mention classy), you can use real ribbon.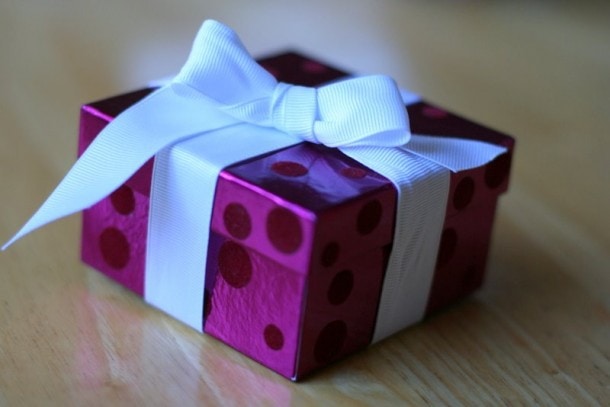 But curling ribbon is a good option too (of course, you'll want to purchase it in January when it's on clearance.).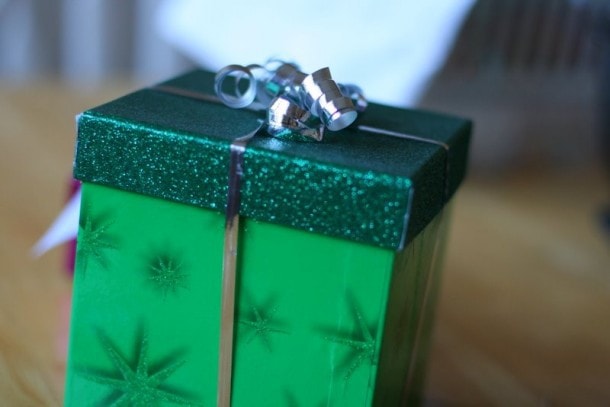 Paper Gift Bags
These are not a great option for wrapping children's presents, at least not at our house, because the children cannot be trusted to resist peeking inside the bag! But for adult presents or for presents going to people outside of our home, these are a great option. They're so easy to use, and as long as they are stored properly, they can be re-used multiple times.
Tissue paper is sort of necessary for gift bags, but it can be found for $.25-$.50 after Christmas with very little effort, and if you're patient enough to fold it, it can be stored and re-used.
_____________________________
Of course, if you're not super duper concerned about disposable wrapping, you can often pick up rolls of wrapping paper at very low prices after Christmas. I usually do that because there's inevitably a handful of presents that will not work with a gift bag or a gift box. Since we recycle the wrapping paper most of the time, I don't feel particularly guilty about it.
What about you? What are your inexpensive gift wrap ideas? I know some of you have written blog posts on this topic this month, so if you have, feel free to leave a link in the comments.