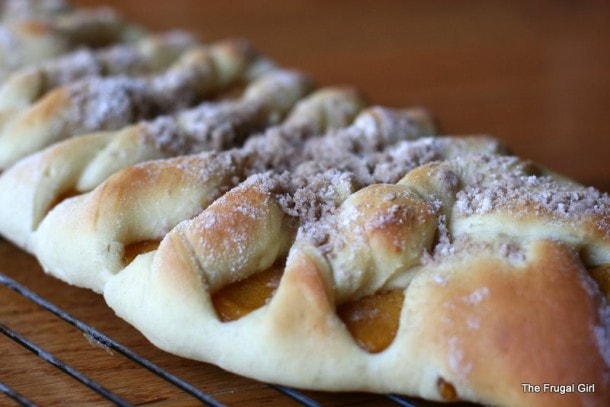 This is a favorite recipe at my house…my kids love to eat it, and I love that it can be made ahead of time. It's from a really old Fleischmann's yeast recipe cookbook that I used to bake from when I was a teenager. This particular recipe is from the freezer section of the book, which contains recipes that allow you to do all the prep up to the baking stage and then freeze the bread/rolls/coffeecake. When you're ready to do the baking, you just take the frozen product out of the freezer, let it thaw and rise, and then bake it.
This is not particularly handy if you are wanting fresh baked bread for breakfast, as it requires you to take the bread out of the freezer at something like 3:30 in the morning (if you want to eat at 7:30 am, that is. When I was a teenager, I used to set the alarm for 3:30, run out to the cold garage, take the coffeecake out of the freezer and into the kitchen, and then hop back in bed. Yes, I was a weird teenager.).
Anyways. I keep meaning to experiment with a refrigerator version of this coffeecake (similar to the Cinnamon Twists method), and when I do, I'll let you know how it worked out. At the moment, though, I usually just bake my coffeecakes in the afternoon and we eat them for breakfast (some of my kids reheat theirs in the microwave). They are still more than edible after sitting overnight on the counter, trust me.
Ok! So, to make a freezer coffecake, here's what you do. Because the dough doesn't rise at all before shaping, you'll want to make the streusel topping and apricot filling straight away.
To make the apricot topping, you just cook dried apricots and water for about 20 minutes, or until the water is absorbed.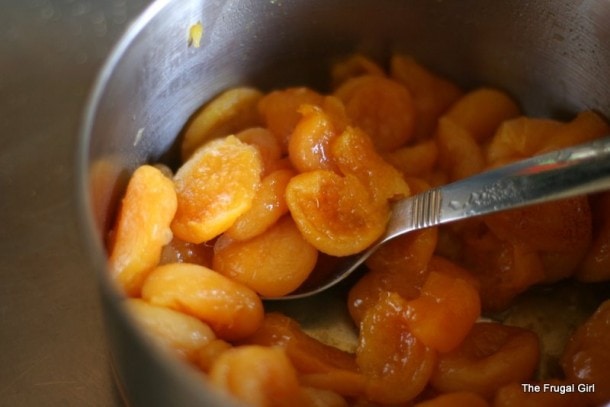 The recipe book then says to "sieve the apricots", because food processors hadn't been invented yet. Happily, I live in the era of food processors, so that's what I use to blend up the apricots (I usually mix in the brown sugar by hand, so as not to whip the apricots too much).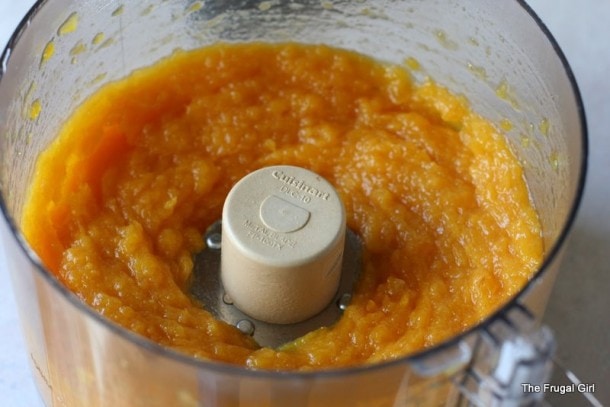 To make the streusel, just combine all the ingredients in a small bowl and mix in the butter with a pastry blender.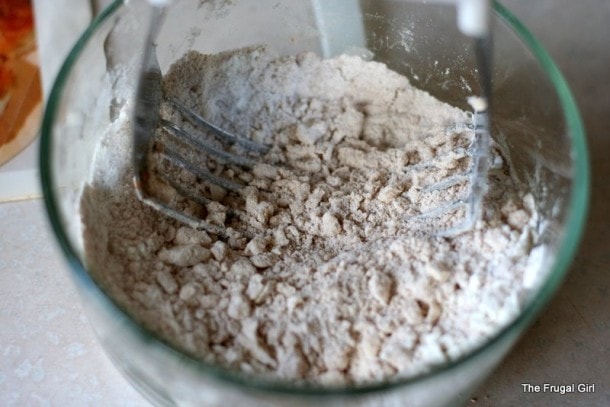 Now, to make the dough, combine flour, sugar, salt, and yeast in a mixer bowl.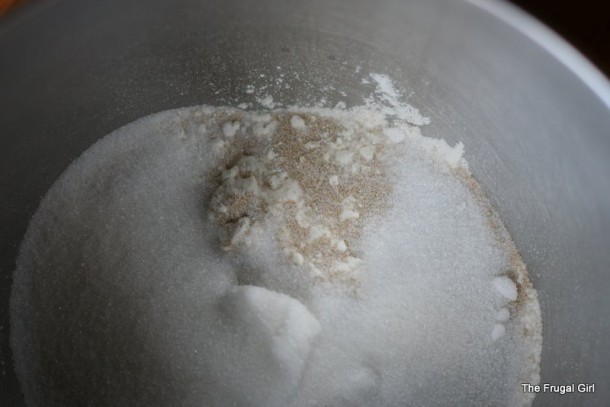 Add melted butter and warm water, and beat for two minutes.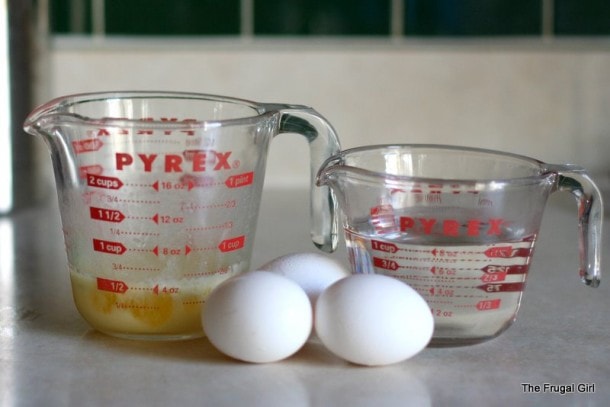 Add eggs, and beat for another two minutes. The dough will be significantly closer to being a batter at this point.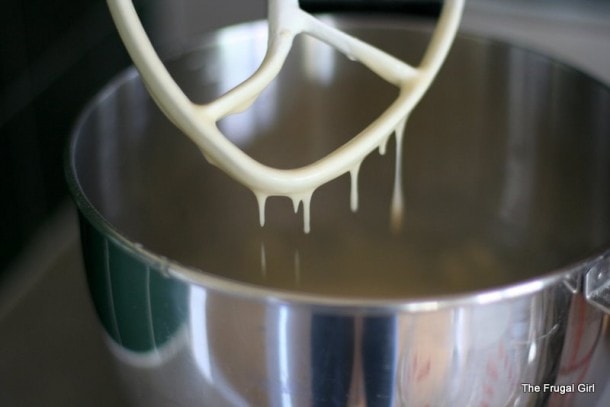 Stir in enough remaining flour to make a soft, but kneadable dough. Turn out onto a lightly floured surface and knead 3-5 minutes, or until smooth and elastic (this picture is obviously before I kneaded the dough).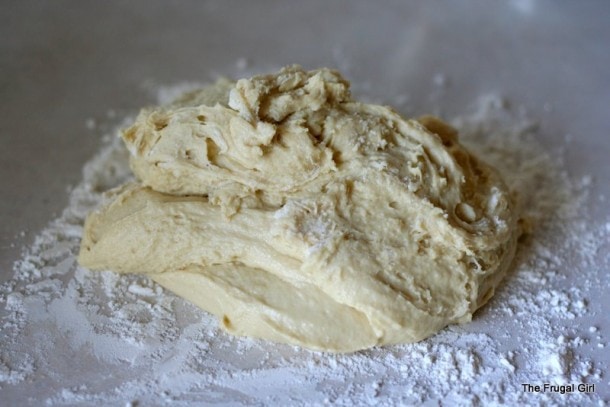 Now you have streusel, filling, and dough, which means it's time for assembly.
Divide the dough into three equal pieces. Roll to a 12×7 inch rectangle and transfer to a greased baking sheet. Do not, I repeat, do not leave it on the counter. It will be nigh onto impossible to transfer it to a sheet once it is filled. Ask me how I know.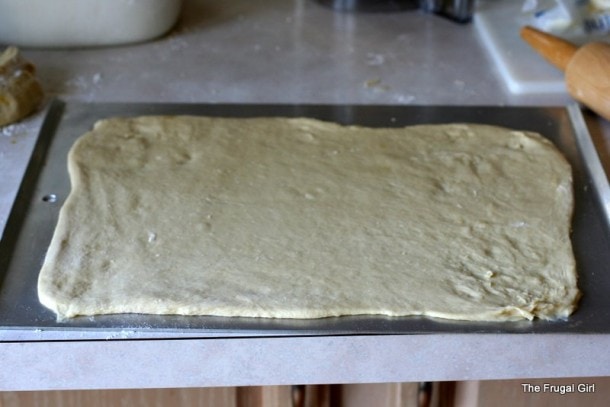 Also, do yourself a favor, and do NOT skip greasing the baking sheet. I tried that out, and it doesn't work too well. 😉
Spread 1/3 of the apricot filling down the middle of each rectangle.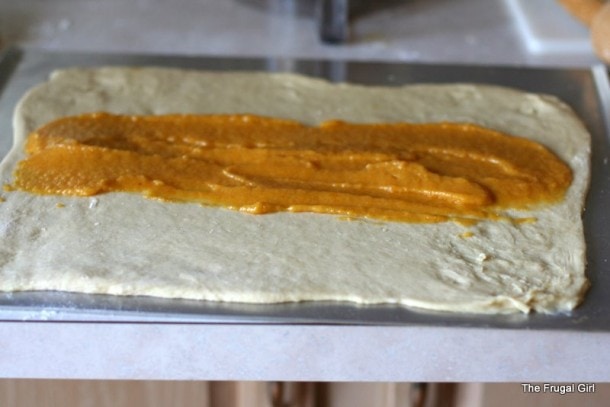 Using a pizza cutter or a knife, cut one-inch wide strips along the edge of the apricot filling.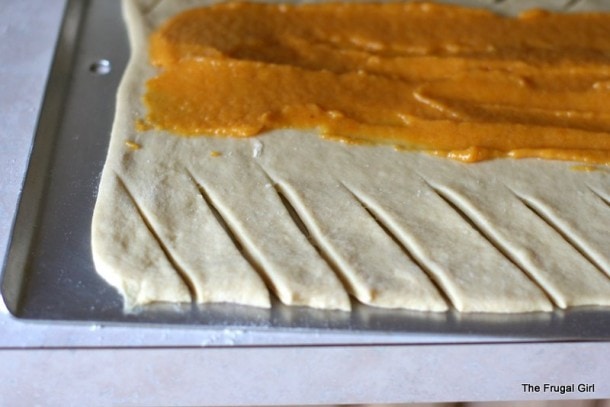 Fold the strips in towards the middle of the rectangle, overlapping as much as possible. Don't worry if it's not perfectly neat…it's all getting covered with streusel.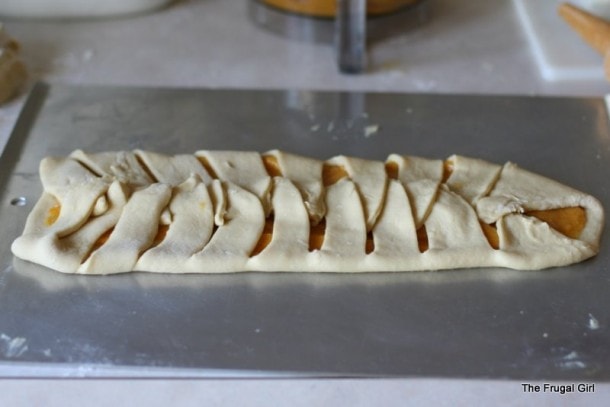 If you want to be fancier, you can twist the strips as you fold them in.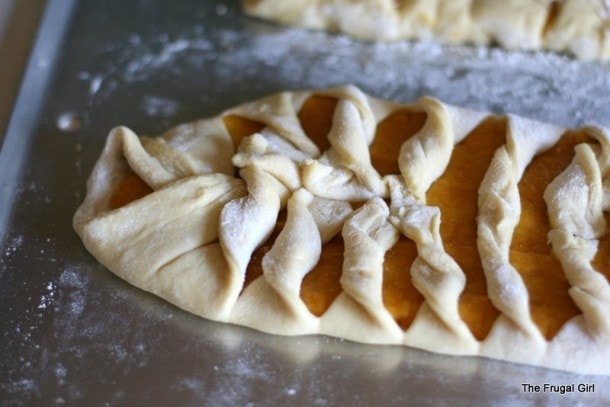 Sprinkle the streusel topping over the three coffeecakes.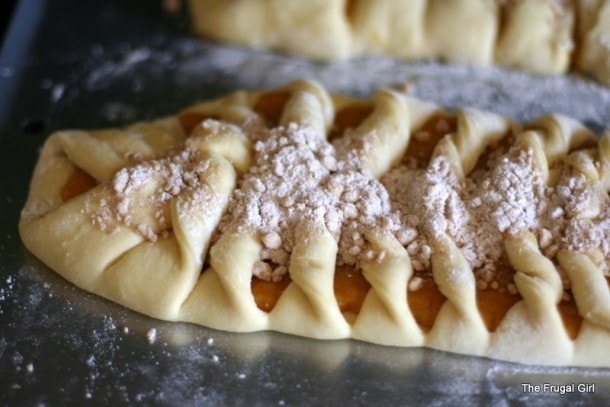 At this point, you can either let them rise and then bake them, or you can freeze them. To freeze, wrap in plastic wrap and place in the freezer for several hours, or until the coffeecake is frozen solid. Then you can remove it from the baking sheet (because you're not going to want to have your cookie sheet in the freezer for weeks!), rewrap it in the plastic wrap and freeze it for up to 4 weeks.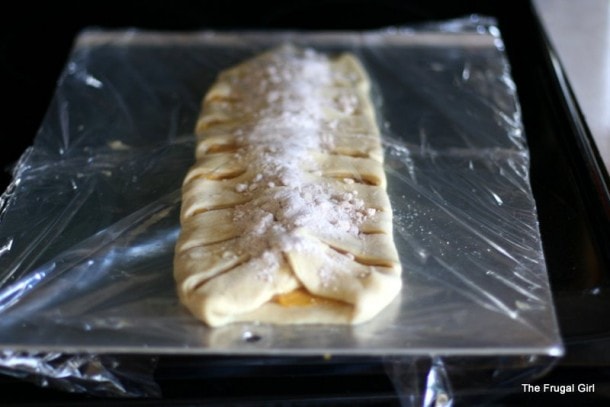 When you're ready to bake your coffeecake(s), remove them from the freezer, unwrap them, place them on a greased baking sheet, cover them loosely with the plastic wrap, and let them thaw/rise for about 3 to 3.5 hours, at which point they should look somewhat soft and puffy.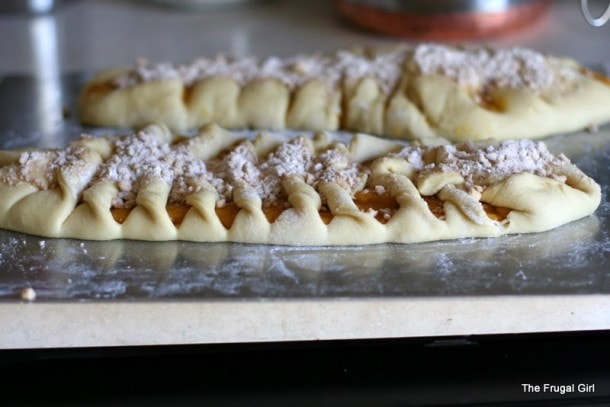 How long you let them rise is sort of up to you. A longer rise will make for an airier result.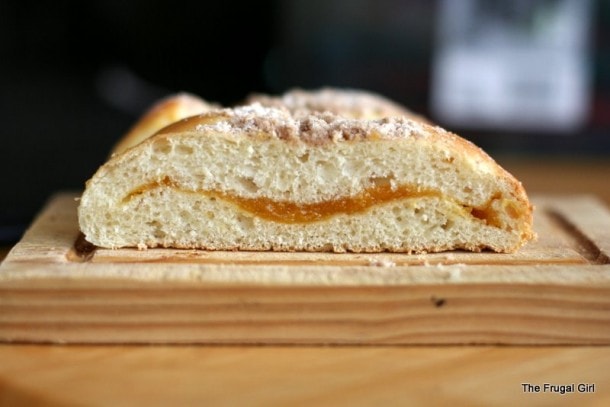 And a shorter rise will make for a more dense end product.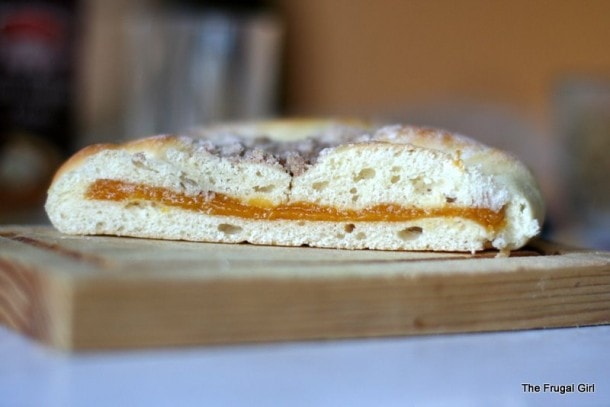 It's tasty either way! Whenever your dough has risen to your taste, bake at 350 for 15-18 minutes, or until lightly browned. Let cool on a wire rack before serving, because the apricot filling will be HOT. (dare I say "ask me how I know." again??)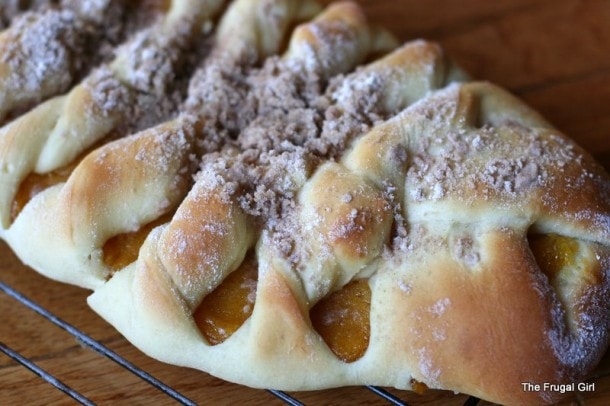 When it's cooled off sufficiently, cut into slices and serve.
Apricot Coffeecake-makes three coffeecakes

Dough
5 1/2 to 6 1/2 cups flour
3/4 cup sugar
1 teaspoon salt
3 pkg. yeast (6 3/4 teaspoons)
1/2 cup butter, melted and cooled slightly
1 cup very warm tap water (120 degrees)
3 eggs
Apricot Filling
11 ounces dried apricots
1 1/2 cups water
1/2 cup brown sugar
Streusel
1/3 cup flour
3 tablespoons sugar
3/4 teaspoon cinnamon
3 tablespoons butter
To make filling, combine apricots and water in saucepan; cook 20 minutes. Process in a food processor or blender until smooth; add brown sugar.
To make streusel, combine dry streusel ingredients and cut in butter using a pastry blender.
To make dough, in the bowl of a stand mixer, combine 1 1/4 cups flour, sugar, salt, and yeast. Add cooled butter and water; beat for 2 minutes. Add eggs; beat for two minutes. Stir in enough additional flour to make a soft dough; turn out onto floured surface and knead 3-5 minutes, or until smooth and elastic.
Divide dough into thirds; roll each into a 12×7 inch rectangle. Place each on a greased baking sheet. Spread 1/3 of the apricot filling down the center of each rectangle. Cut one inch strips along the edge of the filling out to the edge of the dough. Fold strips to the center of the dough, overlapping if possible. Sprinkled 1/3 of the streusel over each coffeecake.
To freeze, cover each coffecake with plastic wrap. Place in freezer until firm, then remove each coffecake from baking sheet, rewrap and freeze for up to 4 weeks. When ready to bake, remove from freezer, loosen plastic wrap, and let thaw and rise in warm place for 3 to 3.5 hours. Bake at 350 for 15-18 minutes.
To bake right away, cover coffee cakes loosely with plastic wrap or a lightweight, damp tea towel, and let rise until doubled, about 30 minutes. Bake at 350 for 15-18 minutes.