Every week, I post a picture of the food that has gone bad over the last seven days. I started doing this in March of 2008 to help motivate myself to use up my food instead of wasting it and it's been very effective. Since it helped me so much, I invited other bloggers to join me in posting their food waste photos, and Food Waste Friday was born.
…but it only has one thing in it. And though I'm bummed I wasted a hamburger, this picture represents a happy change around here. I took this photo at about 7:00 PM yesterday, which would have been impossible a week ago.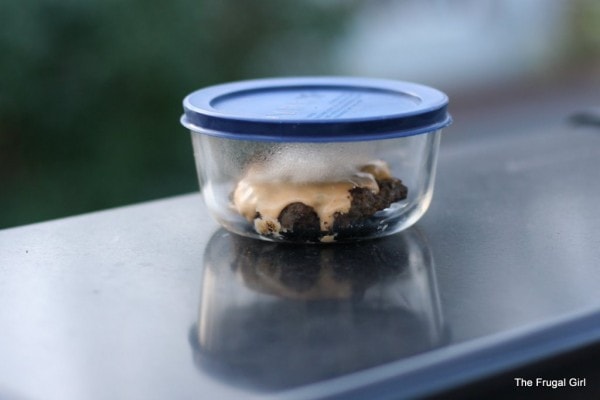 Yes, daylight savings time is sort of a hard pill to swallow at first, but my goodness, it does make picture-taking in the evenings much easier. In the winter when I'm trying to take pictures of my dinner recipes, I have natural light in the early stages, but it's usually all gone by the time I finish whatever I'm making, and that bums me out no end. From now until October, though, I'll have all the natural light I want, and that makes me very happy.
But, hopefully next week I will have no need to take advantage of the natural light for a food waste picture. 😉
________________________________________________________
How did you do this week? If you blogged about your food waste, link us up by entering your info into the widget below. You'll save money, reduce your trash output, and get a little publicity for your blog! And if you don't blog, you can still share about your food waste by leaving a comment.