Recently, I picked up Michael Pollan's Food Rules
from my library. It's basically a condensed version of In Defense of Food
…just the, "How then should I eat?" portion of the book.
It's a super-easy, super-quick read.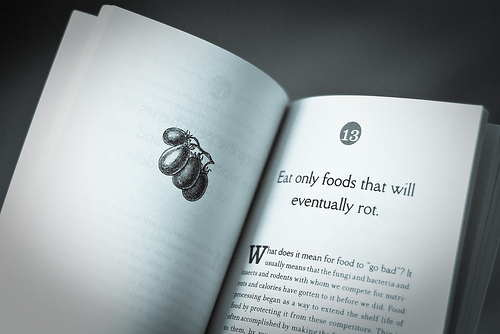 For those of you that haven't read In Defense of Food, Pollan says that one way we can be healthier is by eating real food, and this book is full of "rules" or guidelines to help you see what that might look like.
Here were a few of my favorites:
#10
Avoid foods that are pretending to be something they're not.
(Soy chicken nuggets would be an example of that.)
#13
Eat only food that will eventually rot.
#36
Don't eat cereals that change the color of the milk.
(This one made me laugh!)
#39
Eat all the junk food you want as long as you cook it yourself.
(Potato chips and french fries and doughnuts are such a pain to make, you would eat them only rarely if you always had to cook them yourself.)
#56
Limit your snacks to unprocessed plant foods.
#63
Cook.
(So true. Cooking at home can do wonders for the healthfulness of a diet and it's pretty difficult to maintain a healthy diet without spending time in the kitchen.)
Even if you're already committed to healthful eating, this is a fun little book to read through, and if your inspiration to pursue healthy eating is lagging, Food Rules might give you a little kick in the pants. 😉
(Disclosure: I got this book from my library and am blogging about it of my own volition.)