I've seen these here and there over the years, in magazines, on blogs, and in cookbooks, but I've never actually made one until now.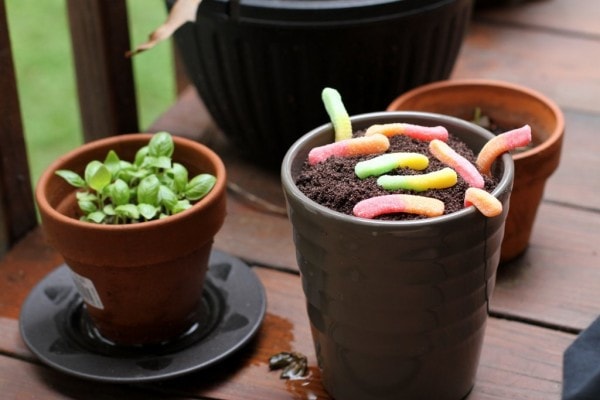 I'm a little bemused by the fact that people always call this a cake because it's not a cake. It's really pudding/mousse with cookie crumbs on the top and bottom.
Regardless of what you call it, though, it's fun to make and eat.
The recipe comes from the lovely people at Aldi and all of the ingredients can be purchased at your local Aldi store. If you haven't got an Aldi, though, you'll be happy to know you can find all of this stuff at a regular grocery store too.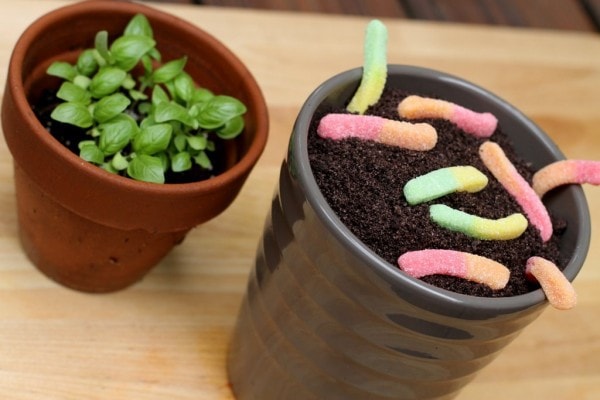 It just will probably cost a bit more. 😉
To make this, you need four basic mixtures: cookie crumbs, chocolate pudding, whipped cream, and a cream cheese/butter combo.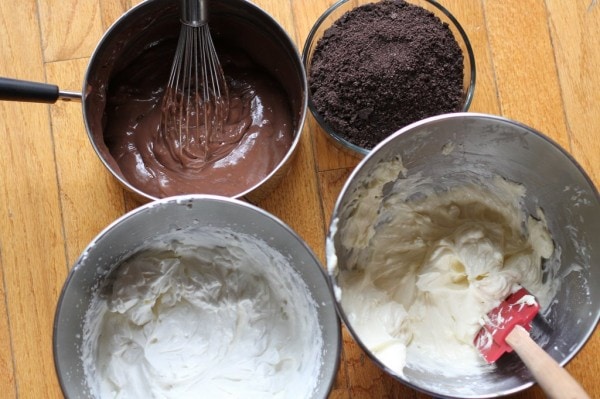 The original recipe called for boxed instant pudding but I couldn't bring myself to use that. The instant versions of pudding have a lot of unnecessary and odd ingredients, and if you make pudding yourself, you can use really simple pantry ingredients.
So, I modified my homemade pudding recipe to make it work. If you want to go the homemade route, you'll need to double the pudding recipe but instead of using 4 cups of milk, use 3. And since instant pudding isn't at all hot, you'll want to let your homemade pudding cool down to room temperature before you proceed.
Also, Aldi's recipe called for a carton of frozen whipped topping, but since that has weird ingredients too and since it takes only a few minutes to whip cream in my Kitchen-Aid, I decided to go the DIY route there as well.
A carton of whipping topping contains 3 cups, so you'll need to whip together 1 1/2 cups of cream, 3 tablespoons of sugar, and 1 1/2 teaspoons vanilla.
(Don't those ingredients sound much better than the ones on the frozen whipped topping carton? And you can buy them all at Aldi.)
I did not tinker with the cookie crumbs or the cream cheese/butter mixture. 😉
Ok. So, once you've got your four mixtures ready to go, you're going to fold the whipped cream into the pudding.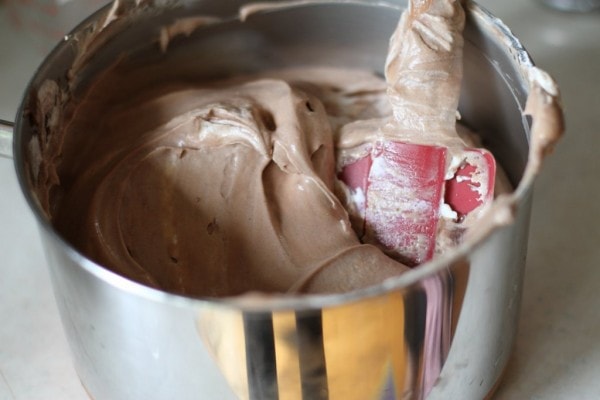 Then you can fold the cream cheese mixture into the chocolate mixture. This is a little tricky to do, and I didn't manage to get every single bit of cream cheese neatly folded in, as you can see.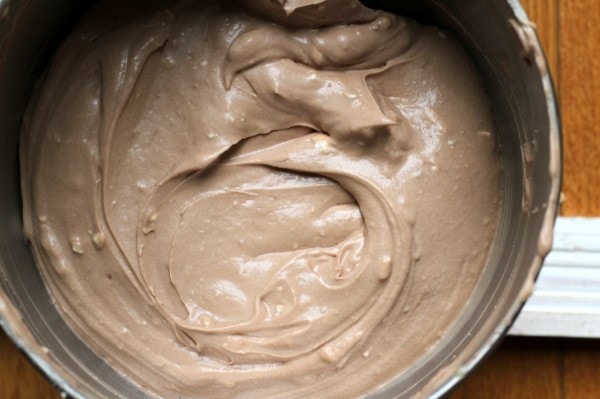 Now you'll need either a bowl or a clean pot to assemble your dirt cake. My Aldi was out of pots, so I snagged this one at Goodwill for $3.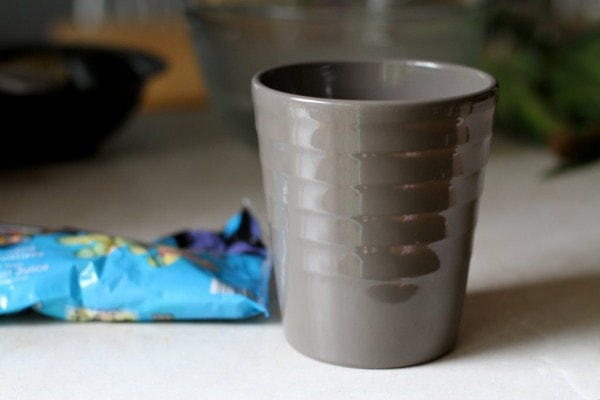 It's a 5-inch pot, but I can tell you that you're going to need a much bigger pot if you want to put this whole recipe into a single container. My pot held maybe a third of the dirt cake and I used a glass bowl for the rest.
If you want, you can line your pot with aluminum foil. I just washed my pot really thoroughly and called it good. 😉
To assemble your cake, sprinkle half of the crumbs on the bottom of your pot (or pot and bowl, in my case!)
The crumbs do look kind of like potting soil, don't they?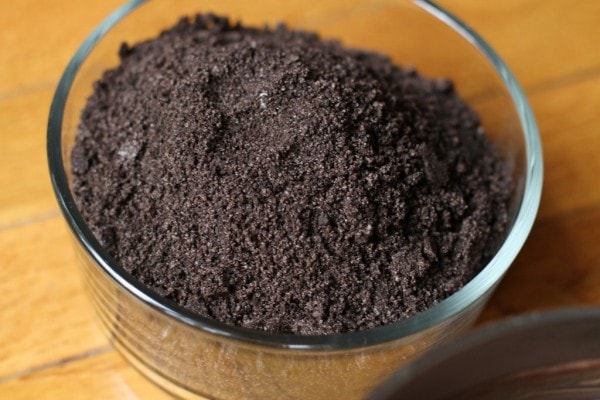 Then add your filling to the pot/bowl.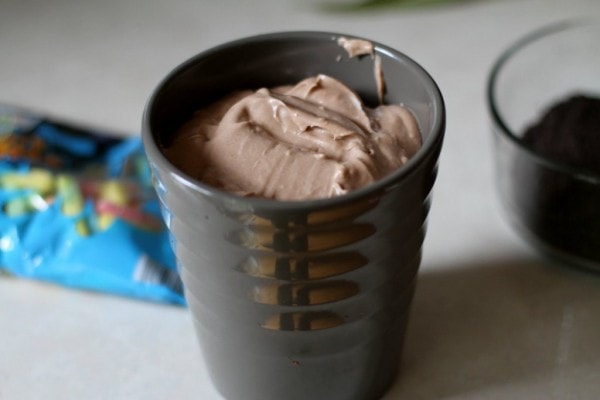 Top with the remaining crumb mixture, like so.
An opaque bowl would probably look neater than a glass bowl, 'ey?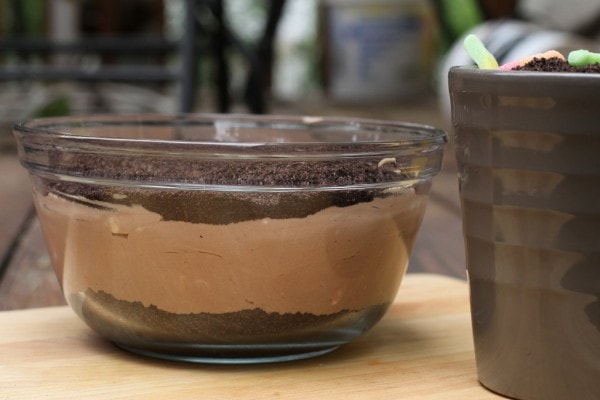 Now comes the really delightful part: decorating the top with worms. Zoe had fun with this.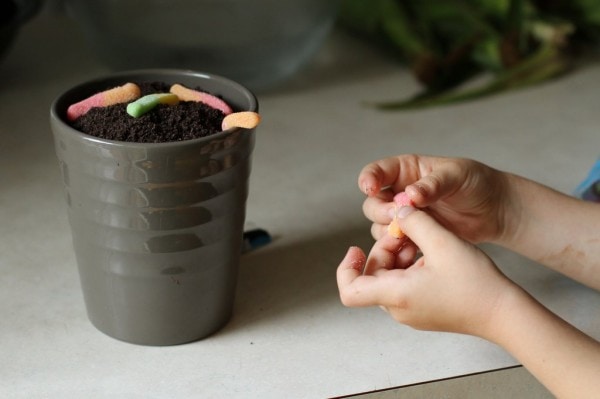 I made this on an afternoon when all three of her big siblings were having sleepovers with friends, so I let her help me make the cake from start to finish, and she was very pleased.
"Well, this has been a great afternoon, Mommy!"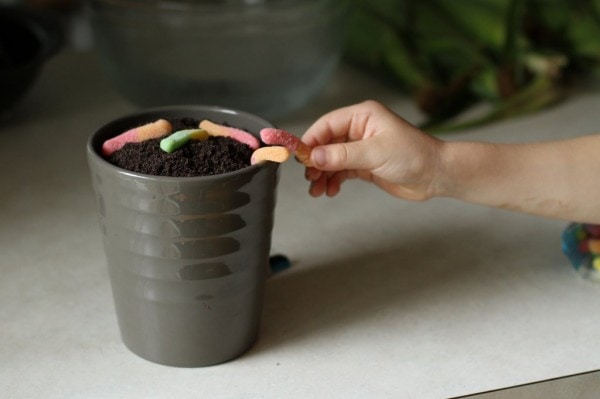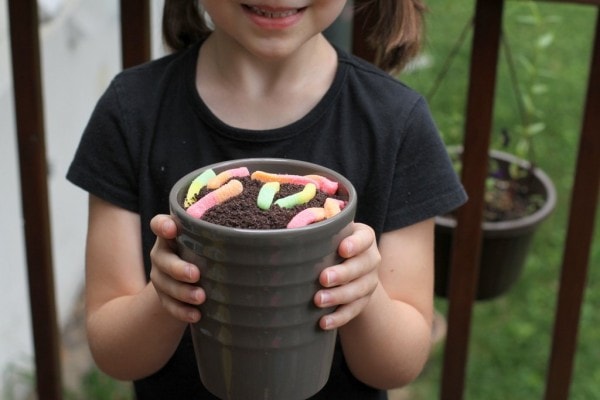 Put your dirt cake in the fridge for several hours, to allow the pudding layer to firm up a bit.
And when you're ready to eat, just scoop it out into bowls.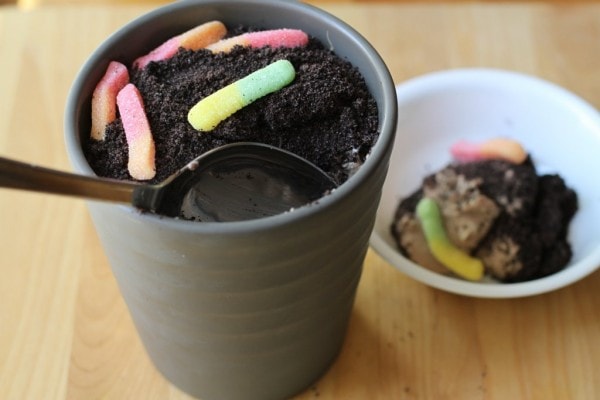 Dirt Cake
Dirt:
1 package chocolate sandwich cookies
Pudding:
2 pkg. instant chocolate pudding
3 cups milk
(alternatively, make double recipe of homemade pudding, using 3 cups milk instead of 4. Let pudding cool to room temperature.)
Cream Cheese Mixture:
8 oz. package cream cheese
1/2 cup (one stick) unsalted butter
1 cup powdered sugar
1 teaspoon vanilla extract
Whipped Topping:
One regular-size carton whipped topping
or
Whip together 1 1/2 cups heavy whipping cream, 3 tablespoons sugar, and 1 1/2 teaspoons vanilla extract.
One package neon sour worms (or you could use regular gummy worms instead)
Directions:
Crush sandwich cookies, using a rolling pin or a food processor. Place half the crumbs in clean planter pot or large bowl; set remaining crumbs aside.
In a large bowl, beat together cream cheese and butter. Gradually add powdered sugar; stir in vanilla.
In another large bowl, beat together pudding mix and three cups of milk for two minutes. Fold whipped cream or whipped topping into pudding, then fold cream cheese mixture into pudding mixture.
Scrape filling into pot or bowl, then sprinkled with remaining cookie crumbs. Cover and refrigerate until thoroughly chilled. Decorate with candy worms before serving.
disclosure: Aldi sent me a gift certificate to buy ingredients to make this recipe, but I was not otherwise compensated, and all opinions and recipe modifications are 100% Kristen.
____________________________
Joshua's 365 post: Reptiles, reptiles, and more reptiles!