1. I got a free Reese's pumpkin
I noticed that my Royal Farms app was offering me a free Reese's pumpkin yesterday…so when I was out to pick up milk, I popped in and got my freebie.
A slightly related note: these homemade peanut squares are kind of like a Reese's experience, except cheaper. And they're really easy!
2. I bought a pink knife because it was cheaper
I have been making do with two paring knives; a Good Grips knife I've had since 1997, and a wood-handled knife I rescued from the abandoned house.
But man, I feel like I am always washing them because I guess I use paring knives a lot!
So, I looked at the best buy recommended by America's Test Kitchen, and they gave high marks to this Victorinox knife.
It came in a lot of different colors and I noticed the pink one was cheaper. So, that's what I ordered. 😉
A lot of times this is true on Amazon…if you scroll around through the different colors, the price can sometimes vary a lot!
3. I made granola
I haven't made my clustery granola since I moved here (and not for a while before that either, since I wasn't at my house.)
I've almost grabbed a package of premade granola at Aldi a few times, but I got the necessary ingredients for my homemade granola last time I was at the store and I made a batch on Saturday.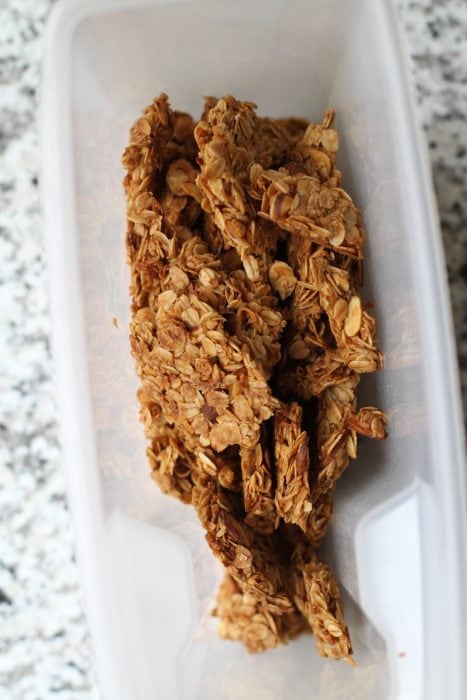 I'd forgotten how quick and easy this is; it seriously takes about 5 minutes to mix it up, and then once it's in the pan, you just have to bake it, with no stirring required.
Super easy!
And way, way, way cheaper than premade granola.
Also: very delicious.
4. I submitted a rebate for my contact lenses
I got my year's supply, and there's a $100 rebate on this brand.
So naturally, I was not going to pass that by. $100 is a very worthwhile rebate amount.
Happily, I was able to do it all online in about 10-15 minutes, including scanning my receipt and the contact lens UPCs. That's a good return on my time!
5. I…
got another $5 reward through my Erie insurance app
used Get Upside to fill my gas tank (use code AFF25 to get $0.25 off per gallon on your first fillup)
used scrap paper to make to-do lists
made coffee at home
cooked lots of meals at home
Your turn! What frugal things have you been up to?